At this point, it feels really repetitive to talk  more about Jeremy Lin.  It's like the Tebow story week after week (if not even more extraordinary).  From the Hot List perspective though there is a huge story here.  Last week after we posted the Hot List with Jeremy rightfully at #1 after seeing a 10x increase to $350 per National Treasures Auto /99 there were a number of posters who commented in the thread something to the effect of "you know, I'd buy Lin right now if I had some extra pennies."  Oh, how right they were.  Lin's cards skyrocketed even further after we posted our list last week and are now at $2,000 for a National Treasures Patch Auto /99.
Give it just a little consideration, these were routinely under $30 a couple weeks ago.   We may have found our all time spike here, at least since we've been writing the Hot List.  I mean, we've had some extraordinary pops but honestly, nothing even close to this order.  What I think is notable is that whenever huge spikes like this happen it all has to come together at once – big market, huge games, prior unknown, huge fan base – both hear and abroad and a very inspiring story, yup – got all that and some more too.
So once again, Jeremy tops this week's list.
1. 2010-11 Jeremy Lin Patch Auto RC /99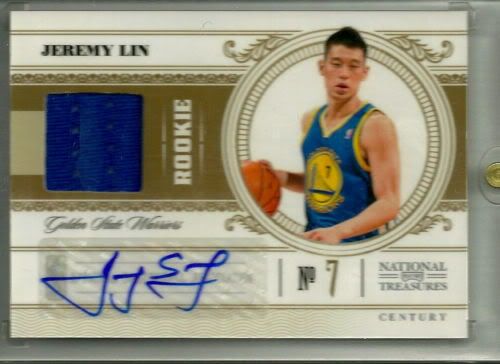 Comments: I really just wrote a much longer commentary in the introduction piece of this article so go read that and then consider that Jeremy now sells for significantly more than John Wall who was by far and away the #1 guy when this product released.
2. Gary Carter Pack Pulled Autographs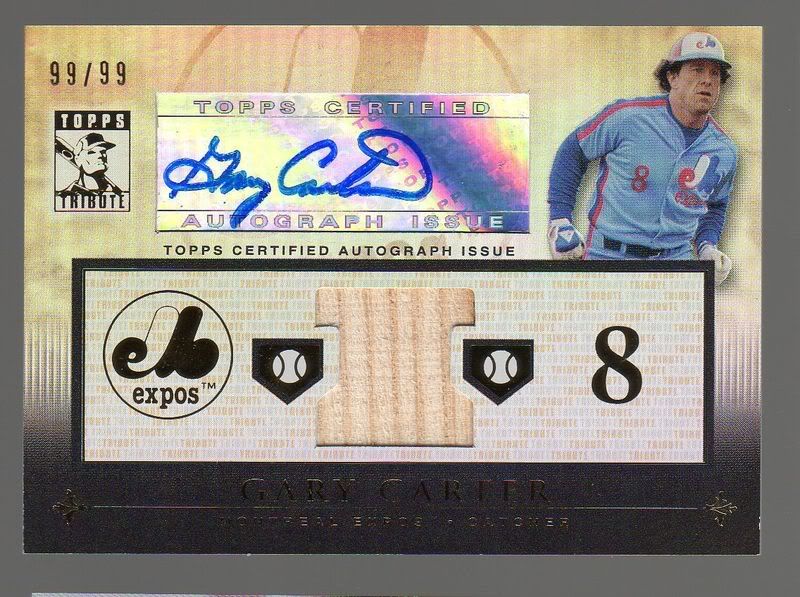 Comments: It's kind of awkward writing about price spikes of guys who have passed.  Once the market realizes no more autos will be signed, prices go up and in the case of guys like Carter, they go up a lot, like 300%.  Still sad.

3. Matt Flynn 2008 Topps Chrome Auto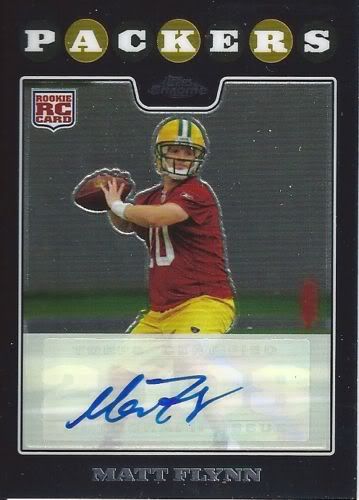 Comments: Since I live in Kansas City, I hear a great deal about Matt Cassell, a guy who got an opportunity, in an awesome system, put up some huge numbers and wound up getting a really nice free agent contract out of it.  Since then, Cassell has struggled to meet expectations and there has been a great deal of speculation about whether it was him producing in New England or just the system he was in – one has to wonder if there is some of the same hesitation with Matt Flynn but none the less, he's a hot free agent.  His Chrome Auto rookies are up to almost $50 from the prior weeks $35.
4. Trevor Bauer 2011 Bowman Chrome Draft Auto


Comments: Smart prospectors know to buy nothing upon the release of the product right?  I mean, c'mon, wait for it to cool down before you do your buying as people overpay right away.  Or not, it seems that this year if you had loaded up on names like Nimmo, Lindor, Bauer and Starling you'd already be in a profit position with potential more to come.  Bauer stuff sold in the mid-$30s initially, $40 last week and one Chrome Auto hit $56 this week.

5. Bryce Harper 2011 Bowman Chrome Auto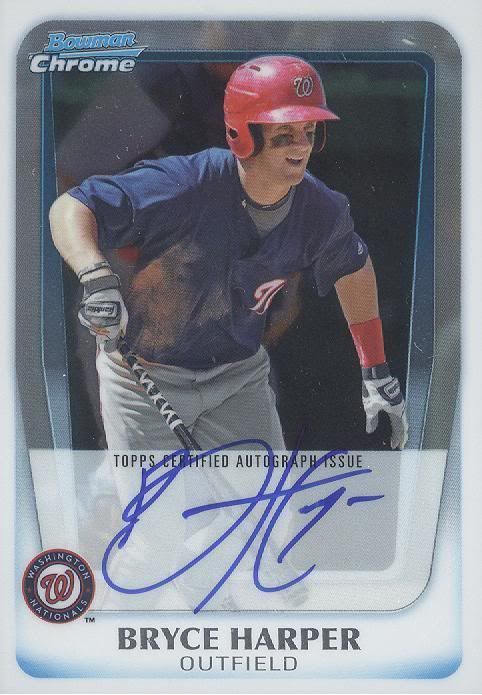 Comments: As baseball season creeps up on us, people are starting to think about all the big names, including Bryce's.  Is it possible Bryce could wind up with a starting outfield spot?  I guess so, maybe not probable but possible and just in the inclusion of his name on that Opening Day lineup card would cause prices to go crazy.  Some are betting on this and already Harper autos are now in the $275 range and previously more in the $225 range.  With as many autos as Harper has on the market, it presents an opportunity to be patient and make sure your buy is in the lower part of the range – this is the beauty of multiple issues.

6. Cam Newton 2011 SP Authentic Rare Autos


Comments: Card producers must have absolutely loved this years rookie class in football.  Even in today's modern era, the NFL is still the hardest sport to have an impact in as a rookie it seems.  However, that didn't stop Cam Newton, Andy Dalton, A.J. Green and a host of others from making their presence felt on the field last fall and as a result boy do products sell.  It's much easier to swallow the cost of an SP Authentic box when you could pull a Cam Newton autograph /25 that sells for four figures and that's exactly what is happening in this year's SP Authentic.  Cam stuff continues to sell very very well.
Now, with only NBA Basketball going on right now…there's not a lot of Hot List fodder, so lets play some Hot List potpourri, a variety of observations I've had while researching this week's list.
How to screw up a good thing:
Each and every year football collectors await the release of Contenders – it is a standard in the football community.  In the past couple years, Panini has upped it's game by using on-card autographs for many of the more desired players.  So why would you create a design that makes an 0n-card look like a sticker and is just generally ugly, I truly do not get it.  Last year's design was simple, not outstanding but not bad either and this year, you go off and do this?
How to inadvertently screw up and make a good thing:
"Anderw" Luck Leaf Prismatic Error cards /39 are back over $300 again, all due to board members catching a spelling error.  Totally unintended but this provides publicity (yes, both good and bad) for the Leaf brand and per the sell sheet released for this product, there are more Luck cards to come from Leaf in a variety of prismatic flavors – don't expect to pick one of those up for cheap.
How to admit when you've screwed up, that's a good thing:
If you haven't been listening to the FCB podcast, you're missing out.  Lots of good hobby information and some laughs along the way.  Brian Gray was recently interviewed and mentioned his experiences with Razor in 2008 and lots of lessons learned.  As everyone knows, nothing has sparked more opinions on FCB than Razor and Leaf but to hear a CEO talk about lessons of the past and incorporation of them into future products is a good thing any way you slice it.
How to make a good thing out of an otherwise screwed up situation:
I'm a cold hard capitalist, I want as many competitors in the market competing for my consumer dollar as possible, it means I get better product and more value for less money.  So therefore, all the exclusivity regarding professional sports licenses simply doesn't suit me.  However, Upper Deck has taken their college license and made lemonade and lemonade when a proper mixture of sweet and sour tastes pretty darn good.  Judging by sales prices of last year's Exquisites and this year's SP Authentics, collectors are liking the current mix Upper Deck has going on in football.
Something previously good, now screwed up:
Just a couple years ago, when I started writing this list, I was fairly frequently researching base chrome cards.  However, the fact that every prospect of any note now has a base card and an autograph chrome card has really taken a lot of the value out of those Bowman products and its too bad.  Opening packs of 2006 Bowman Chrome knowing that there were multiple base cards that could be pulled that would cover the cost of your pack was a lot of fun, no longer.
Until next week…