I have been writing this Hot List for over two years now, the Hot List has remained relatively consistent over that time period from a content perspective, with the main addition being more flavor in the form of commentary.  Somewhere along the way I started writing these introductions – to be honest I am not really sure why I started writing them.  Perhaps it was because I was inspired by writers like Matthew Berry of ESPN (Booyah Network) who have long, winding, introductions that eventually hone into a fine point, that then leads them them into the meat of their article.  Perhaps it was because I wanted to challenge myself to come up with a little more original content, or perhaps I just needed to create a space to house everything I wanted to say that didn't fit within the confines of the typical Hot List.
I will let you determine the reasons but none the less, you still get to deal with the output.  Typically this commentary consists of hobby related trends reflected in the Hot List each week but I would be remiss not give some digital ink to the forum transition that happened this week.  Change is a scary word for most, I've noticed two things about it, first – people really dislike it and second – people adjust to it easier than they thought and in the end the dislike dissipates faster than they would have initially anticipated.  It does strike me as strange that many political campaigns on both sides of the aisle revolve around change because when you boil that down to what it really means for the average Joe, they don't like it.  Give me my healthcare, tax breaks, stay out of my life and so on and so on and if you start to change any of these things the only change I'll go for is someone new in power to give me more of the same – that's change!
Regarding the change on these boards, it was met with a significant amount of skepticism and reasonably so, given the boards founding was based off another, not so great, change.  However, I really have to hand it to Chris, Brad and others who have done most of the work on the boards – not only have things gotten back to normal in a hurry, there are already a great deal of additional features that the prior board (held together by bubblegum, bandaids and one of Gilmore's cats running in a wheel) didn't have.
However, some things don't change and no matter what forum type we have…the Hot List marches on.
1. Nolan Reimold 2010 Topps Chrome Auto

Comments: In the prospecting world, Reimold is old hat, he has had cards out since 2005 Bowman Chrome Draft and has seen prices move up and down several times over that period.   Prior to the start of this year Reimold had already hit 35 home runs in the Major Leagues in 782 at bats – certainly showing some significant pop.  However, this season has started that much better for Nolan as he is hitting near .350 with 4 HR's already.  His 2010 Topps Chrome Autos were dirt cheap prior to this week and could be had for roughly $3 and now have popped up to $10.

2. Matt Carpenter 2010 Gold Refractor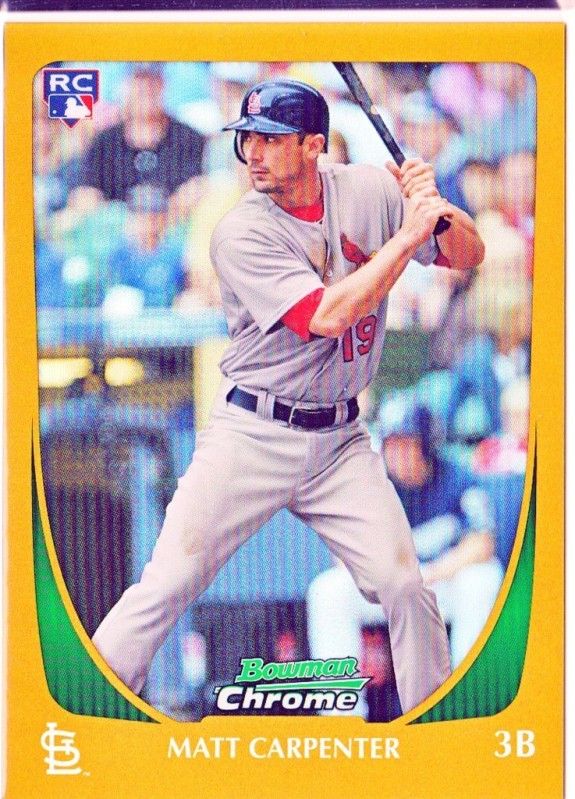 Comments: Matt Carpenter is one of those guys who absolutely comes out of nowhere to have a very hot start to the season.  He's 26, didn't have much big league experience prior to this year and the first position listed on his baseball reference page is, "pinch hitter."  Sounds like a guy to expect great returns on right?  This is why they play the game folks…Matt's had a great start to the season and Gold Refractors like the card above have tripled or more to $50.
3. Sean Couturier 2011-12 UD Young Guns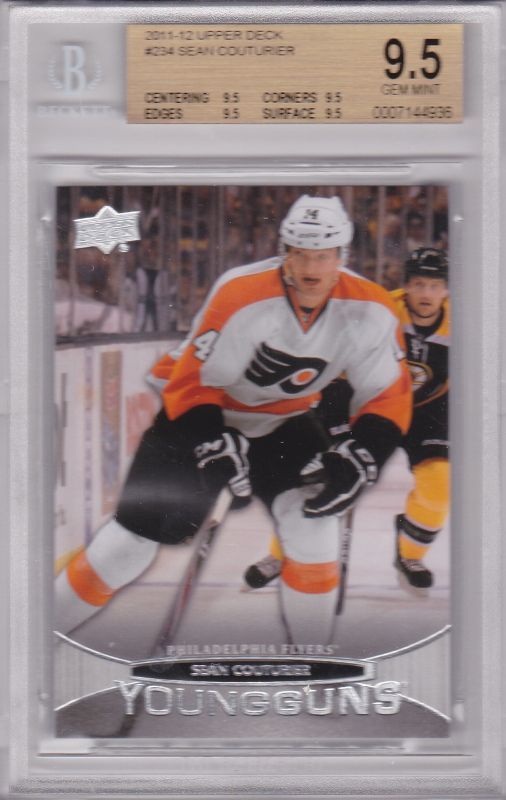 Comments: Hat tricks are a real big deal in hockey.  Hat tricks while beating the Penguins senseless are an even bigger deal.  Hat tricks while beating the Penguins senseless by a rookie center for the Flyers – the biggest deal of them all.  In a game with a score that looked more like it was from the MLB and not the NHL, this is exactly what Sean pulled off and his 3 goals were very timely.  Sean's Young Guns cards immediately began to heat up and moved from $17.50 to $50.

4. Telvin Nash 2009 Elite Autograph


Comments: Telvin has 7 home runs in 14 games, even in the launching pad that is the Cal League that gets you noticed awfully quickly.  Telvin has been around for a few years but 7 home runs already represents 50% of his prior career high.  He's just got one autograph, 2009 Elite and it went from $7 to $20 this week.

5. Tyler Austin 2010 Elite Autograph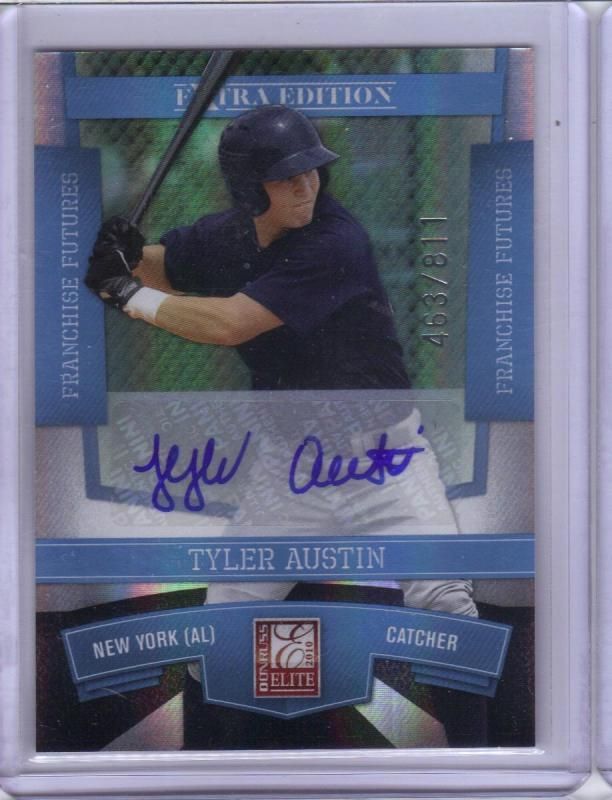 Comments:  You would be hard pressed to come up with the name of a hitter who has had a hotter start to the season than Tyler has in the SAL.  In 11 games Tyler is hitting .432, slugging .932, has an OPS of 1.411, has 12 XBH's and 11 RBIs.  In short, Tyler is absolutely scorching and guys like Tyler and Telvin are a big reason that people love to see Elite Extra Edition come out every year with its enormous autograph checklist – they know, that there are players to be bought for $1 at release that turn into Tyler's and Telvins.  Tyler was already hot before this week with this autographs selling for $8-$10 but they doubled anyway – moving up to $20.

6. Matt Barnes 2011 Bowman Chrome Draft Autographs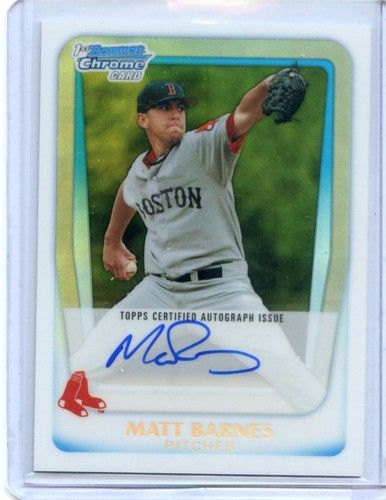 Comments:  Speaking of dominating the SAL – Matt Barnes first 3 starts have been insane and it just hasn't been the statistics that are eye popping, those watching him are overwhelmed by his "stuff" early in the season.  Matt's been a well known name in the prospecting world for a while due to his USA releases but the combination of a great start and the fact that he is a member of the Red Sox organization got his cards moving this week.  His 2011 Bowman Draft Refractor Autos moved from $15 to $30.

7. Tyler Thornburg 2010 Elite Autos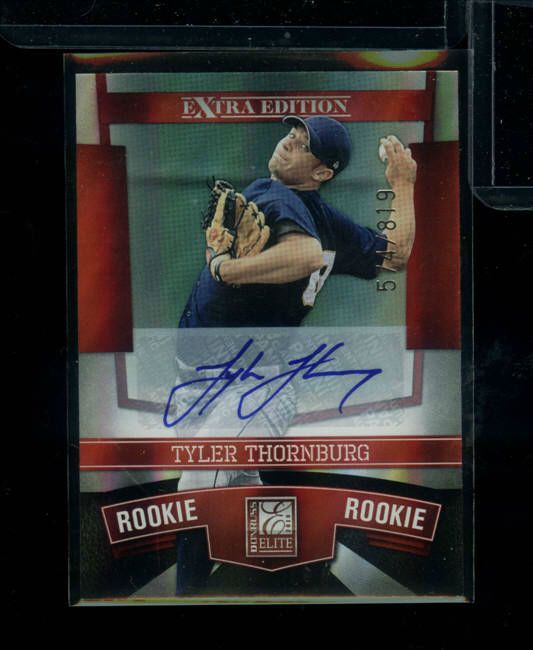 Comments:  Tyler has followed up a very solid 2011 season with a great start to 2012 in AA, 3 starts, an ERA under 1.00 and 24 K's in 18 innings is enough to get anyone noticed.  Like the previous Tyler on this list, his first auto is from 2010 Elite and doubled this week to $10.

8. T.J. Yeldon 2012 Leaf Metal Army Autos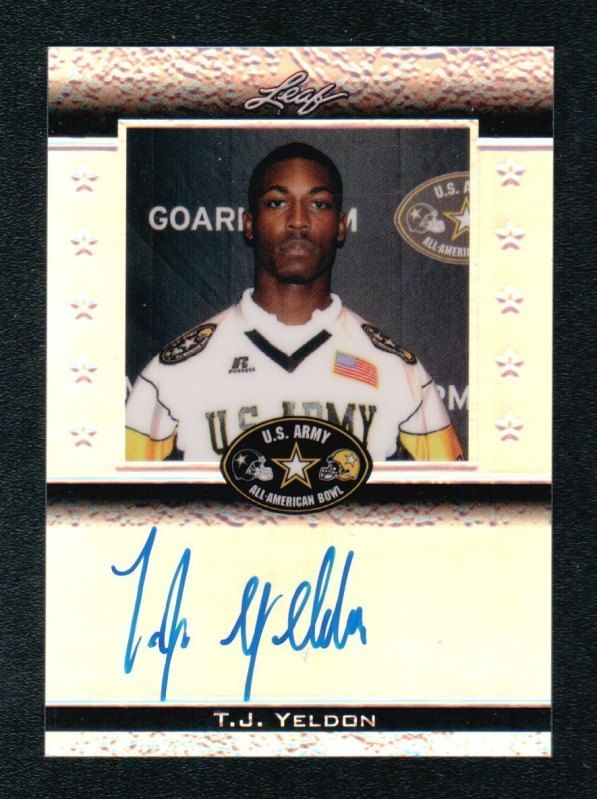 Comments: When T.J. was nominated it was followed up by the phrase "spring games do matter."  Nearly every matters in sports these days as there is little that isn't taped, reported on, analyzed and discussed ad nauseum.  However, when a 5 star Bama RB puts up sick numbers in a spring game that's going to get noticed.  It's meaningful to this list because he actually already has a card thanks to the Leaf Army Metal subset of 2012 Leaf Metal Draft.  Prior to the Spring game his autographs from that set were selling for about $30 (Base /50 Prismatics that is) and they immediately popped up to $53 with other BINs hit on lower #'d parallels.  His autographs, patch autographs and other cards should be big hits in the upcoming 2012 Leaf Army All American set.
9. Lance Lynn 2010 Bowman Chrome Autograph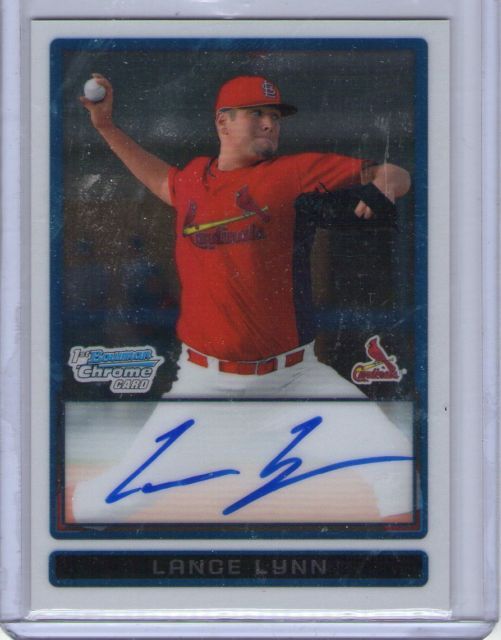 Comments:  Lance's first two starts as a full time starter for the Cardinals have gone extremely well.  Lance made this list last year around the time of his MLB debut and his cards saw a small spike then.  However, prior to this week you could still pick up his Bowman Chrome Autograph for $8, now these garner $14.

10. Stephen Strasburg 2010 Bowman Chrome Auto

Comments:  Stephen has come back and through 3 starts looked like the Cy Young award winner that everyone expects him to be.  Buying cards of a very expensive young player after a surgery like Tommy John is still really risky but it is paying off for many.  Stephen's 2010 Bowman Chrome Refractor Autos hit $250 yesterday and that's up significantly from the $150 they were garnering last week.
Lightning Round

11. Matt Kemp 2005 Bowman Chrome Auto BGS 9.5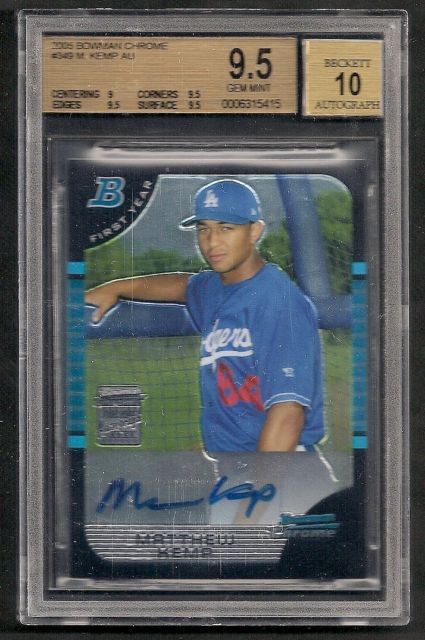 Comments:  Batting .451 with 7 HRs and 18 RBIs through 13 games.  Collectors realizing he's perhaps a "generational player."  BC Auto 9.5s move from $250 to $350.

12. Jed Bradley 2011 Bowman Chrome Draft High-End Autos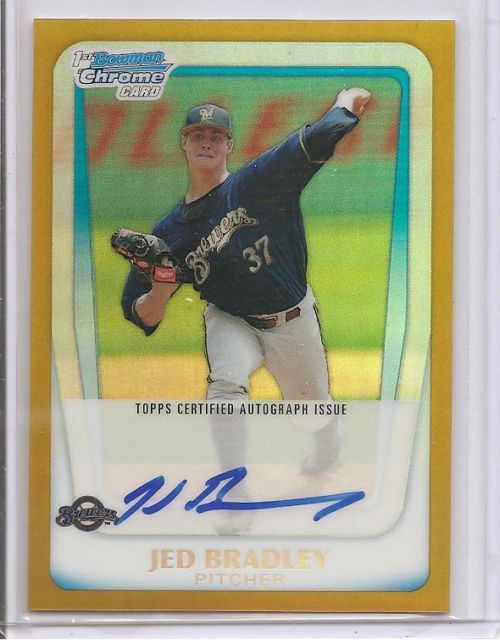 Comments:  Jed's stuff was not big money when pulled from 2011 draft products but his quick start has moved up his low #'d cards like Gold Refractors from $70 to over $100

13. Michelle Wie 2012 Leaf Golf Autos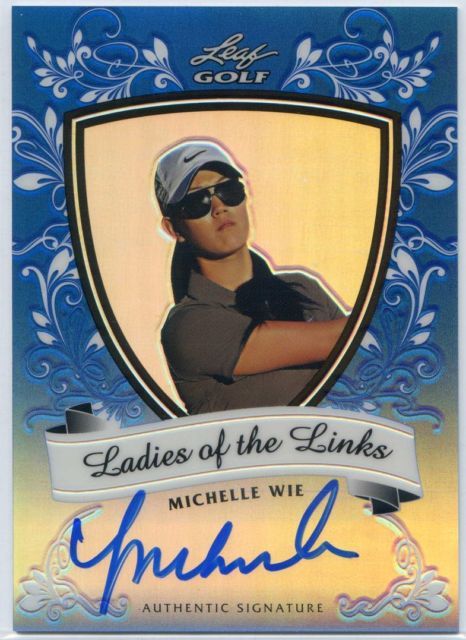 Comments:  As Leaf Metal dries up many collectors are still in need of rare Michelle Wie autographs.  The blue pictured above sold last week for $125 and was up to $165 this week.

14. Dylan Bundy 2011 Bowman Chrome Draft Auto Refractor

Comments: Dylan is living up to every expectation that the Orioles and others had of him when he was drafted, Refractors moved from $85 to $115 this week.

15. J.D. Martinez 2011 Bowman Chrome Auto


Comments:  J.D. is another guy who had some time in the big leagues last year and is off to a hot start this year.  Last week $18 would get you a Refractor Auto, this week it will only buy you a base auto.