I've discovered another reason that writers in particular love lists.  They spare you the pain of trying to link together a bunch of disparate thoughts and allow you to say whatever you want, whenever you want, however you want but just remember you can't always get what you want but if you try sometimes, you just might find….sigh, that job I had in high school where we listened to classic rock 8 hours a day, it haunts me.
Did anyone see Mick Jagger at the Olympics?  Someone tell the guy to take the Halloween costume off.  What's that you say?  Oh really…scary.
Anyway all that said get ready for another list before the lists
1. The 4th week of the preseason really cements why "the preseason doesn't matter" because all the scrubs play and because teams like mine (Chargers) get absolutely murdered, so I'm going to go curl up in a corner and repeat "it doesn't matter" while clicking my red slippers together and holding a small dog named after an '80s band (wait, you mean the dog came first?  And the spelling isn't even the same?  Oh, sigh.)
2. And speaking of that, after the crummy football, I turned to the RNC convention which reminded me that no matter who they are coming from I pretty much dislike all political speeches.
3. But, I'm not sure I dislike political speeches as I do the idea of these replacement officials adversely impacting games this NFL season.
4. But I still probably like them better than Roger Goddell, "no violent hitting, this is football!!!"
5. And maybe I like all that better than the fact that this week sucks for hot list fodder because we aren't into the stretch run for baseball quite yet and the NFL is playing games that repeat after me "DO NOT MATTER."
6. But speaking of games that don't matter it doesn't prevent folks from over analyzing the daylights out of the games.  Did you know that Antonio Browns Grandma's fern had more targets in the 32nd second of the 3rd quarter of the last three games last year than Mike Wallace did?  It was a party of Matthew Berry's love letter to Antonio.
7. Did you know that many years ago I picked Kevin Smith in his 2nd year because of his studly 9 game finish in his rookie year?
8. Did you know in spite of all that I won my league that year?  Kevin Smith doesn't often cause people to win leagues.
9.  Maybe Prince Fielder will make an appearance in the Detroit backfield this year?  Cecil will then make a bet on his performance.  Oh, I just did.
10. Andrew Luck cards continue to sell for insane money and probably for good reason but if you are buying Topps Finest to hit those cards – you are going to need to buy about 20 cases, my goodness those are impossible.  They need a separate subset called "Needle in a Haystack" and it will be populated with Griffin and Luck autos.
1. Russell Wilson 2012 Autos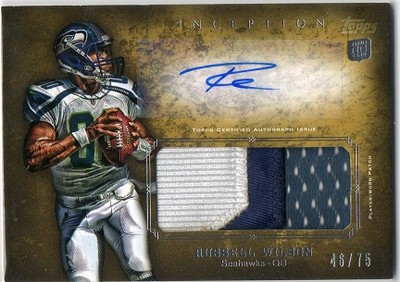 Comments: I was talking to a friend here in Kansas City who was going to the Chiefs vs. Seahawks game last week and mentioning Russell Wilson as a superior athlete that he'd want to watch.  I'm not sure he paid that much attention to me but I didn't know how right I was going to be.  Wilson played out of his mind and was named starter subsequently (even though they just signed Matt "I had one good game ever and was not so hot at LSU" Flynn).  Russell's autos, Inception included over doubled this week.

2. Darin Ruf 2010 Bowman Chrome Parallels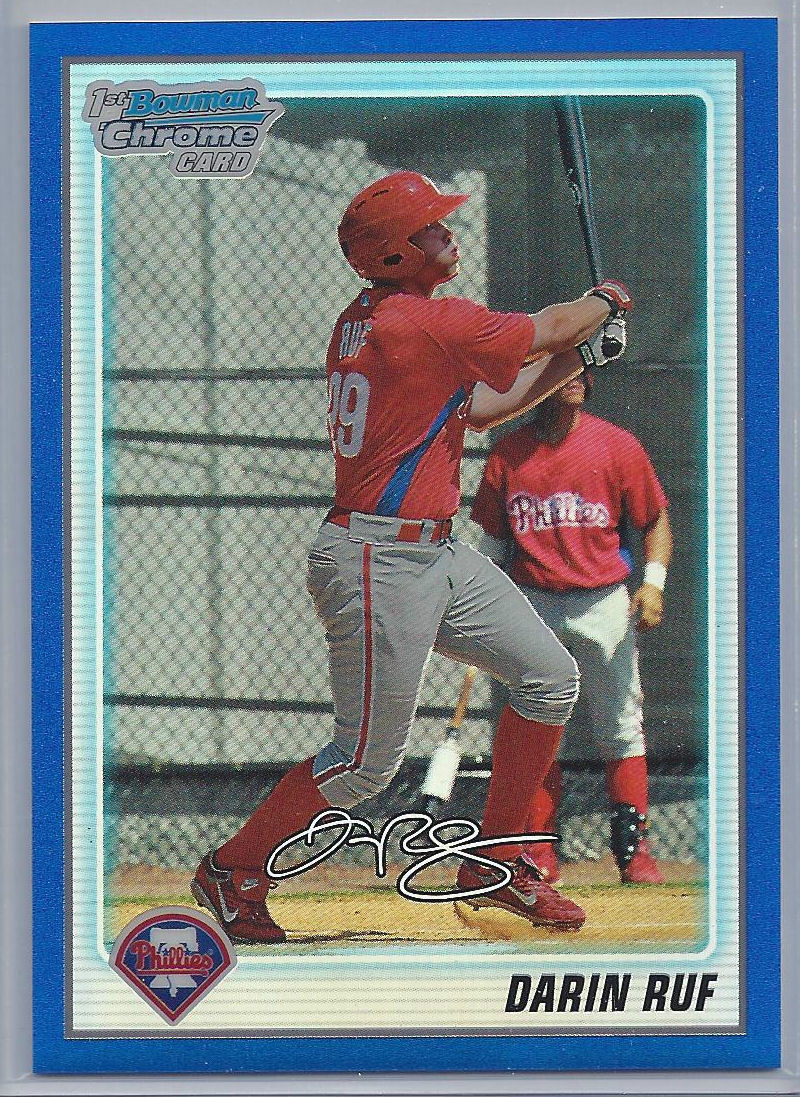 Comments: Guys like Darin Ruf are tough.  They have literally nothing sell for a long period of time and then all of a sudden they go off and break Ryan Howard's Eastern League home run record and Green Xfractors, the retail parallels now sell for over twice what Blue Refractors previously sold for.

3. 2012 Topps Mini Boxes

Comments: A few weeks back I had Topps Mini Singles on this list and now we have the boxes – they have completely sold out from Topps and are now selling for $75 versus the prior $50. It remains to be seen how Topps will overproduce these next year killing the value.
Ok, so lets try something different, in no particular order, the cold list.

Tommy Hanson Chrome Autos

Comments: Don't you remember when Tommy was the hot name in the Braves world of prospects?  I believe his 2007 base chromes were once $5 (now lucky to be one) and anything that was Chrome and had an auto on it was bringing in some significant coin.  Now, Gold Refractor Auto BGS 9.5s sell for $100.  You may be saying "Phil, it's a $100 card how can it be on the cold list."  The answer is simply, it used to be so much more.

Jeremy Jeffress

Comments: I bought what seemed like a gazillion AFLAC parallel redemption sets in 2005 (more on that in a minute) but one of the Refractors that I pulled and often graded was Jeremy Jeffress.  Now his chrome autos sell for $.99, he's a reliever for the Royals who can't seem to stick in the bigs.
6. Billy Rowell

Comments: Oh Billy. Billy was the high school bat in the 2006 Draft and in the year of crazy Draft prices we saw it when Billy's Blue Refractors started selling for $100, it was insanity.  Billy hasn't panned out to the say the least and collectors still holding a Billy hoard are in for a rude surprise when they realize that those same Blue Refractors are now selling for $.99.

7. Jon Papelbon 2003 Chromes


Comments: Jon was at the beginning of the prospect craze.  He and Ryan Howard powered the 2003 set to much popularity.  Jon's done nothing but put up stunning numbers since his emergence on the scene but all he's got to show for it is Chromes that sell for $3 and Xfractor 9.5s that now sell for $15, a far cry from his $20 Chromes. That would be a fun shirt "I'm a super successful closer but all I have to show for it is this $3 chrome.

8. Rick Porcello 2008 Chromes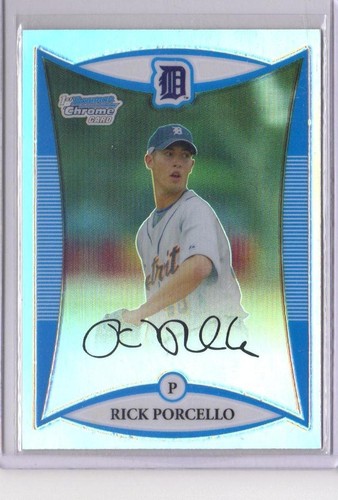 Comments: Coming off what was maybe the biggest base set ever in draft history (2007) 2008 was a bust from a base set perspective.  Really the only thing that could be pulled and worth any value was Rick Porcello.  And now, he doesn't have any value either – Refractors sell for $.99
Justin Masterson 2006 Bowman Chrome Draft
Comments: Here's the thing about prospecting.  You buy into a prospect in a big way, he comes up to the bigs and does ok, lets say for a pitcher a .500 record…you lose!  You lose big time.  Masterson Gold Refractors now sell for just $15ish for this pitcher that's below .500
But but but it's the Hot List, so we should end with something HOT!
Mike Trout Autos

Comments: If you even thought for a moment I was serious…schedule a head exam.  If Mike Trout were to run for political office even president wouldn't be big enough, it would be God.  An Xfractor 9.5 sold for $810 this week, a Sterling Refractor 9.5 for $910 and a BGS 10 Refractor Auto for over $2k..
Andrew Luck Topps Finest Autos

Comments: The on-card auto shown above sold for over $2K, I can say no more.