Since the last Hot List, something very significant has changed, its a New Year! Although I don't believe that any specific resolutions were made here on the Hot List, nor on FCB in general, there is certainly plenty to be excited about.  I talk to FCB's owner (cgilmo) fairly frequently and 2012 is going to be a big year for the website.  Most notably, a mobile application that is in development currently – that's right, you can read these interwebs on an application on your telephone.
A large part of that mobile application will be blog related content, the Hot List at the head of that of course (my own opinion) but hopefully that will be just the beginning – if you feel you are a writer and want to do it for FCB, this is the time to step forward.  Anyway, I digress, on the plenty to look forward to front, in the time from last week to this week, we had the Hot List candidate well go from dry to flooded.  Much of this is related to collectors looking forward to things and in some strange way it is with many names that we've seen before.
1. Matt Flynn 2008 Rookie Autos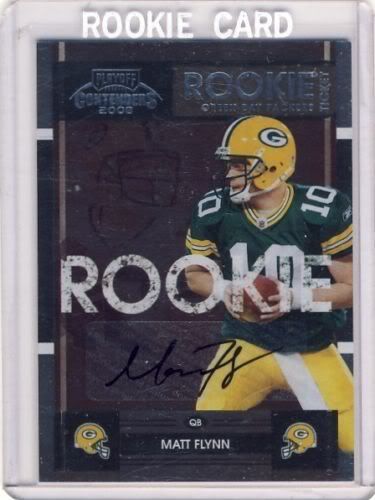 Comments: If a year ago, you had to pick a team whose individual players you were going to buy, with the intention of selling their cards later, the Packers would have been the right move.  We all know about Aaron Rodgers but don't forget about the huge price spikes seen by Jordy Nelson, Clay Matthews, Charles Woodson (Panini Autos), Jermichael Finley, James Starks and Matt Flynn (he's been on this list before), yes that Matt Flynn the guy who backs up Aaron.  See the thing about Matt is although he's behind a guy who is playing the QB position as well as it has ever been played, when he gets in, he does his best Matt Cassel impression.  What I mean by that is that when the system and pieces around you are so good, it almost seems hard not to succeed.  However, last Sunday, Matt didn't just succeed, he beat a playoff team, put up nearly 500 yards of passing and threw 6 touchdowns, yes six.  Many of his rookie autos quadrupled after this performance and you have to know that if Aaron Rodgers would go down at some point Packers fans at least believe they have a viable back up option.
2. Joe Webb National Treasures Autos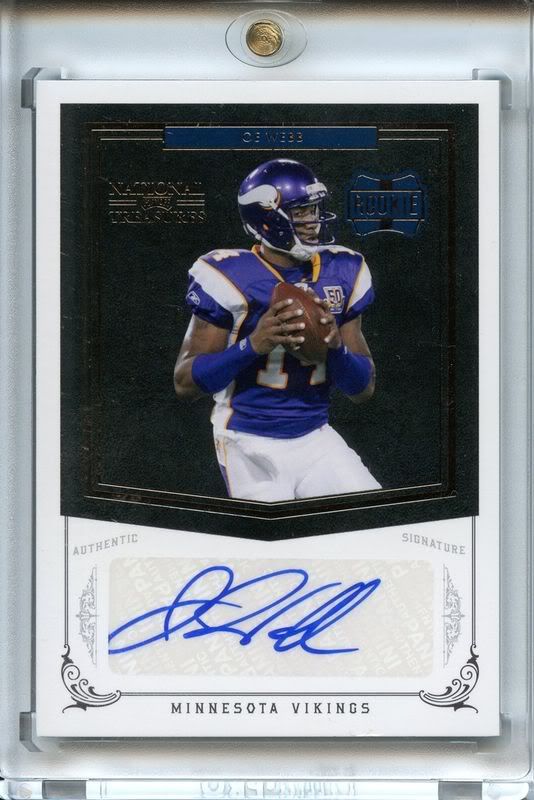 Comments: To say the Vikings QB situation over the past few years has been interesting is an understatement.  The Brett Favre drama almost goes without saying but even beyond that – Tavaris Jackson's ups and downs, the signing of Donovan McNabb who went from solid QB to not even backup worthy  in a couple years, Christian Ponder's great games and rookie moments and much more.  However, one guy who has taken advantage of the opportunities he's had is Joe Webb.  Joe made this list last year after running for a couple TDs and here he is again after a good performance last Sunday.  National Treasures autographs went from $8.5 to $30 this week.
3. Kyle Lowry 2006-07 Exquisite Autos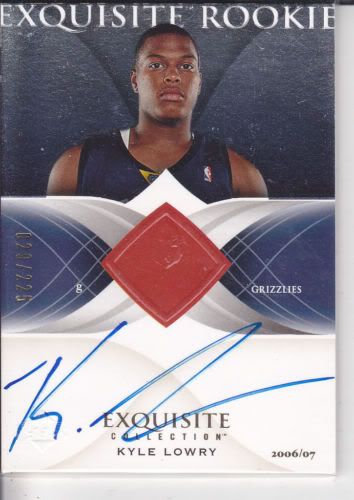 Comments: I really liked Kyle when he came out of Villanova, however, he just never seemed to put it together in Memphis, a team that always seemed to have a lot of young talent but never really got results.  There's also the whole Mike Conley Jr. thing and a lack of understand about who is THE point guard.  However, lack of understanding no more – Kyle is the guy in Houston and had a much better year last year and so far has taken it to another level this year – currently averaging over 15 ppg and 10 apg.  Kyle's once unloved Exquisite Autos were selling in the $30-$50 range but are now rising – one hit an all-time high this week of $100.
4. Andrew Bynum SPX Auto Rookies /1499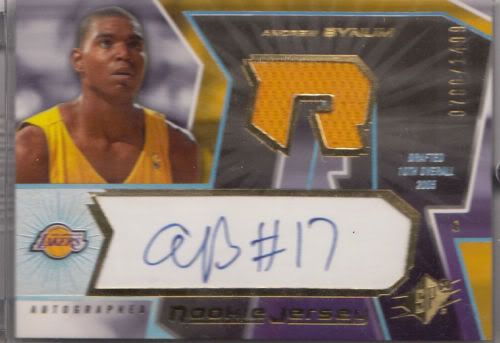 Comments: For a guy who is often injured and still hasn't hit his full potential, Bynum's name is certainly in the new a lot, usually related to trips to the injured reserve but the fact is, he's a Laker and that gets you some publicity no matter what.  It's not like Bynum has been awful, he average 15 and 9 in 2009-2010 and 11 and 10 in 2010-11 but people are expecting Dwight Howard like production from this guy and that's exactly what they are getting in the 4 games he's played in 2011-12, a double double in each game and on the average 22 and 16.  If he keeps this pace up, uninjured, the sky is the limit for his rookie autos.  SPXs were selling for $16 a piece and then a lot was purchased at the price of $40 per, that will look cheap if he keeps up the pace.
5. Victor Cruz 2010 Playoff Contenders Auto RC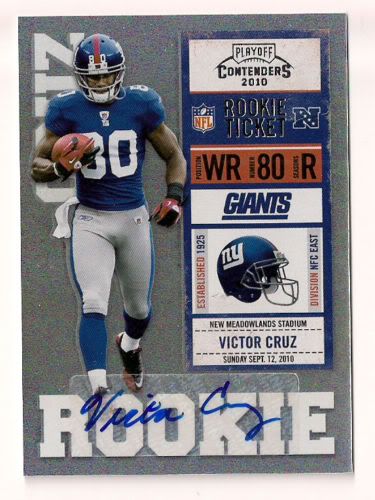 Comments: That's right, the guy who was likely undrafted in your fantasy draft wound up with 1536 yards of receiving and 9 touchdowns this year.  Everyone expected an enormous year from Hakeem Nicks and he fell into the shadow of Victor Cruz – who had 17 yds receiving total in his first two games and 1519 in his next 14.  Victor's Contenders autos were at one time SO CHEAP, single digit dollars last year, heck, they were in the $40s last week and after yet another huge game rocketed up into the $70s with one touching $82!
6. Ricky Rubio 2009-10 Exquisite Autos /225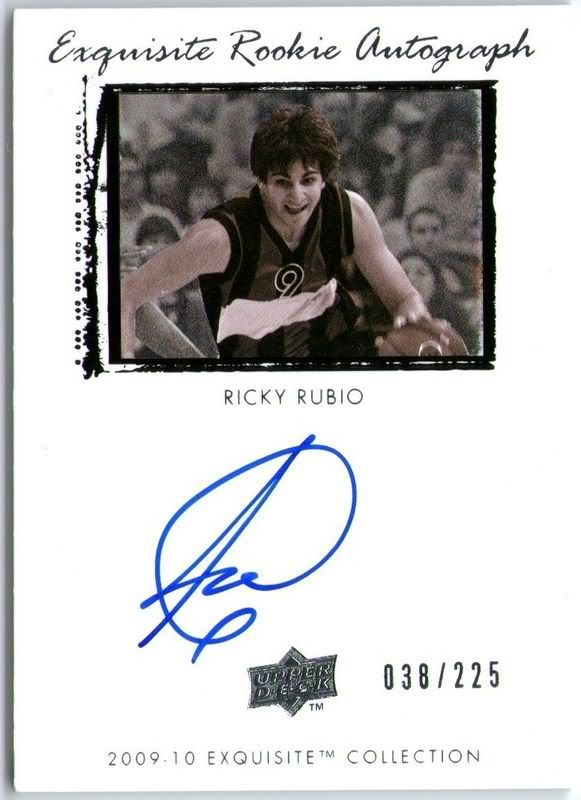 Comments: Ricky was drafted and then stayed in Spain, disappointing for those who pulled cards like the one above out of packs of Exquisite.  However, now Ricky is playing for the T-Wolves and if people who snagged those Exquisite Autos were patient enough to hold onto them, they are seeing the fruits now.  Just a week ago these were at $250 and now they are at $450.  Ricky is averaging 9 points a game for the T-Wolves and 7 assists a game but many believe that's just the start.
7. Chris Ivory 2010 Playoff Contenders Auto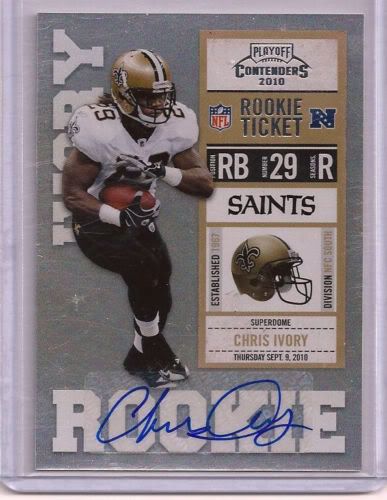 Comments: Like Flynn, Webb and Cruz, Chris Ivory has seen this list before but it has certainly been a while.  Chris had a few great games for the Saints last year that gave his 2010 Contenders Autos some attention, in the meantime, he got lost in the mix of Pierre Thomas, Darren Sproles, Mark Ingram and all the other offensive weapons the Saints have.  Then he reappeared recently with a touchdown in the last week of the season, his first of the year.  If you know one thing about the Saints it is that anyone can score TDs for them.  So its certainly possible that Chris' role (and likely card values) increase headed into the Playoffs, a week ago his Contenders were under $10 bucks and now they can't be had for under $20.
8. Trevor Bauer High End 2011 Bowman Chrome Draft Parallels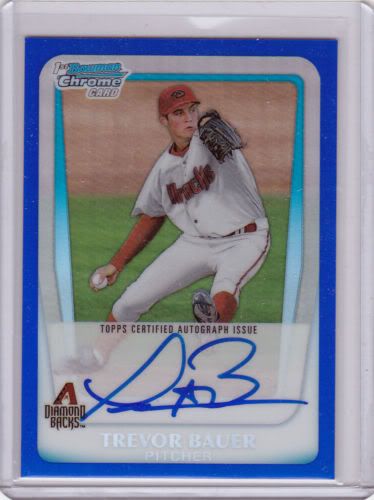 Comments: I'm not sure if someone is on a hoarding run or not but Trevor's high-end Draft parallels and other rarer parallels are scorching.  Just a week ago you could get a blue for $150 and one went off last night for $290.  There are many who believe Bauer will be given a shot at the big league rotation in Spring Training this year and if that's the case, things are only going to get hotter.
9. Xander Bogaerts 2011 Leaf Auto Rookies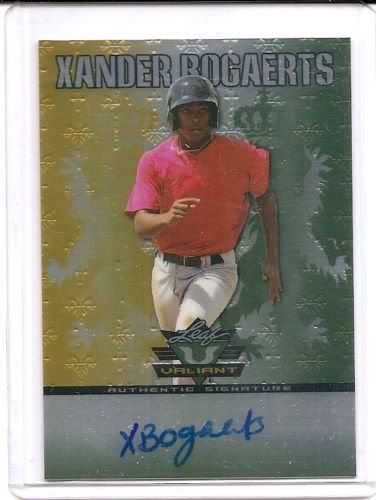 Comments: Xander is the top prospect on a big market baseball team and he only has a couple autos – you know what that is, a recipe for high prices.  Xander's an international signee who made it into a couple Leaf products this fall and is now making it onto a lot of top prospect list at a premium position.  Often times when a flood of new product comes out, a month or two later you see certain players start to rise as collectors have more time to evaluate the price points and that's just what is happening to Xander.  With limited releases there is a chance for more upward movement if Xander performs well this year, in the mean time his Valiants went from $8 to more like $15 this week.
10. Bubba Starling 2011 Bowman Chrome Draft Autos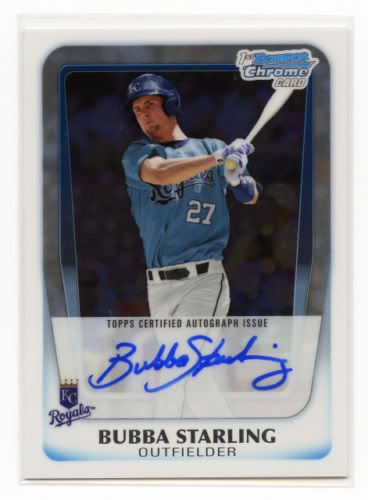 Comments: Does anyone remember Jesus Montero in 2008 Bowman Chrome Draft?  Big name prospect who due to redemptions was cheaper than many expected initially, once chrome autos were in hand, prices rose.  Exact same thing happened to Bubba this year, redemptions were $35-$40 and now in hand autos are selling in the mid-$50s.
11. Kevin Love 2008-09 Topps Chrome Parallels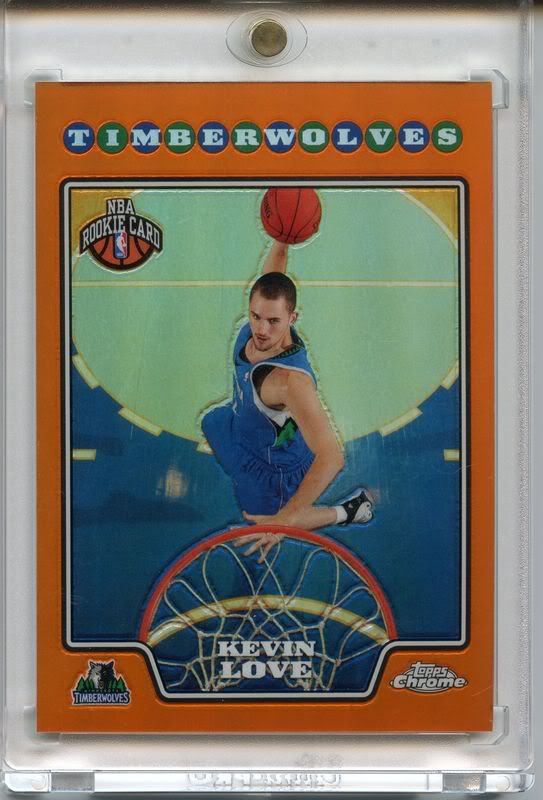 Comments: After an injury ended his year last year, Kevin is back with a vengeance.  6 games, 6 double doubles, averaging 26 points and 15 rpg, I really believe he could keep that up, as insane as that sounds.  The 2008-09 Topps Chrome product has already produced insane prices in the form of Derrick Rose and Russell Westbrook but here comes Kevin Love – parallels are up about 50% this week and Orange Refractors which aren't exactly rare /499 are selling for $50.