THE Master Set Builder. That title can be pretty subjective. If you asked ten different people you would probably end up with ten different answers. Make no mistake, there are plenty of great collections that belong to set builders on FCB. You have people working on the 2009 Ultimate Collection Patch set, the Upper Deck 500 HR Club, the Upper Deck 3000 Hit Club, Topps set builders, master set builders, and many, many more. My vote goes to George Calfas.
George has put together several tough sets and is constantly working on many more. Just to give you a run down of some of the amazing sets that he has completed: He has completed 10 (you read that right) 1993 Finest Refractor sets, he has completed the Finest Refractor sets for 1994-1999 as well, and the complete autograph sets from Allen & Ginter from 2006-2009.
Earlier this month, he made a thread showing his completion of the 2009 Allen & Ginter red autograph set numbered to 10. That is a very impressive accomplishment. The red autographs are super SPed, and there are a lot of A&G set builders to compete with.
A very impressive set that George completed is a Master Set of 1996 Select Certified. He put together the entire base set, Artist's Proof set, Certified Reds, Certified Blues, Mirror Reds, Mirror Blues, and Mirror Golds.
The set that really put him over the top to me is the one he completed today. George has been working on the 1997 Totally Certified Platinum Gold set numbered to 30 since the product released in 1997. For 13 years, he has been tracking these down to try and finish this set off. He went so far as to purchase sets from 2 people who had failed in their attempt which allowed him to fill in some holes in his own set.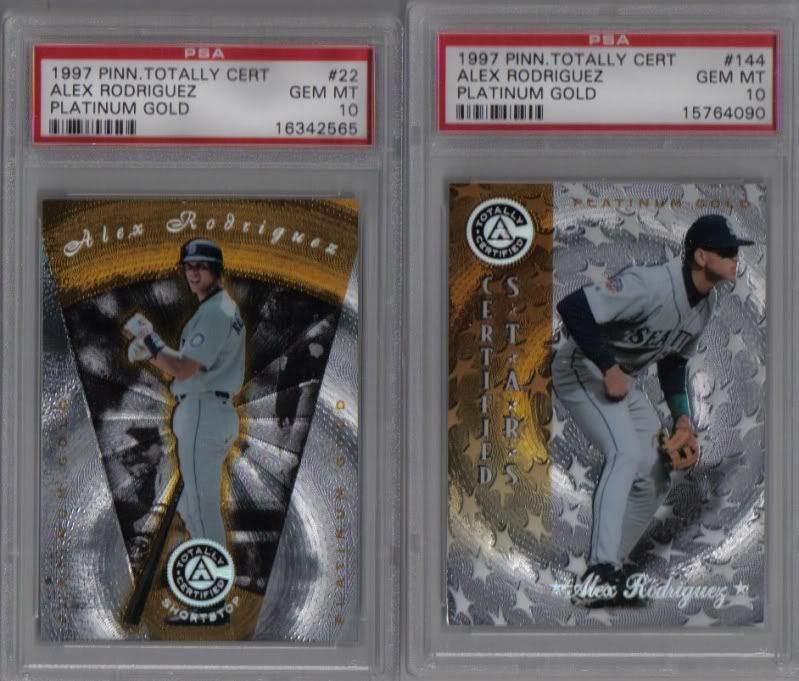 We see a lot of cards numbered to 30 or less that aren't that hard to find nowadays, but after a decade plus these cards have been getting stashed away by other set collectors and player collectors. Plus, some of these cards are still sitting in wax boxes. On the off chance of getting a card he needed for his set, George purchased a box. Low and behold he hit a Platinum Gold of Dmitri Young. Someone on the boards had did some figuring and the odds of him hitting a low numbered parallel and it being one he needed were astronomical! Needless to say, George was very excited about the pull.
Today, George received the last card for the set. As he sat on UStream recording the opening, there it was in all its glory. A 1997 Totally Certified Platinum Gold Ken Griffey Jr. You could tell he was excited to have it hand, but I think an intense feeling of satisfaction would be more accurate. While trying to track down the cards for this set, George has only seen 1 copy surface of some players while others like Griffey had remained totally elusive.
George belongs to PSA and he gets a lot of his cards graded. This newly completed set ranks #1 in the PSA Set Registry.
Congratulations George on completing another difficult and amazing set. I look forward to seeing which one you cross of the list next.
Think you have what it takes to be THE Master Set Builder? Contact me and let me know about it.