A big part of the reason I initially got into baseball cards was statistics, I loved watching the leader boards in all the categories, projecting what the year would look like and doing analysis of any and every kind.  Now, I'm no leatherman (check his posts for lots of good nuggets) but still, I enjoyed the backs of the cards as much as the front.  This week, Josh Hamilton had quite the statistical night when he went 5 for 5 with 4 HRs and a double – 18 total bases and 8 RBIs.  This of course caused me to look up Josh Hamilton on Yahoo! Sports and confirm what I had suspected – his amazing night boosted him even further into the lead in all of the AL Triple Crown categories.  Saying Josh Hamilton is having a good year is similar to saying that the sun is somewhat warm to the touch and that Chris Gilmore has a slight southern accent.  It's a bit of an understatement at this juncture.
That said, what's even more interesting about Hamilton is the story that goes with his somewhat surreal life.  Baseball stardom as a young person, descent into abject drug and alcohol addiction and subsequent reclamation of stardom.  Josh's unreal first month of the season, in tandem with unreal life story I think point out something that's very unique to the sport of baseball.  Players can truly come out of (or come back from) nowhere to make it back to the top of the game.  It's not that the NFL doesn't have some compelling stories – Tom Brady was a 7th round draft pick and is now considered one of the best in the game.  But c'mon the guy was a star at Michigan, he was drafted and well known before the draft.  You take your Tom Brady and I'll counter with Mike Piazza a 67th round pick taken as a favor, only to become perhaps the best hitting catcher ever (not to mention slowest runner).  Nick van Exel had an outstanding career as a second round draft pick in the NBA but honestly, every stud in the NBA without exception is a 1st rounder – show me a guy who went through what Hamilton went through and made the All Star game, show me a guy who was taken in the 39th round and is now starting at 1st base for one of the most recognizable franchises on the planet (LaHair).
Not only are the rags to riches stories more prevalent in baseball than any other sport but so are the resurgences.  If you don't believe me, look at the two guys immediately behind Hamilton on the batting average list, one Mr. Jeter and one Mr. Ortiz.  There was a near consensus that at 37 and with 2,456 games under his belt Jeter's game was tailing off.  He'd been under .300 for the past two seasons, only hit 6 HRs last year and 10 the previous year and his slugging percentage had been under .400 for the first time in his career, two years in a row.  All of a sudden, here he comes hitting .388 with 5 HRs already and playing like his old self.  This would be akin to Joe Montana coming to the Chiefs late in his career and actually doing something.  It just simply doesn't happen.
All this to say, this is what makes baseball great  – there's just seemingly so much more to love.  More story lines, more players and as of this week – more cards.  You thought that you had already tasted the rainbow of refractor colors until you saw this year's 2012 Bowman Chrome, which now incorporates regular, blue, purple, orange, gold, red, super, bowman 1/1, silver ice, red ice and soon to come blue wave and red wave.  And you know what, the market loves them all and they are all selling like hot cakes on eBay and that's kind of fun too.  All of this makes for a very long introduction to a Hot List packed with new cards and rejuvenated players.
1. Tony Cingrani 2011 Bowman Chrome Gold Refractors

Comments: So we'll start with a guy you have never heard of to prove my point about "there's so much more to love."  One of those things that exists to love in baseball more-so than in any other sport is the full blown minor league system.  Heck, on FCB we spend about as much time talking about that as we do about the majors.  How many NBA D-Leaguers have you seen grow up to flourish in the league?  Exactly.  Have you heard of Tony Cingrani before?  No, he's not Vince Papale's cousin, he is a guy who has a sub 1 ERA in 6 starts this year for the Bakersfield Blaze.  Now, why do I mention the team?  Two things – if you know Bakersfield, you would know that Merle Haggard hales from there and that its in the CAL League launching pad, so the sub 1.00 ERA is even more spectacular.  Prior to this week Tony's last Gold Refractor had sold for $8, then they sold for $40 and $55 this week.

2. Christian Friedrich 2008 Autos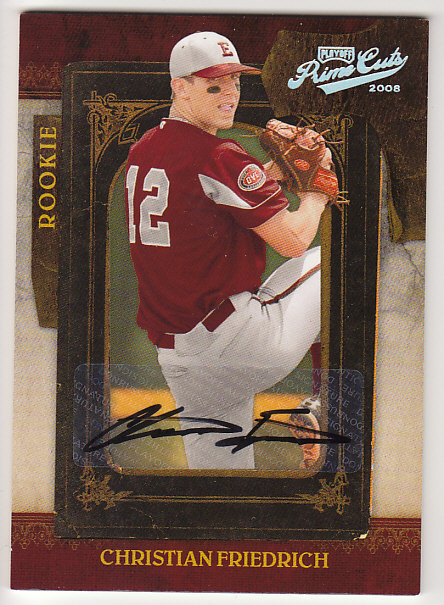 Comments: Christian has been a fairly prominent prospect in the Rockies organization for some time but he's always had one big strike against him, he's a Rockies pitching prospect.  The Rockies and pitching prospects just haven't historically had all that much success so in spite of his success at the minor league level in non-elevated ball parks he never garnered a ton of attention from the hobby perspective.  Christian's first start in the majors was excellent though and it caused cards like a Prime Cuts that got no bids the prior week at $1.99 to get hit at a buy it now of $8 this week.
3. Josh Hamilton 1999 Topps Traded Autos

Comments: Ah, the aforementioned Mr. Hamilton.  Truth of the matter is that Josh was already having a spectacular season when he went straight Ed Delahanty on the Orioles this week. You might need to read more here, to catch that reference.  With this evening of insanity, Josh vaulted into the lead into all the Triple Crown categories and by some margin in the home run category.  Josh's 1999 Topps Traded Autos had been creeping upwards for some time but this week pushed them over the edge.  Raw copies went from $150 to $300 and with a big season and a big offseason contract  to come, I think it is very possible that this card becomes the Miguel Cabrera type of it's set.  Eat your heart out Carl Crawford, Josh owns this set.

4. Wil Myers 2010 Bowman Chrome Autos


Comments: Speaking of guys who are experts in the art of the long ball, Wil Myers is at this point clearly too good for AA.  I live in the KC area and I heard a conversation on the radio today regarding how long they could keep Wil Myers down in the minors.  If he keeps playing like this, I'd go for "not that long."  Wil is another exciting young hitting prospect to add to the collection of Moustakas and Hosmer and he's absolutely lighting it up this year.  Myers Chrome Autos were $10-$15 back when 2010 Bowman came on the market, overshadowed by some Strasburg and Harper guys…  $10 no more, last week they were $35 and this week on sold for $55 as Wil continues to make his case for top prospect in the minors.

5. Jon Jay 2006 Bowman Chrome Draft Parallels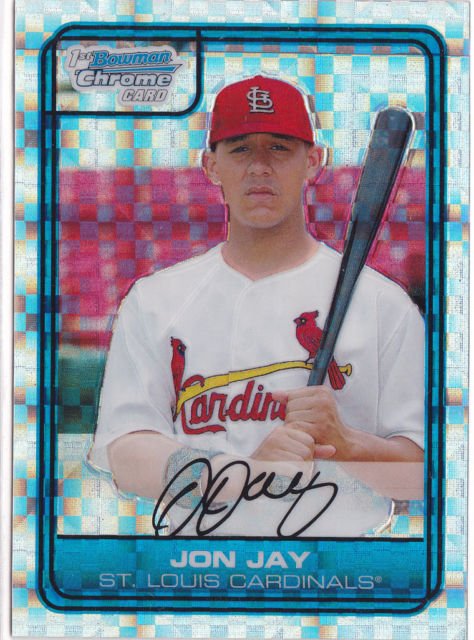 Comments:  Jon Jay had a puppy, I think it's name was Rover.  Rover was a good dog but shortly before this picture was taken for 2006 Bowman Chrome Draft Rover got hit and killed by a drunk man riding a  moped.  This is what I imagine happened because Jon's face is….well, sour doesn't even begin to describe it.  I have to imagine the picture might be happier now, perhaps Rover II has made his way into the Jay family and even if he hasn't, being in the top NL leaders in the batting category usually does some emotions good.  Jon's been around .400 the whole first month of the season and his Xfractors that were $10-$12 last week hit $20 this week.

6. Yu Darvish 2012 Bowman Chrome Autos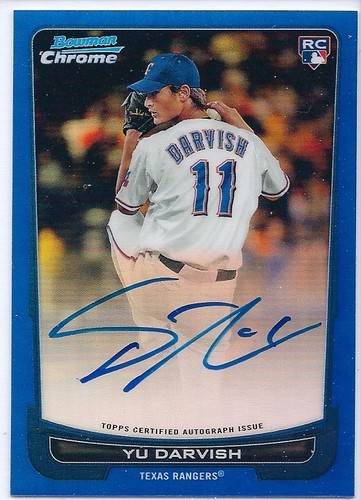 Comments: The Bowman w/Chrome brand used to be the dog of the Bowman brands.  Well, how about this, in a dog show it was the mutt compared to the greyhound and golden retriever like brands of Bowman Chrome and Bowman Chrome Draft.  This all seemed to change in 2010 when Stephen Strasburg mania brought us 2010 Bowman Chrome, 2011 Bowman Chrome brought us Bryce Harper and this year, the chase card can be summed up in a single letter, or two, it's all about Yu.  Collectors are entering hobby shops humming the Paramore song, "All I wanted"…. was Yu.  So far Yu hasn't disappointed this year with a 2.54 ERA, 4-1 record and nearly 10 K's per 9 IP.  What this means in short is that Yu's auto has gone for Strasburgian and Harper (ian?) type amounts with Blues routinely getting $650-$750 early in the release cycle.

7. Will Middlebrooks 2007 Elite Autos /409

Comments: A difference between Will Middlebrooks and Bryce Harper?  Alex, what is "who hit a grand slam in their first week in the big leagues?"  Why, that's correct and since you wagered $2,000 on that daily double you've now taken the lead…ok, I perhaps took the Jeopardy analogy a touch far but you get the point.  Will has been on this list in previous weeks for going bonkers on the MiLB, now he makes it for lighting up the MLB for a grand slam in his first week up.  This pushed his already hot Elite Auto /409 up another notch from $70 to $100 this week.

8. Dylan Bundy 2011 Bowman Chrome Auto BGS 9.5

Comments: What Bundy is doing might be even more impressive given that he seems to typically only have 3 innings to do it in.  Dylan seems to regularly fan more than half the batters he faces, no matter who he is facing.  This week it was 8 K's in 3 innings and the cards continue to rise.  Chrome Autos in 9.5 slabs hit $135 this week up from $105 last week.
9. Bryan Lahair 2007 Bowman Sterling Refractor Autos


Comments: Listen, the Cubs need bright spots, badly.  Bryan is turning out to be that bright spot and in typical fashion Cubs fans will latch onto any bright spot that shows itself during the year.  As I mentioned last week LaHair autos were the bane of many busters existence in 2007 Bowman Sterling and 2008 Bowman Draft.  However, Refractors hit a new high of $75 this week up from $55 last week.

10. Bryce Harper 2012 Bowman Chrome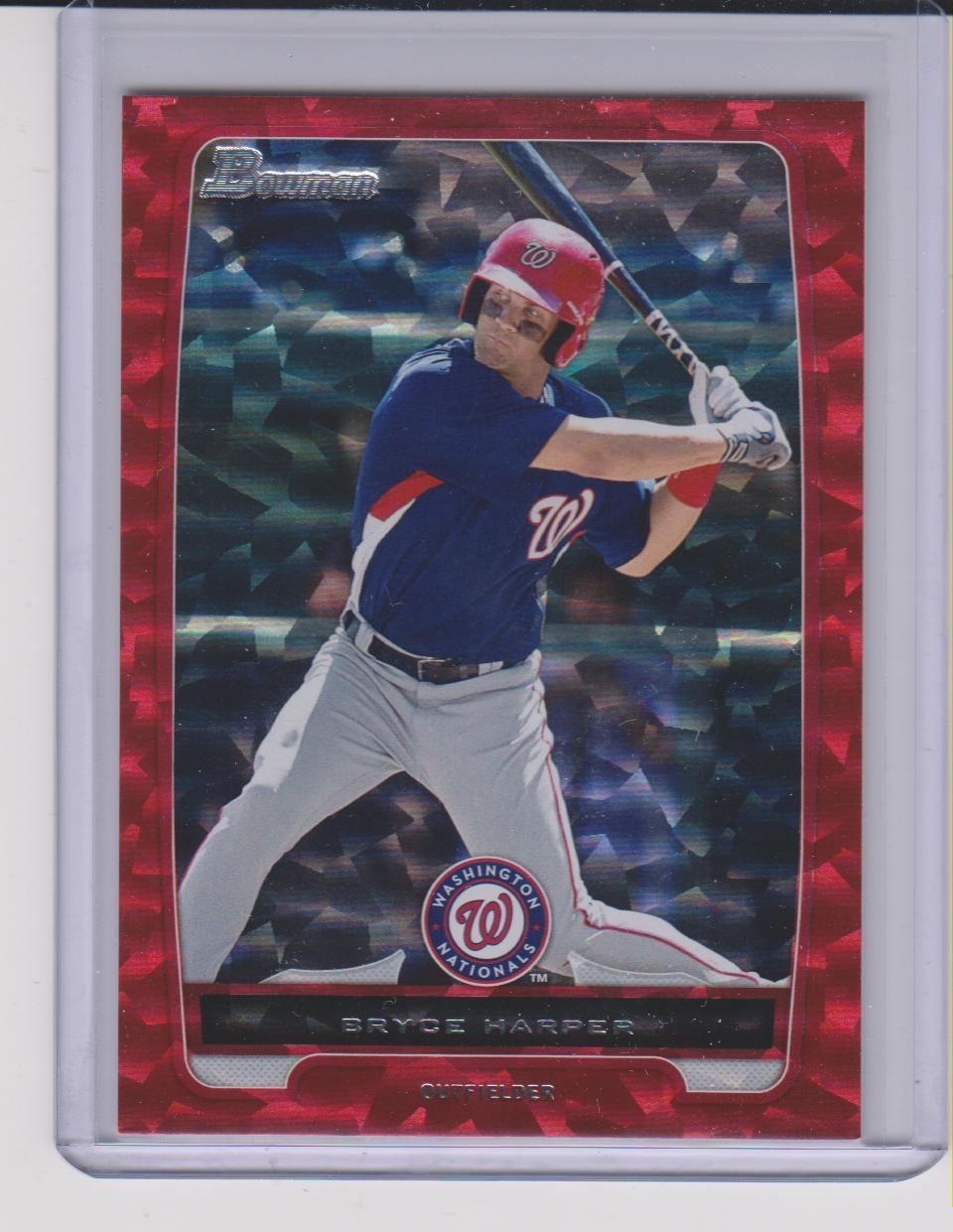 Comments: What would this list be without a Strasburg or Harper sighting, honestly?  Believe it or not, Harpers in the veteran, or at least "green RC" category now yet the Topps printing presses are still glowing red hot from how fast they've been printing cards and autographs of him.  Exclusive contracts are for printing!  None the less in spite of the fact that he's taken ever shape and form possible for a Bowman subject over the past couple of years it is still a good thing to pull Bryce Harper cards out of 2012 Bowman – they indeed are hot.