Each and every week I read a lot of online content in the form of articles, blogs, forums,  Facebook posts and other assorted websites.  It ranges from history to politics, to pop culture, to theology, to sports (lots and lots of sports) and a whole other range of topics.  The one thing that they mostly have in common is that what's being said, has already been said before, in largely the same way.
So goes the internet 24/7 news cycle, you have to be lightning quick to report the news, then you have to be even faster to get the first opinion pieces out on it and then the rest spend time rehashing the original news or even more likely, what the other opinion writers said.  This can make for a lot of boring reading and probably accounts for the abundance of pictures, .gifs, photoshopped images and other things on the Internet designed to keep our attention.  Without either a. interesting writing b. a new subject matter or c. some other hook that sucks you into the story you are either 1. bored or 2. on another website.
So, all that said I'm going to risk being repetitive and say Josh Hamilton is really good.  Oh, you haven't watched ESPN this week?  Well let me make a list of simple comments/questions to update you on the sports world and the card hobby.
1. Josh Hamilton is indeed all that and a bag of chips, heck, he's a Big Grab (you know the kind that you can hardly believe contains over 700 calories?  that one) – his lead in the Triple Crown categories is astounding, even this early in the season (uniformed fan:  wait, Pujols isn't leading?)
2. Brett Lawrie is really stupid.  I'm a lifelong Cubs fan, that means I've had to endure the ups and downs of Carlos Zambrano and even he didn't throw his helmet into an umpire
3. 2012 Bowman singles are selling for astounding amounts of money, the autographs that is.  More on that in the Hot List later
4. I hope the Lakers lose just to see James Harden triumph over Metta World Peace and for no other reason.
5. Speaking of which, the NBA playoffs – do you follow them?  We don't have a lot of commentary on the site but if so comment here on what you think.
6. One of the more enduring topics here on the boards has been the successes/mistakes of Leaf (the producer formerly known as Razor).  You haven't heard much about them lately but they've knocked it out of the park with Leaf Metal Draft and Leaf Valiant Draft in the football arena and to say I'm excited for 2012 Leaf Army is an understatement.
7. Yu Darvish =  best Japanese pitching import ever, eat your heart out Hideki Irabu!!
And on that note, away we go.
1. Xavier Avery 2008 Bowman Chrome Draft Parallels

Comments: It's not often that you write about and see the #1 subject on the Hot List play in the same day but that's exactly what I did when I saw Xavier Avery play in Kauffman Stadium Thursday afternoon.  Frankly, it wasn't like he stood out as the best player on the field but that was overshadowed by two other pieces of information.  First, he was in the big leagues and second, prior to his call up to the big leagues his cards were selling for darn near nothing.  Avery's been up for several games now, one of those games included a double and triple where he got to show off the wheels.  Avery's emergence in the big league lineup caused collectors to remember him and thus the Blue Refractor that sold last week for $1 sold $15 this week.

2. Josh Hamilton 1999 Topps Traded Autos
Comments: Honestly, a couple weeks ago all the buzz was about Matt Kemp, who had began the season on a tear.  Pffffft, Matt Kemp isn't even first in the NL in HRs anymore, now it's Carlos Beltran (yes, that one).  Buzz is not a word to describe Josh Hamilton, neither is on fire, it's almost like Josh has dropped an atomic bomb on the rest of the American League, or gone Blitzkrieg, or insert your own war analogy here.  Josh's start to the season is awe inspiring and if you had those 1999 Topps Traded cards laying around, it is time to break them out.  Base Topps cards are selling for $10 and Autos that were at $350 last week, hit $600 this week.
3. Corey Seager 2010 Bowman Chrome Draft Autos

Comments: In case you are wondering, the presses at Topps are still glowing red from all the USA sets they printed.  you would have thought Topps was forced to adopt some patriot cause the way flags were being printed at that place.  For many of us that busted products like 2010 Bowman Chrome Draft (my hand is raised, 20 times, for 20 cases) this meant that USA Autos usually sold for something like a nickel.  However, as the draft draws near and people start to sniff out their favorite prospects certain players are rising.  One of these players is Corey Seager whose Refractor Autos from 2010 Bowman Chrome Draft were selling for $8 or so last week and $15 this week.
4. Brandon Beachy 2011 Topps Chrome Refractor Autos


Comments: I had a roomate in college who made an awful lot of bad jokes and the really unfortunate thing was that it didn't stop him from trying.  However, as they say, even a blind squirrel finds a nut sometimes right?  I have to imagine that this theoretical blind squirrel would die before finding his nut….I digress.  Anyway, he did find a nut once when talking about a couple of girls whose last name was Beach.  "Hey Phil, imagine if they were men, they'd be sons of Beaches."  Say it out loud, it will make more sense then.  This is just a small insight into my mind as it illustrates what I think when I hear names like Brandon Beachy.  However, the only ones left cursing are opposing teams as Brandon is having a fantastic year for the Braves.  His 2011 Topps Chrome Refractor Autos moved from $14 to $21 this week.

5. Dustin Brown 2003-04 Young Guns

Comments:  I watch hockey highlights on SportsCenter and that's about the extent of my knowledge of the sport.  As it pertains to the Hot List I hope that our resident hockey fans keep me informed.  However, that being said it doesn't take a lot of attention to realize that the Kings are surprising people this year and that Dustin Brown is at the center of that.  There's a terrible pun there related to his position and I should be chastised simply for pointing it out I think.  However, as with all hockey rookies, when the player starts making news, so do the Young Guns rookies.  Dustin's Young Guns all the way back from 2003-04 moved from $5ish last week to $10-$15 this week.

6. Wil Myers 2010 Bowman Chrome Autos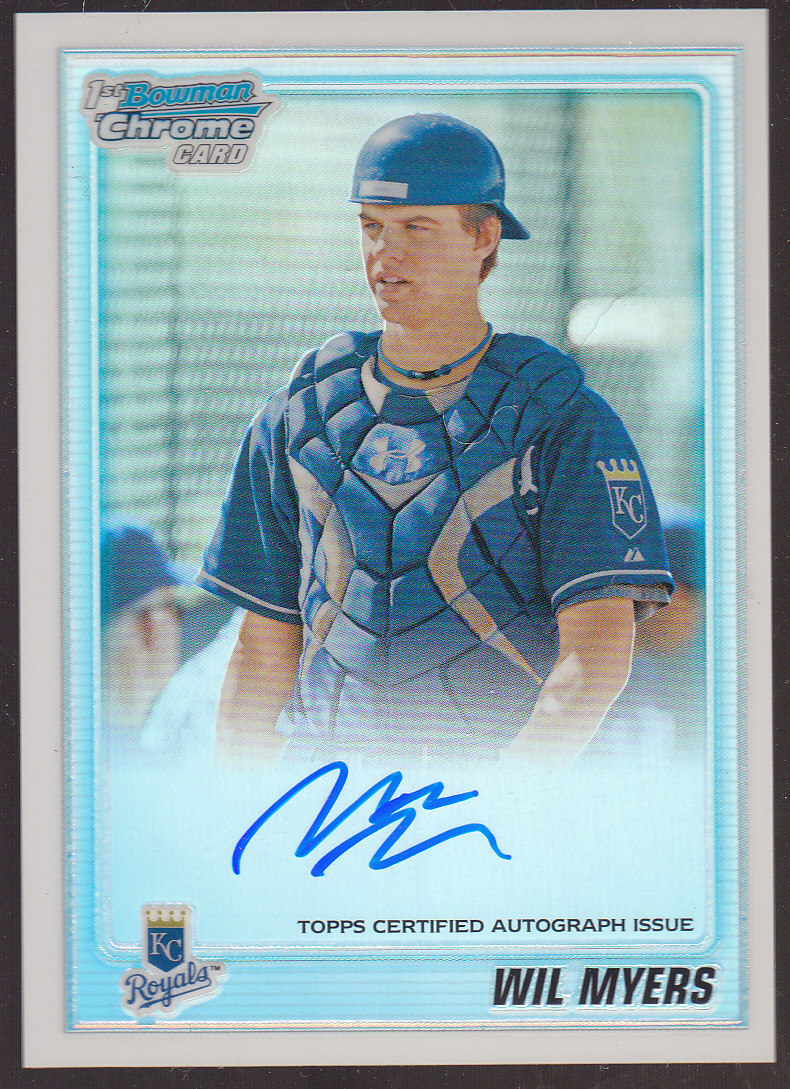 Comments: What Josh Hamilton is to the Major Leagues, Wil Myers is to Double A.  Well, ok, it's not that crazy but he does lead the Texas League in 2 of the 3 Triple Crown categories but is being held out of the big leagues by the stunning Royals offense (or not).  Wil just keeps producing wherever he is at – both league and position and his cards reflect this, Refractor Autos jumped from $45 to $65 this week.

7. Christian Friedrich 2008 Bowman Chrome Draft Parallels

Comments: The 2008 Bowman Chrome Draft non-auto CL was much maligned, the big star was Rick Porcello and yeah, that's about all we need to say about.  However, with Xavier and now Christian we appear to have a resurgence on the Hot List.  Christian has started his big league career with 2 starts and a 1.38 ERA and that will get almost anyone's attention.  His 2008 Draft Parallels have really started moving as a result, everything from Refractors selling for $5 to 9.5 Gold Refractors selling for over $100.  Couldn't this guy be Jamie Moyer's grandkid? 
8. Yu Darvish 2012 Bowman Chrome Autos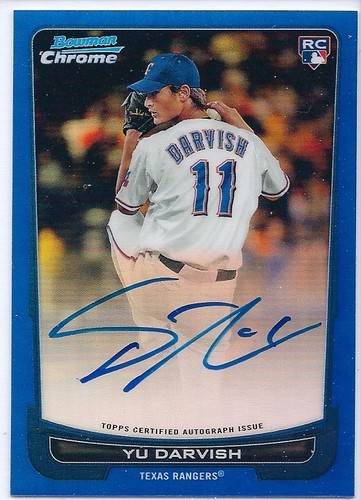 Comments: It's official, I've run out of Yu jokes.  But wouldn't it be funny if Yu talked about himself in the third person like the famous "Jimmy" episode of Seinfeld.  It would be so confusing.  "Yu's got a crush on Elaine."  "Yu's down, Yu needs help."  People wouldn't really know what to do with Yu at all and now even I'm confused.  I guess that's what I get for trying to cross Seinfeld with a Japanese pitching import.  All that said what's yous got (slang for Texas Rangers' management) is a guy who is having a fantastic start to 2012.  Yu is tied for the ML lead in wins and is a receiving a great deal of very positive publicity on ESPN.  Yu's Blue Refractors were selling for $650 when we featured them last week, then they started tailing off and hit the $550 range but with more spectacular performances, back to $650 they go.
Now for a couple new features that will rotate in and out of the Hot List from time to time.
Blast from the Past:
Gio Gonzalez 2004 Bowman Chrome Autos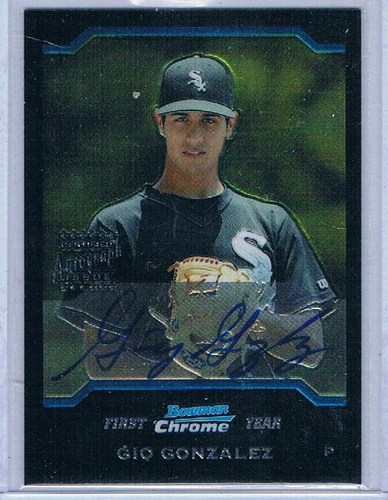 Comments: A little insight into the Hot List.  One of the things I do each week is to check the leader board in the MLB from a statistics perspective.  If you look at the National League you will note that a Washington National is on top in the K's category.  Right, Stephen Strasburg…but actually, wrong, it's Gio Gonzalez.  Gio, although only 26 is already on his 3rd team and seems to have moved it up a notch in 2012.  He's 5-1 with a 2.22 ERA and 60 K's in 48 innings.  Once again, Gio's 2004 Chrome Autos are on collectors minds as they surge to the $20 range.
Ooops, we missed it:
2010 Donruss Elite Drew Smyly Autos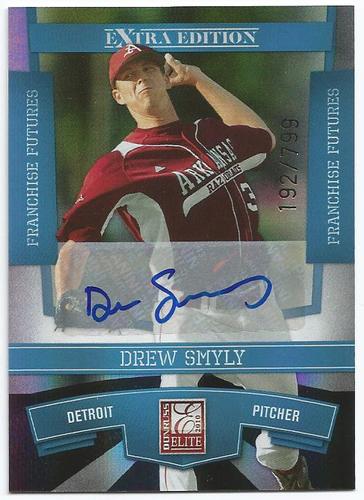 Comments: When you write a list like this, missing a spike is inevitable, there is just too much data out there.  Sometimes these misses get pointed out but often not.  Therefore, an oops we missed it category that makes a debut on the Hot List seems appropriate.  This go round it is Drew Smyly Elite Autos that sell for $30 now and weeks ago sold for half of that.  Drew's maybe not a name you have heard of but after seven starts, his ERA is in the l0w 2s, even though the Tigers have so far given him only one win!