When the news came out that Topps wouldn't be allowed to make football cards in 2010 the one product that customers said they would really miss is Topps Chrome Football.  Thankfully that was just a bad dream, and we have a NFL product line for 2011 that looks to be the most aggressive in the history of the company.  Products like Prime, Supreme, Tribute, Unrivaled, and the ultra high end 5 Star Football show increased dedication to the football line.  This is indeed the year for new football brands.
Although a lot of the new stuff looks great, Topps Chrome is your life long faith full friend.  At least in the card world, your friend delivers reliability and simplicity. Just like it has been for years a box gives you a chrome autograph, and some shiny goodness in the form of refractors.  Changes this year include the absorption of the Bowman Chrome Football line into this product.  Each box will give you about 2 bowman chrome rookie cards and there are refractors of this line that are numbered to 99 copies.  There are also chrome copies of some of your favorite Topps rookie cards over the years.  The insert set comes about 4 per box, and features some of the best players in the game like Ray Lewis
, Peyton Manning
, Adrian Peterson
, and Randy Moss
.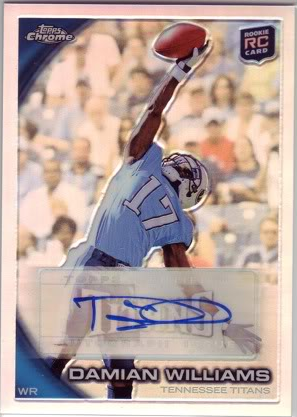 Our box had a refractor autograph of Tennessee Titan Damien Williams, as well as a blue refractor of Dez Bryant.  It also contained veteran refractor cards of Matt Ryan, Reggie Bush, and Matt Shaub.  The box was clean, with no sign of production flaws that were seen in Topps Baseball.  There were no roller marks on the base cards, centering was crisp on pretty much everything.  Well done Topps, now let's see how you do with some high end.
Wanna win a box of your own?  Comment on this blog entry for a shot at a free box from Topps.