1. Calvin Johnson 2007 Rookie Autos

Comments: Coming to a theater near you in the fall of 2011, Beast Mode, starring Calvin Johnson.  Calvin's on pace for 32 touchdowns this year and frankly it doesn't seem to matter what other teams try and do to slow that pace.  The Cowboys had three people around him in the endzone in last Sunday's game, Calvin did not care and went up and snagged the TD in the middle of all three of them.  Lions fan or not it is hard not to watch players like Calvin Johnson and Ndamukong Suh and absolutely marvel at unparalleled athletic gifts.  Now that I'm done gushing about Calvin I also wanted to let you know that I'm not the only one in awe.  Calvin's 2007 rookies, particularly the autos continue to climb to new heights as Calvin continues to climb the ladder scoring TDs.  This week an Exquisite Auto Patch /99 hit $615
2. Paul Goldschmidt 2011 Bowman Chrome Autos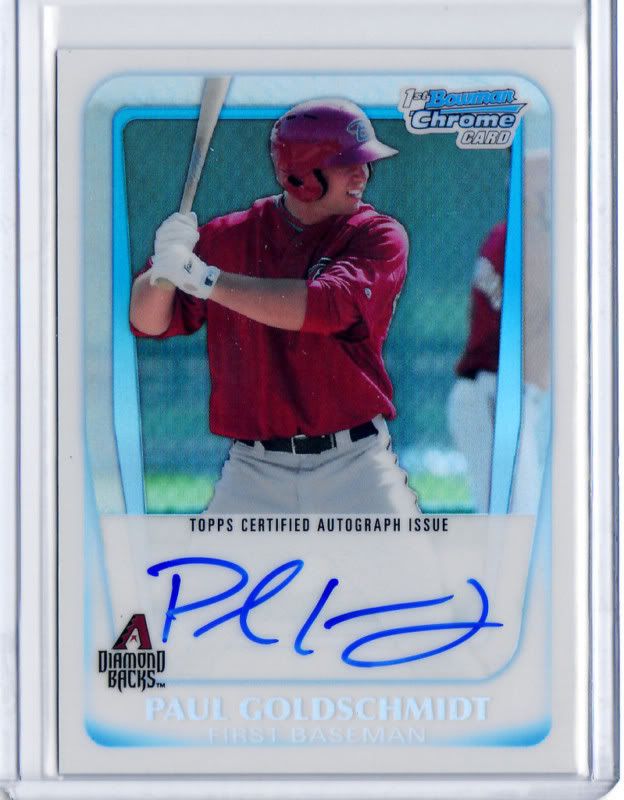 Comments: Paul's a repeat offender on the Hot List.  There's one thing that strikes me about repeat offenders….they should go to jail and we should THROW AWAY THE KEY!!  Oh, sorry there, I'm talking about repeat Hot Listers.  They continue to exceed expectations at each level they are at as they progress.  This is exactly what Paul has done, larger, college draftees have to hit the cover off the ball to get the same kind of props that 5-toolers do.  Paul did that in the minors, then he got called up and he did it in the majors, then he played in a playoff game and he hit a grand slam and had 5 RBIs.  The latter is exactly what lands him on the Hot List this time.  Paul served up the Grand Salami and the price of the Refractor sandwich doubled from the mid $30s to the mid $60s this week.
3. Devin Hester 2006 Rookie Autos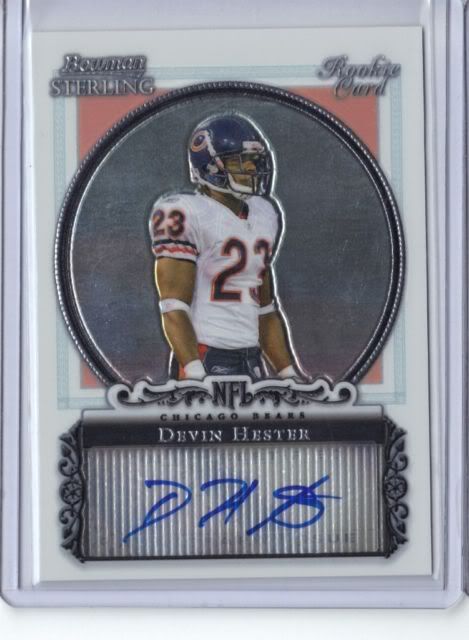 Comments: Devin now has the NFL record for kick return TDs (read:  STOP KICKING THE DANG BALL TO HIM).  These kick returns are also a novelty for the Bears because the O-Line doesn't have to block for them, heck, they don't even have to be on or near the field for them.  Advantage:  Da Bears.  In the land of football cards recognition comes fairly easy for QBs, a little less for RBs, a bit more less for WRs, defensive players rarely have hobby followings and special teams players…well, do you remember how hot the cards were of Dante "X-Factor" Hall?  That's right, neither do I, he only came to mind due to Simon Cowell's new show (sue him Dante!)  Well anyway, Devin's Sterling Autos doubled this week from $20 to $40 because he is likely the most extraordinary return man of all time.
4. Matt Moore 2010 Elite High-End Autos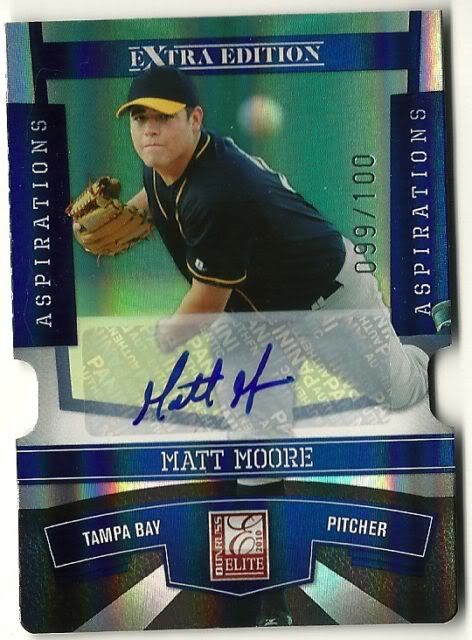 Comments: Does anyone remember the line in Home Alone where McCauly Caulkin looks at Marv and Harry and says "have you had enough or are you thirsty for more?"  At this junction Marv and Harry looked rather beat up and worn out and the answer was quite clearly no.  After game 1 I really do believe a Rays fan or announcer should have asked the Rangers "are you thirsty for Moore?"  Matt was exquisite in his game 1 start and it is at this point in time that I will end the analogy between Harry and Marv and the Rangers and Kevin and Matt Moore.  This is simply because the Rangers won the series and Moore's season is over.  That being said, Rays fans are thirsty for Moore and so are collectors.  Some of Moore's rarer elite autos were selling for crazy money earlier this week, an /50 sold for $186!
5. Cam Newton 2011 Rookie Autos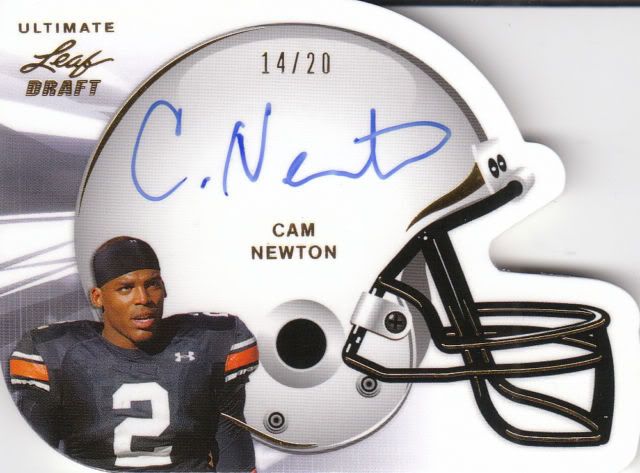 Comments: If you are looking for a job, there are restaurants hiring, they cannot keep up because there are so many heaping helpings of crow that need to be served.  They are also all out of eggs because they are all spread on sports fans faces across the nation.  Ok, ok, it is only 4 games into the season but so far Cam Newton has run and thrown past what were already lofty expectations.  He's been a fantasy wunderkind with 400 yard passing games and rushing TDs but what has been most impressive is his performance in the passing game.  I read a statistic that put it into perspective, 8 NFL quarterbacks have had to throw the ball under cornerback blitzes – Vick, Cutler and others included.  The highest completion rate is Cam Newton at 68%.  As you might expect, its driving card prices simply batty.  The Leaf Auto pictured is up 50% in the past few weeks as is about everything else.  Cam's 2010 UD Exquisite XRC is up to $450!!!
6. Preston Parker 2010 Playoff Contenders Rookie Auto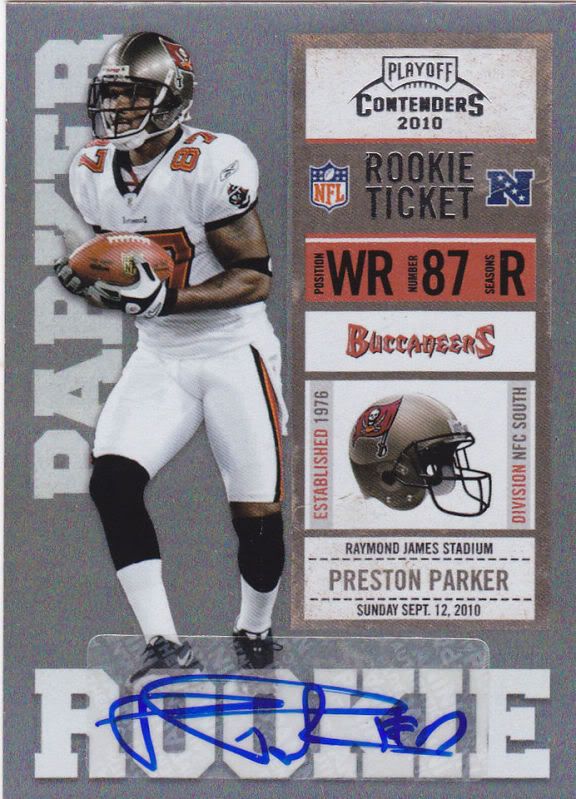 Comments: I have to be honest, this one is a little irritating.  In the 2010 NFL season I was the proud owner of both Mike Wallace and Mike Williams.  I decided that I'd stick with Williams this season (sound the buzzer to indicate wrong answer) and Preston Parker has been an absolute thorn in my side while being the 3rd down outlet valve for Josh Freeman.  Parker is making himself an integral part of the young Bucaneers team and he benefits, as do many lesser known football rookies from having very few notable autos.  He does have a Contenders SP'd /190 though and the combination of his performances and the SP'd nature of the card pushed it from $30 to over $40 this week.
7. Stevan Ridley 2011 Rookie Autos

Comments: The talented Mr. Ridley came alive last week, rushing for 100 yards and a touchdown.  Stevan's got to be a happy man right now, his school LSU is #1 in the polls and he's getting more and more opportunities to be a part of what is one of the most dynamic offenses in the NFL.  It's no secret that the running back committee meets each week for the Pats and it is somewhat unknown who will be the star from week to week but with more performances like last week the Pats are going to have a tough time playing the Law Firm over Mr. Ridley.  Collectors are still somewhat leery about Stevan's role going forward in the Pats offense because beautiful cards like the Finest Auto pictured above are selling for just over $30 but hey, that's still up 50% from last week.
8. Wes Welker 2004 Rookie Cards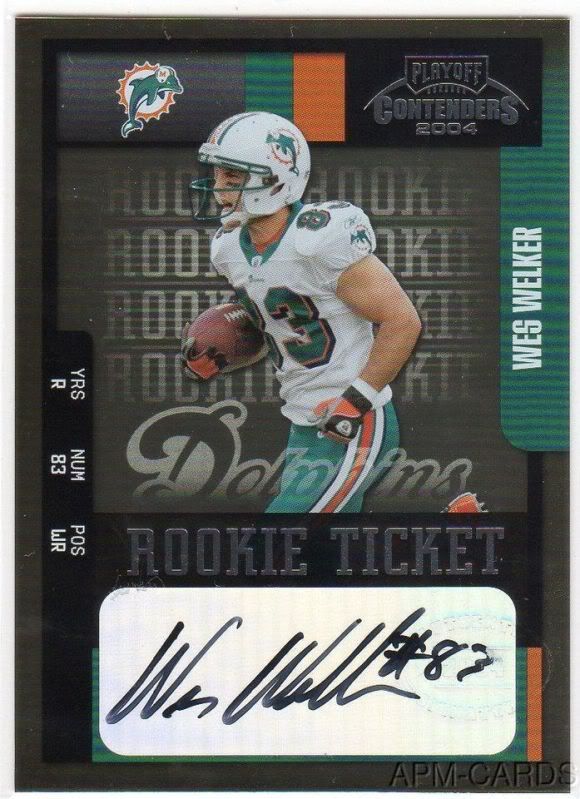 Comments: Physically, everything I described about Calvin Johnson, Wes Welker is the antithesis of that.  They are both fast and that's about all there is in common.  However, they are both unreal good NFL receivers and key cogs in the offense of their team.  Tom Brady and Wes have that special connection that results in a whole lot of catches and a whole lot of yards.  Wes has put up just stupid numbers so far this season and it has caused his rookie cards to take off.  You'll notice one thing right away about those rookie cards, he's not in a Pats jersey.  There have to be Dolphins and Chargers fans shaking their heads every time they see Wes catch the ball – which gives them plenty of opportunities to do so.
9. Troy Polamalu 2010 Panini Autos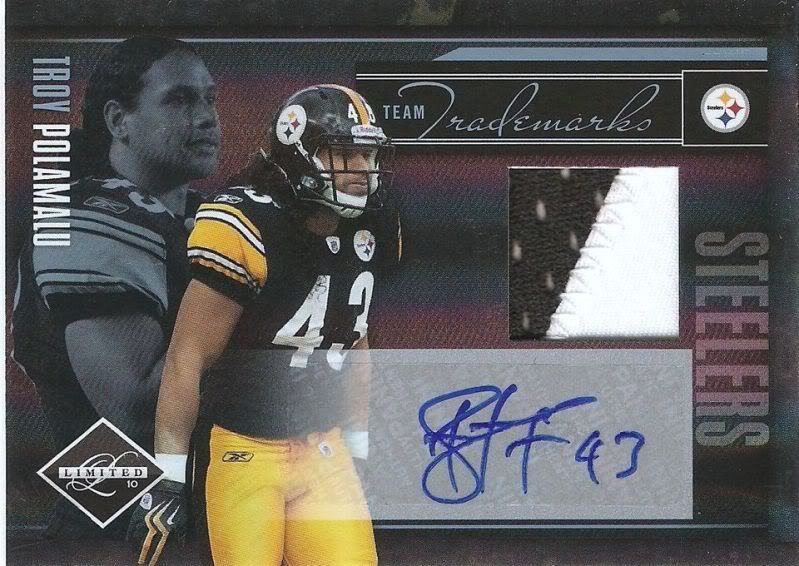 Comments: Remember what I said earlier about NFL defensive players getting little love?  Well Troy's one that does, it probably doesn't hurt that he doesn't sign that often either.  I think the issue as it relates to defensive players and the hobby is that compared to offensive players, TV commentators, analysts and pretty much everyone talks about them so infrequently.  However, Troy is one of those guys that so stands out in his defensive play that he's mentioned very frequently – others like him happen to be Ndamukong Suh, Ray Lewis, Ed Reed, Julius Peppers and I'm starting to run out of names.  So insane skills + infrequent signing + Steelers fan base = super hot Panini Redemption autos selling for near $200 in many cases.
10. Steve Smith 2001 SP Authentic Auto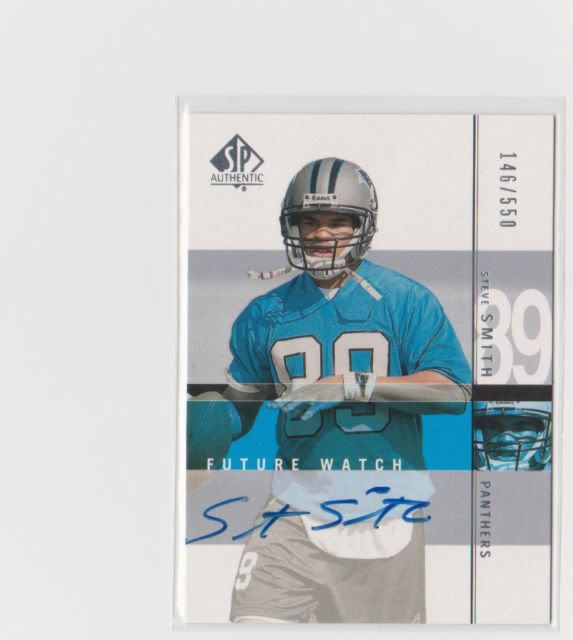 Comments: If ever one Hot Lister was a beneficiary from another it is Steve Smith and Cam Newton.  Steve has quickly become Cam's favorite target (pick your jaw up off the floor, its not Legedu Naanee like you thought).  The combination of becoming Cam's favorite target and the fact that the Panthers truly seem to enjoy throwing downfield means Steve has been racking up the receiving yards something fierce in the early going of the season.  And here you thought that little flag football incident had been the beginning of Steve's ultimate demise…nay nay.  Steve's Contenders Auto is awfully rare but his SP Authentic comes up a bit more frequently and moved from $35 to $52 this week.