I typically write this Hot List on Thursday night and clean it up a bit before publication on Friday morning.  Last week at this time I spent a good deal of time writing about the fact that there was little going on as it related to the events that drive the sports card world.  Since then, the NBA finals have ended and the big soccer tournament going on in Europe is winding down, so seemingly there's even less going on.
However, you would have to be living under a rock (and I suspect many find their home in exactly that spot) to not have noticed the most anticipated Supreme Court ruling in seemingly decades come out today.  The right's selling John Roberts rookie cards and the left is snapping them up!  Oh wait, he doesn't have baseball cards.  However, as you are unfortunately aware the links between the judicial system and sports aren't that hard to find.  Congressional testimonies, perjury trials, anti-doping committees in cycling and seemingly so many more connections.  My question to you the reader is?  Do you care?  Do you even desire to have your elected representatives investigating these sorts of things or do they just soil and tarnish the game you love while taking away their precious times from other, potentially more important matters?  Good arguments can be made for both sides but I guess when you think about it, baseball's first commissioner (Kenesaw Mountain Landis) was a judge after all so maybe this was bound to happen.
But but but rulings regarding constitutionality weren't the only thing going on today.  Just as there are Supreme Court watchers there are watchers of the NBA draft (and I suspect they outnumber the former group just a touch).
So the interesting news day continued and SURPRISE!!!  Anthony "If I wasn't amazing at basketball I'd likely be a social reject for this unibrow and therefore it would probably be gone" Davis was the #1 pick.  But you knew that weeks ago the question was who would the M.Jeff's franchise cast their lot with because the consensus was that picks #2-#15 had real high upside and probably some pretty high downside too.  Now, this is the point at which you need to pause because this past year's draft class although not too exciting in the card world (no rookie cards) really wouldn't have been that exciting anyway.  You had Kyrie Irving (All-Star caliber) and then you had everybody else.  The conundrum the Bobcats had of picking between multiple high ceiling picks was a good one.  They went Kentucky just in case you were wondering and boy their was a lot of blue in this draft between Kentucky and Carolina.
Now all that said, if you'd like to take a guess how much basketball is on this list please do?  Oh wait, none, that's right none.  See sometimes you have to start writing about something to stop writing about something else and the Hot List is no place for political rants, go check your Facebook news feed for that drivel, lets get to some news we can smile about.
1. Adam Warren 2011 Bowman Chrome Autos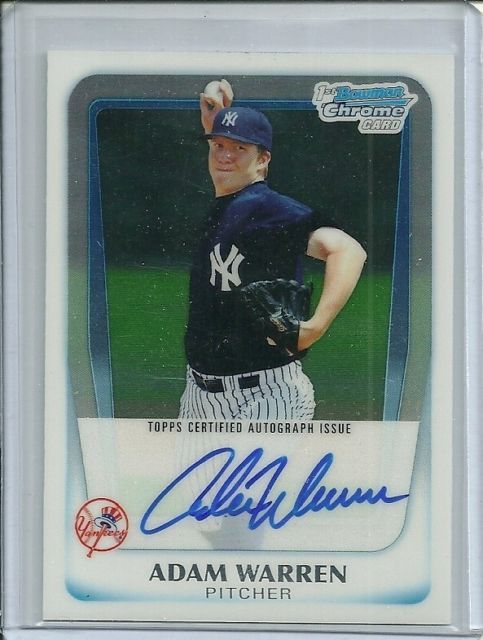 Comments: The Yankees can be described with many words, one word which is not on that list is cheap.  Whether it comes to free agent spending, ticket prices or in this case cards, they are not cheap.  A guy like Adam Warren gets called up to the A's and the only thing that happens in the world is Billy Beane rolls over in his sleep.  Adam Warren getes called up to the Yankees and cards triple and quadruple and all of a sudden the "oh crap, it's Adam Warren" pull becomes something that's actually worth a little money.

2. Miles Head 2011 Donruss Elite Auto

Comments: Last week in the #2 spot we featured a Magic the Gathering card about Land Taxes.  This week, Gilmore wrote an article about his new love for Magic the Gathering cards, folks, "The Times they are a Changin'."  And speaking of a song, I can see for Miles and Miles..  Name two "famous" Miles in sports…fast.  How about Austin and Simon (of the '97 AZ Wildcats).  What, you didn't say Miles Head?  Well Miles is appropriate given all the home runs he's been hitting and yeah they are in the Cal League but collectors are loving his only rookie card the Elite anyway.  It doubled this week up to over $20.
3. Jeimer Candelario 2012 Bowman Chrome Auto

Comments: The Cubs sadly aren't good for much these days except apparently generating Hot List appearances for their young prospects.  This partially happens because in spite of no results, the Cubs still have a large fan base and it probably also is driven by the fact that Cubs fans are grasping for straws, or whatever is less than straws, that's what they are grasping for.  As a result, a prospect like Candelario comes up, hits his first home run and chrome auto prices double overnight. Cubs.fans.will.take.anything.  And by the way, wasn't the "Candy Man" which might be a nice nickname for Jeimer, a scary movie staged in the projects of Chicago?  I digress.
4. Anthony Rizzo 2011 Bowman Sterling Autos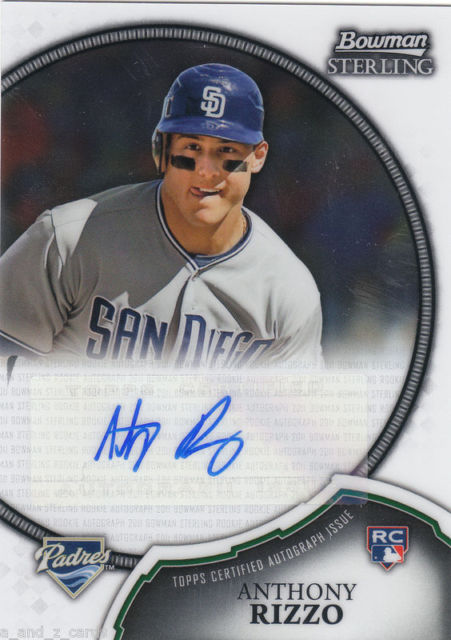 Comments: Speaking of which, the Cubs have something more immediate to be excited about with the call up of Anthony Rizzo.  As you'll recall, Rizzo's initial 2010 Bowman Chrome Auto release got very hot while he was with the Red Sox, he then got traded into the hobby dead zone (but otherwise awesome zone) of San Diego.  He didn't spend a long time with San Diego before he re-united with his former GM, Jed Hoyer in Chicago and anyone still holding his cards must have been happy that day.  Rizzo came up to much fanfare and even "lesser" autos like the 2011 Sterlings moved quickly from $15 to over $30.

5. Ryan Lochte 2012 Topps Olympic Autos


Comments: Is it just me or does the name Ryan Lochte roll much better off your tongue when it's said with a William Wallace type accent.  "Lochte is with us as long as he gets to kill English!"  And tangent over, no war with England is starting but an internal U.S. competition certainly is as Lochte competes with and in fact, beat Michael Phelps in the Olympic trials recently.  If you recall  Michael Phelps autos went absolutely insane after his most recent Olympic performances and that will lead to "prospecting" of others – Olumpic Trial results like Lochte's will make that happen as his autographs rose from $50 to $100 this week.

6. Dan Straily 2011 Bowman Chrome Draft Parallels

Comments: It's age discrimination I tell you.  One of the things that happens in the minor leagues is when an 18 year old does something spectacular people start foaming at the mouth while throwing out absurd comparisons "haven't seen an arm like this since Rapid Robert Feller I tell you!"  On the flip side, if that same pitcher is 23 it's more likely going to be "he's playing against inferior younger competition and in reality, he ought to be pitching even better."  Straily falls into the latter category and that's why his cards likely sell for diddly but after a very nice debut in AAA his parallels started moving.  It doesn't mean they are selling unreal high yet, it does mean that cards that previously sold for $3-$5 are now $8-$10.

7. Mike Trout's Face

Comments: I loved the remark from a commenter in the Hot List Nomination thread "anything with Mike Trout's face on it."  Indeed, Mike Trout's face is on fire.  His face, his face, his face is on fire, he don't need no water let the…yeah and we'll stop there.  A couple times a year you have a player whose cards skyrocket and just don't seem to stop.  Trout who is lighting up the AL West in his first full season is getting rave reviews from everyone who watches him play or looks at the stats.  Sterling Autos which are generally pretty cheap are now hitting $200 in 9.5 form, up from $130 last week.
8. Topps Tier One Bat Knobs
Comments: They'rrrrree baaaaack!  Sometimes its not the set that gets hot, as much as a particular subset and Tier One has two of these (more on the second in spot #9).  How often do you think you'll have the chance to acquire a bat knob of a guy like Roberto Clemente?  Can't think of another time?  Yeah, well neither could a whole bunch of other bidders and thus that card ran well into the 4 digits.  As long as these keep hitting the market we will continue to see crazy prices due to the true 1 of 1 nature of these cards.
9. Topps Tier One Acetate Reprint Autos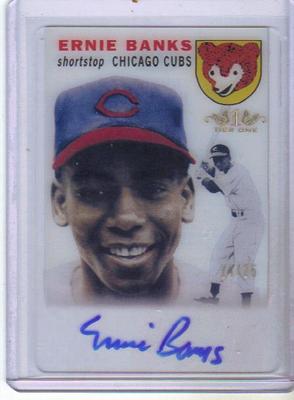 Comments: The reprint autos are hot for an entirely different reason.  They are a nostalgic set due to the reprints, look absolutely fantastic on acetate, limited to 25 and top to bottom the check list is great.  Even with a print run of 25, these will shortly dry up and rarely be seen so in the mean time, collectors are getting in on them while they can and that's making them very, very pricey.
10. Blake Snell 2011 Bowman Chrome Autos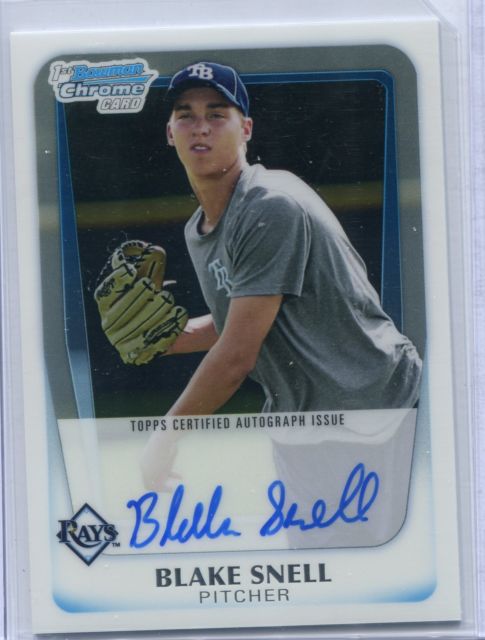 Comments: Blake Snell wasn't a name that got a lot of people excited when checklists were released and due to the fact that he was playing short season ball, his cards stayed extremely cheap.  However, so far in the early going his short season results have been fantastic and blue refractor autos that were $15-$20 are now selling for in the $30 range.