I'm that guy.  I'm that guy that repeatedly says "oh its just preseason, it doesn't really matter."  I'm that guy that advocates for my favorite players to be on the field as little as possible during the preseason to avoid injury.  I'm that guy that waves dismissively at losses in the preseason, because it's just that.  I'm that guy that chuckles as I listen to the AM radio guys analyze the daylights out of the third stringer playing tight end from Central Northwestern Arkansas State and Technical College to come to to the conclusion of "we understand what the GM might have seen here, we see it too."  Only to have him cut the next day in the first wave of roster cuts.  I'm that guy that laughs when I heard John Gruden trotting out his first man crush of the season.
I'm also that guy that has spent far too many hours thinking about the results of my fantasy auction since it occurred last weekend.  I'm also that guy that at the first sign of a positive offensive play from the Chargers sits up in hopeful expectation.  I'm that guy that exclaims "he's back!" after Antonio Gates (who should not be on the field in the preseason) makes a TD catch. I'm that guy that yells "steal of the draft" after Julio Jones makes a fairly ordinary catch against the Bengals.  I'm the guy that stopped to watch Bruce Gradkowski running down field as I was on the way to the kitchen for a refill.  I'm the guy that listens to the AM radio station, watches the ESPN analysis and creates his own analysis in the meantime with his friends.  I'm the guy that extrapolates that preseason performance into prospecting football cards.
To some degree, whether it's with baseball, football, basketball, hockey, cricket, synchronized diving, rhythm gymnastics or the equestrian events, we are all that guy (used in a completely non-gender defining sense) aren't we?  All this came to mind as I was thinking about the repeated "preseason doesn't matter" conversations that I've had with many only to shortly be followed by "my word, did you see that catch Julio made though, I mean, I know preseason doesn't matter like we were just talking about but the guy is in beast mode, early."
Lets just face facts, those of us who are football fans, all the way from moderates to straight up junkies are ready for the season to begin and in the absence of a full meal, we'll eat all the crummy appetizers we can get our hands on.
This has certainly manifested itself in the card world as well, the base Topps release for this football season is on fire.  Base Topps is not something that typically lights the world on fire but Topps did a lot of these subsets just right and you have the strong hunger for anything and all things football as I referenced above and thus away we go.
A couple months from now, we can come back and revisit this post and agree that indeed, the preseason doesn't matter but in the meantime, lets just be honest with ourselves and enjoy it.
1. Aroldis Chapman 2011 Bowman Chrome Autos

Comments: Whether it's WHIP, K per 9, ERA or pretty much any other statistic you could create for a power pitcher you can go ahead and throw the previous records out the window.  The season Aroldis is having as a reliever is truly unparalleled because he's truly unhittable.  He's been mentioned numerous times recently as it relates to possible Cy Young candidacy and a week ago, patience could get you a 2011 Bowman Chrome Auto under $15, this week you are going to have difficulty finding one under $35.  On a side note, Yahoo! Sports writing staff is silently sending their own little S.O.S. (we are out of ideas!) as headlines like "Melky Cabrera is not the first Giants lefthander to have issues with steroids" and excessive use of the words "Honey Badger" are pervasive on the website.

2. Manny Machado 2010 Bowman Chrome Draft Autos

Comments: Most of the time, products come out with a certain player that's selling extremely well and a couple years later, the list from top to bottom has changed and it's some other guy that's selling really well.  Almost without exception though as it pertains to 2010 Bowman Chrome Draft Manny Machado has led wire to wire and his call up and subsequent hot streak last week cemented that place as cards like Gold Refractor Autos in 9.5 form (yes, that's high-end) doubled from $500 to $1,000.  This list is based on percentages so often the real high end items don't make it but as far as a dollar pop in a week goes, that's about as good as it gets folks.

3. Felix Hernandez 2004 Bowman Chrome Draft Autos

Comments: If you get a chance to actually watch Felix Hernandez pitch a ball game, it's an opportunity you shouldn't miss.  Felix is in Seattle, meaning that he's often pitching after many are "night night" and he plays baseball in a town better known for coffee and the legacy of Shawn Kemp.  Additionally, the Mariners haven't exactly been the class of the A.L. since Felix has been around, so he tends not to run up crazy sorts of win totals, thus lowering the amount you may hear about him.  However, the man has stuff and after this week we find out, he has perfect game stuff and that really surprises people a whole lot less than when they hear that Dallas Braden threw a no hitter.  Flashing back to an old Sports Center segment, "did you know" that up till this year there have been 20 perfect games in the history of baseball, roughly once every 6 years and there have been three this year.  This has certainly provided some nice fodder for the hot list and Felix is no different, prices went from $65 to $115 on chrome autos this week.

4. 2012 Topps Mini Exclusives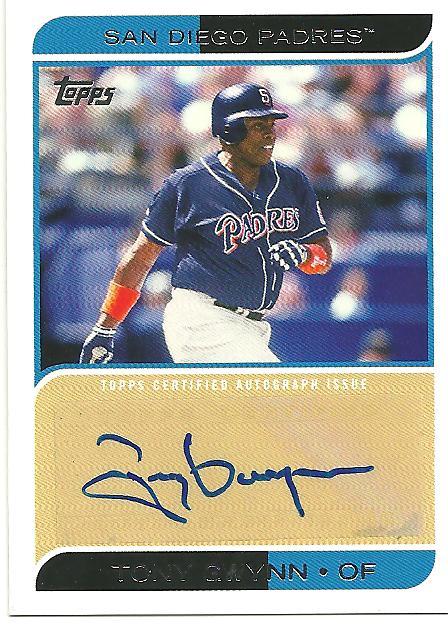 Comments: One of the notable things that has happened at the National in recent years is the introduction of National exclusive products.  This year Topps rolled out a set of "mini exclusive" cards that feature 661 subjects and lots of low #'d inserts and autographs.  This set is only available on topps.com and with how these things are selling my guess is it won't be available a whole lot longer.  Autographs, plates, golds /61 and blacks /5 are selling like crazy from this product.
5. Aaron Hicks 2011 Bowman Chrome Autos

Comments: Aaron was the guy I went all in on in the 2008 Razor products.  He was the 5 tool high school player who was also unbelievably good at golf so I decided to dump some money into him.  4 years later, we are still waiting but Aaron is still just 23 and having a much better season at AA this year than in years past and his chrome autos have moved from $5 to nearly $10 in the past week.
6. Joc Pederson 2012 Bowman Chrome Autos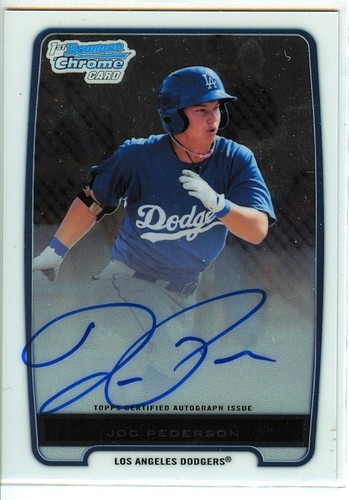 Comments: I see an awful lot of cards because I run the FCB group sub and one guy I have seen repeatedly because he's been subbed time and time again by a particular member is Joc Pederson.  In spite of this, I haven't bothered to look up what Joc has actually done and who he is but this time I looked him up.  Joc has 4 HRs and 15 hits over his last 10 games and is a young OF for the Dodgers.  This is enough to cause autos to move from $5 to $12ish.

7. Tyler Cloyd 2011 Elite Extra Edition Autos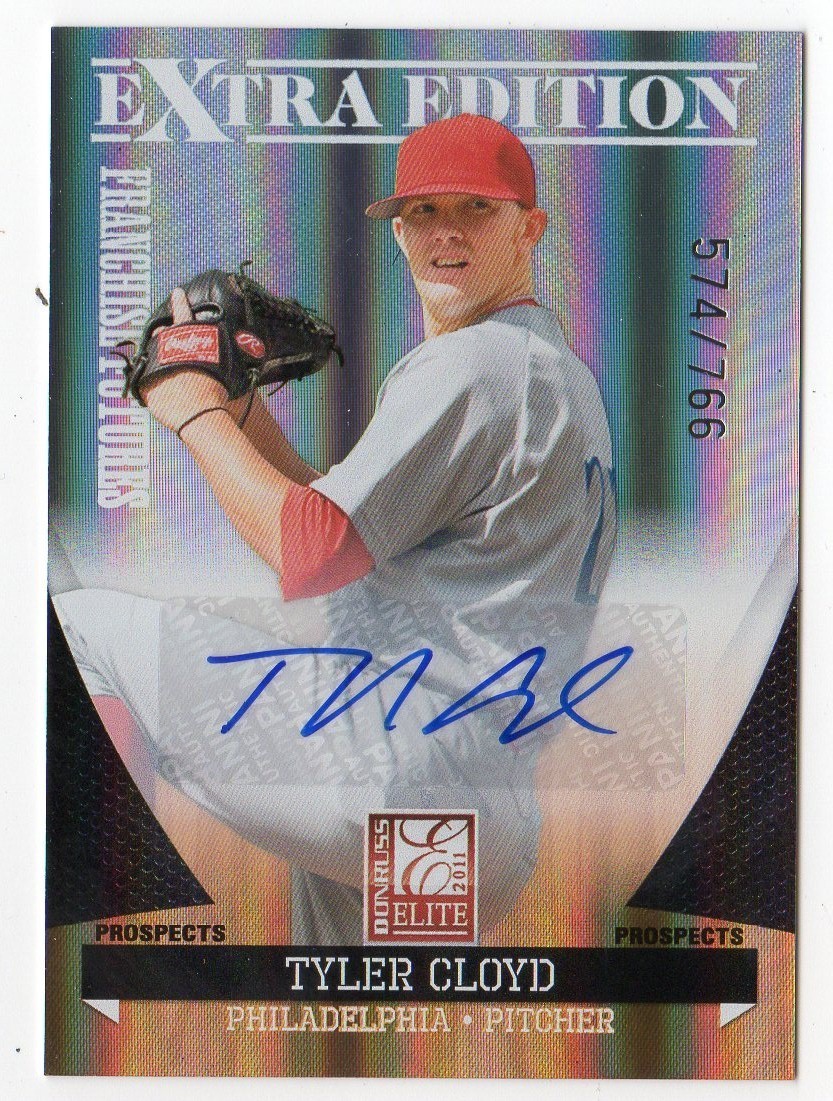 Comments: 25 year olds playing in the minors are a rarity on the Hot List but every once in a while  a guy who is further advanced in age makes the list because his performance is too spectacular to overlook.  That's where we've gotten with Tyler Cloyd who is 15-1 with a 2.13 ERA this year in time in both AA and AAA.  In spite of the fact that he doesn't blow your mind stat wise, Tyle clearly knows how to pitch and you'd have to think so he'd be doing just that in a Phillies uniform soon.  Tyler's Elite Autos moved from $9 to $15 this week.

8. 2012 Topps Football Tall Boy Autos


Comments: As I mentioned in my opening remarks, 2012 Topps Football has been a big hit.  Everything from the Griffin and Luck base cards that are selling for more than $5 per, to the hard to pull Tall Boy autos of the rookie players.  Collectors absolutely love reprints of classic sets and it's no different here in 2012 Topps football.  Even players like Jarius Wright who typically don't garner a whole lot of interest are getting bought just because they are a part of this set.

9. Joe Panik 2011 Bowman Chrome Draft Refractor Autos


Comments: Gas Panik!  Ok, sorry, a lame reference to a band that's not even together anymore but maybe there are those believe that maybe, just maybe Joe is going to be the one that saves me.  If you haven't gotten the drift yet you probably didn't do much radio listening during the '90s and for that, shame on you.  This is about Joe Panik isn't it?  As often happens in the CAL League Joe is in the midst of a hot streak that has him batting over .400 for 10 games.  This is enough to get him noticed and get Refractor Autos to a place where they sell raw this week for what they sold for in 9.5 form last week.

And one more item…

Just a touch more on the Hot List nomination thread, which I think is one of the best threads on the board every week.  You must remember that although we try to be very fair in evaluating week to week prices, there is some deal of subjectivity here.  The subjectivity exists to serve as a moderator for other weird things that might happen in the market.  For instance, if there's an unusually low sale of a Chrome Auto last week and an unusually high BIN hit this week, we have to look at a broader trend to determine if we are talking about a truly hot player, or just a market anomaly.  Just something to keep in mind.