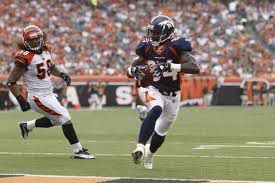 Due to the amount of players in the NFL and the amount of injuries that occur every year, we expect to see all sorts of players – even on our favorite teams that we haven't heard of before.
Sometimes, there are teams full of these players (there is a reason I'm writing this and not listening to the ESPN announcers drivel about the Niners and Cardinals).
However, this year, not only are those players on the field, they are often the leaders on the field. You don't have to look far to find examples.
Take Brandon Lloyd, a guy I watched his entire college career, he was stellar and has had an anything but stellar NFL career, until this year. His career high was 765 yards receiving and 5 TDs, this year, he already has 1122 yards and 9 TDs. Tops in the NFL and 200 yards ahead of T.O. in 3rd place.
What about running backs? You bet – #1 right now is Arian Foster
who has 1500 total yards and 13 touchdowns. This far exceeds his previous career totals of 350 yards and 3 TDs – in total.
Your passing yardage leader is Kyle "hears a who" Orton – the guy the Bears could not wait to get rid of.
Then there is the resurgence of Michael Vick – not only is he back, he's as good as he used to be.
The #1 offense and defense in the league is the San Diego Chargers – they are 6-5.
Chad Henne and Matt Hasslebeck both have more passing yards than Jay Cutler.
Somewhere over the DwayneBowe all of a sudden has figured out that being a receiver involves catching the ball and running towards the endzone. He now has 13 TDs in his last seven games.
Mike Williams (yes, that one, who followed Maurice Clarrett's lead) has 52 catches for 654 yards.
Maurice Clarrett – well, no, it hasn't been THAT strange.
The MNF announcing crew sucks, Ron Jaworski has a square head, Brett Favre is still a drama queen, Jerry Jones get more pub than he ever deserves – oh wait, those are the usual!
What's somewhat interesting is the fact that if you want a little piece of these oddities, it is still pretty cheap to do so.  Brandon Lloyd RCs
, even Contenders still sell for under $15.  Kyle Orton 2005 SP Authentic Auto RCs sell for $28, Dwayne Bowe Topps Chrome Autos
sell for just over $16 and so on and so on.
What other strange story lines will emerge as the season goes on?  Who knows but if you have the foresight to buy a guy like Arian Foster there's some money in it for you
.