2011 Tribute has been a hot item since it's release.  No one seems to have it, and those that do are charging an arm and a leg for it.  First off, let me say this about Topps: they took a lot of criticism for this brand over the past two years and it seems like they finally listened.  I am a wax ripper and gambler at heart and the previous Tribute releases rarely made me bat an eye.  I don't even own a single card from any of the previous releases, even though some of my PC guys have cards in the set.  It just honestly wasn't on my radar the past two years.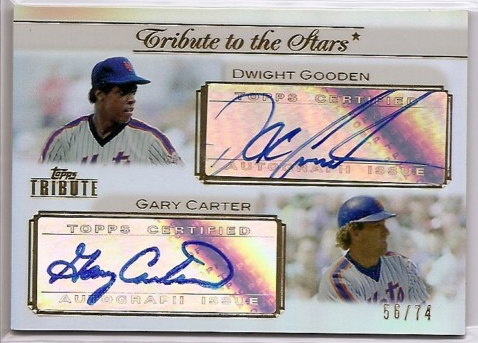 The biggest difference from this year to last in the set are the autographs.  Who wants to rip a product at $250-$300 a box when every auto you hit can be had in a $60-$80 box and at the same quantity? Why are we paying tribute to Rick Porcello in every box? Do I really want a single GU piece of a current non-star player in a $50 pack?  These were the questions that most rippers of the 2009 and 2010 versions of the product asked, and the results really showed in the resale value leaving both rippers and collectors at a loss with this product.  Its kind of a shame that this year's Tribute finally meets the expectations of a high end set and immediately skyrockets to over $350 per box on the retail market, but that's how the hobby cookie crumbles.
So, in all honesty, my break was pretty average.  I pulled four autographed cards with the best being a Gary Carter and Doc Gooden Dual Tribute to the Stars auto serial numbered to seventy-four. Also hit Mike Mussina, Jim Rice and Fergie Jenkins autos in the box.  Not the greatest selection available in the product but when it was over I said: where else are you going to find autos of these players in a 2011 set?  Even though the players weren't necessarily A-list, the singles are holding resale value very well.  The most valuable card in my box was probably the Gold Parallel dual GU of Don Mattingly.  Great player, great card design, great memorabilia pieces; I can see why the secondary market is so strong not only for this card but all of the other GU pieces as well.
I didn't hit any of the premium patches, legends memorabilia, A-list autos or even a Koufax; but I can still very much recommend the product as a decent rip if you can find a box at the $300 or less price point.  With retail pushing $400 right now it's really a gamble, but a fun one at that.  All in all, I give the 2011 Version of Topps Tribute an A-. Great Memorabilia, Great Autographs that won't be available in every product, the Albert Pujols Auto RC chase element and a high end feel across the board put it right on target.  So now that Topps has the Tribute brand figured out, can they repeat their success next year?
Want to win your own box?  Reply here, because one lucky commenter will get some tribute of their own.