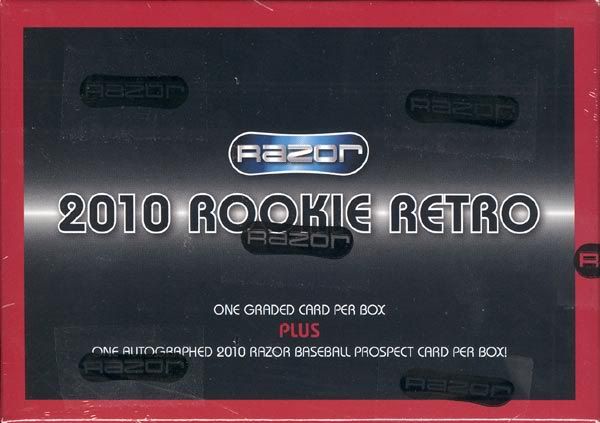 Love it or hate it, Razor Rookie Retro
(RRR) was one of the most discussed releases on FCB over the past 6 months.
I've been tracking many of the sales in a thread in the baseball forum.
As a result of the tracker, I've been able to collect a significant amount of sales data. The first piece that I want to look at is the average return from the repurchased rookie card you receive in each pack. We will look at the Prismatics and Base Autos in a later article.
What the average return by box and by case would be was one of the big questions leading up to the release of this product. Lots of thoughts related to this were discussed but I think the most relevant one is Brian Gray's estimate of 70%+. Two things are unique here – #1 – 70% would represent a return higher than the average high end box; #2 – it is really easy to identify winners and losers with just a cursory glance. Not only is there just one significant card per pack but the cards and their market values are already familiar as most of them have been on the market for years.  These things, combined with a large price tag bring greatly increased scrutiny….and here comes some more.
My sample included 188 completed sales, spanning all sports and all decades.  I was not selective in my sampling, I simply listed and tracked what I could find on eBay and identify as a card from RRR.  I believe some of the largest hits (Crosby Cup Rookie) and some of the worst hits (Drew Brees UD Graded
) were included.  How did Joe Q. RRR Breaker do you ask?  Not too well I'm afraid.
The average sale was $156, or 65% of the $240 retail box price.  However, due to several large sales, the average is very skewed and I think the median is a better metric to use here, the median sale was $93, or just 39% of the $240 retail price-tag.  The best card I saw was a Sidney Crosby the Cup Auto Rookie Patch /99 BGS 8.5 which sold for $5.8K and the worst sale was the Drew Brees UD Graded BGS 9.5 for $26.
Here's a little more granularity on how the sales broke down:
| | | |
| --- | --- | --- |
| Sale Price | # of Cards | Percent |
| < $50 | 21 | 11% |
| $50 – $100 | 82 | 44% |
| $100-$200 | 63 | 34% |
| $200-$300 | 13 | 7% |
| $300-$500 | 3 | 2% |
| $500-$1000 | 4 | 2% |
| $1000-$5000 | 1 | 1% |
| $5000+ | 1 | 1% |
In total, there were only12 sales (6.6% of total) above $240, the retail price for a box.
Two ideas come to mind in regards to the lower than expected sales.
#1 – buying the quantity of product that Razor did to create this product probably drove prices up a little bit.  To buy that much, even over a long period of time would mean buying nearly every example that came along and with that, paying higher, maybe 10%-20% higher.
#2 – On the flipside of #1, the market being flooded with quality rookie slabs starting at $.99 auction, probably drove prices down somewhat.  It is conceivable that with fixed price listings and some better timing, sellers could have realized maybe 10%-20% more on their cards.
That being said, realizing 40%-60% of your cost from a high-end wax bust is by no means unusual and probably quite normal.  Buyers knew what they were in for, as do lottery ticket buyers.  And that doesn't stop the busters or the scratchers.
More thoughts on this product soon!