Do you ever find yourself in a conversation with someone where they tell you a fact that kind of rocks your world?  90+% of the paper money in the U.S. has traces of cocaine on it, millions of people use a prescription drug of some sort and so on and so forth.
Now it's not quite that far out there but a stunningly low amount of people have rotator cuff, tommy john and other throwing related surgeries.  Way, way less than you think.  (Wait Phil, I didn't think that there were that many people that needed that anyway…).  Well, given the amount of stones thrown in anything related to the professional sports industry today, I would have to imagine there would be lines out the doors of clinics.
It's a theme that hit home this week.  First, in spite of the hate the Miami Heat made the NBA Finals.  You just read that sentence and nodded (probably in your head, I'm guessing you aren't sitting at your desk doing a bobble head routine here).  But here's the thing about you nodding, you are acknowledging that hate is almost synonymous with the Miami Heat and lets get even more specific, Lebron James in particular.  The next question I have to ask you is why?
Well, Phil, "The Decision," I mean the guys so full of hot air and ego it's really hard to deal with.  And the "not 5, not 6, not 7″ quote that was said when he and Chris Bosh descended upon Miami.  Well, Lebron's said numerous times that he regrets "The Decision", as he ought to.  And you are telling me that "not 5, not 6, not 7″ you've never heard another professional athlete act overly confident in front of thousands who worship them?  And you wouldn't be inclined to do the same?  naaawwww.  Lebron's actually got a pretty compelling life story and frankly is one of the most gifted athletes ever and yet, hate.  I honestly believe that many would like him more if he had become an all out drug addict and homeless at some point in time and then come back to be a good basketball player.
Now it is a fact that hate, nuisance, annoyance, sarcasm, synonym, synonym and synonym are all cottage industries in the U.S. media today.  Famous conservative columnist George Will when being advised by famous conservative columnist William Buckley on how to come up with content for the bi-weekly articles he was signing up to write "just find two things that annoy you each week, it shouldn't be hard."  We all know, it's not.  In the words of the famous Marshall Mathers "I guess words are a motherf***** they can be great, or they can degrade, or even worse, they can teach hate."  Indeed Marshall.
We've now approached the point where you are asking yourself "has Phil abandoned the Hot List just to stand on a soap box" or more likely "sweet mother, where is this going?"  But that's the beauty of it, instead of writing each week about how annoyed I am with a certain athlete's behavior, a certain call made by an official or how much I dislike something done in the card industry, I instead get to write about all the awesome reasons that card values rose.  Perfect games, great debuts, incredible seasons and so on and so forth and to me, that's refreshing.  So with that, lets get to it.
Side note:  If you were paying attention last week you might be thinking "weren't there stones thrown regarding inclusion of certain players in the Hot List?"  Why yes, there were indeed and for the record (and likely not the last time), about percentage increases here.
1. Tyler Moore 2011 Bowman Chrome Refractors

Comments: Look it is a young Washington Nationals star in the top spot!  But wait, it's not Bryce, nor Stephen, heck it isn't even Gio.  Tyler provided the pop (2 HRs) while Stephen provided the pitching.  There's a lot to be excited about with the Nationals this season and the fact that I named off three Nationals who had already made the Hot List this season is indicative of what many D.C. area folks hope is a changing of the tides in regards to baseball.  In Stephen and Bryce they already have 2 of the best young players in baseball and with guys like Tyler, I'm sure they are feeling like the more the "Mary"er. Tyler's cards last week sold for a buck and those same Purple Refractors that sold for a buck last week sold for $10 this week. 

2. Trevor Plouffe 2004 SP Prospects Autos

Comments: I often have the chance, when placing cards on the Hot List to pick from a host of different brands.  For instance Trevor's 2004 rookie autos include SP Prospects, Elite and Bowman Sterling.  However, who knows how many more times we'll have a chance to talk about SP Prospects, so SP Prospects it is.  Trevor has been on fire since May and already has 10 home runs this season and his cards are just starting to catch up.  SP Prospects hit $10 this week after selling for $2 the previous week.
3. Henry Hill 2010 UD Spectrum Autos

Comments: One of the only consistent negative reasons that some show up on the Hot List is a death.  From a simple economic perspective this means no more auto signing and thus a limited quantity.  Previously guys like Gary Carter and Junior Seau have shown up on the list for this sad reason and this week it is Henry Hill.  He played SS for the Orioles in the '60s, you know, that guy?  Actually, Henry didn't play baseball at all but he is the subject of one of the all time iconic movies in my book, "Goodfellas."  I'm sure it will be on AMC on 24/7 repeat soon enough but a google search can provide you hours of entertaining reading if you are so inclined.  The Mafia code of omerta was one of silence, no rats.  Henry broke that and if there was a code regarding the signing of cards, well he broke that too.  He's actually feature on a UD Sports Icon card and that card rocketed from $10 to $50 this week with Henry's passing.
4. Marcell Ozuna 2011 Bowman Chrome Parallels



Comments: Marcell has always had good power, as a 19 year old he hit 22 home runs in 320 at bats.  However, this season with 15 home runs already, on pace to set new career highs and in spite of the fact that it is is his 4th minor league season Marcell is still just 21 and on a tear.  Blue Refractors rose from $2 buck to $10 this week.

5. Joe Kelly 2010 Bowman Platinum Autos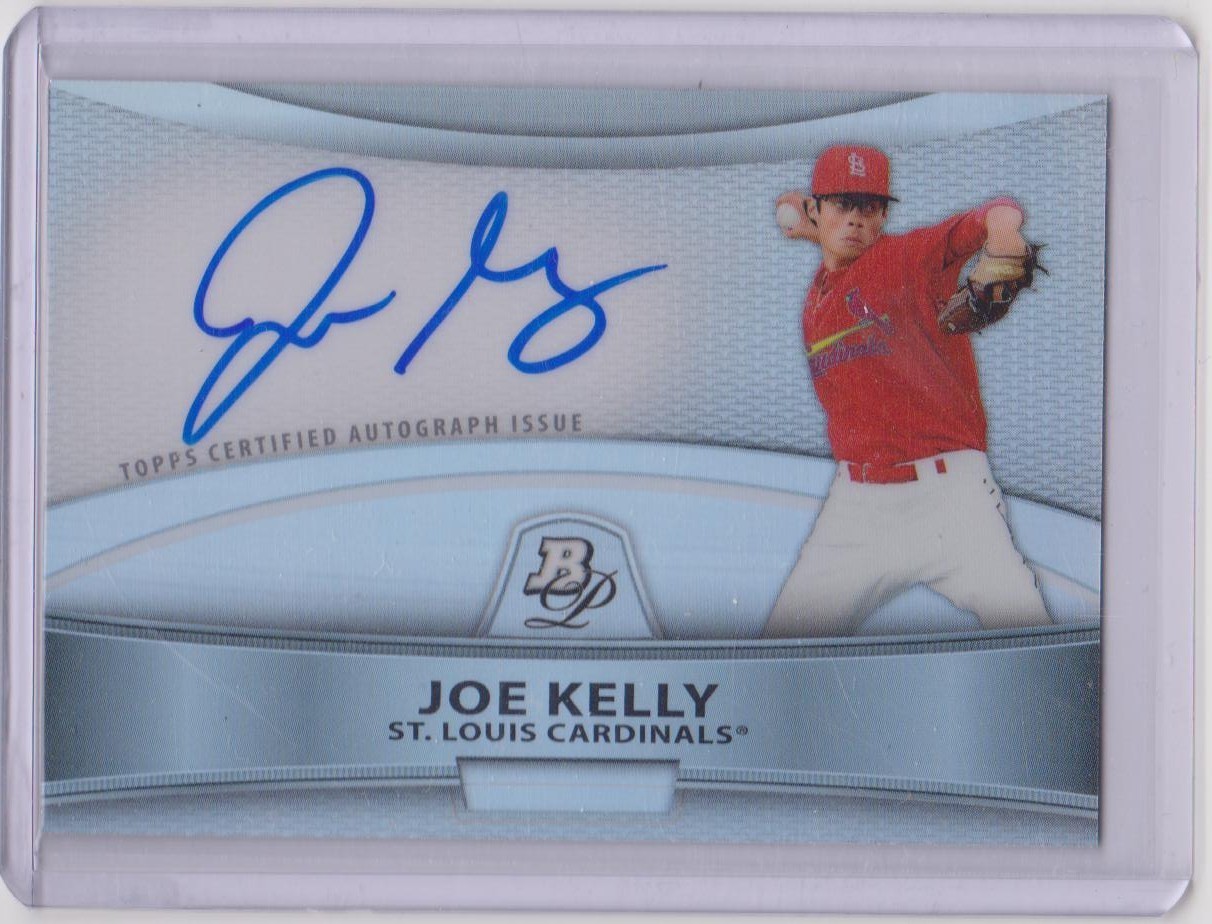 Comments: Lance Lynn has made this list quite a few times and so have other Cardinals pitchers that have emerged from the nameless ranks of many to pitch really well.  Joe Kelly is the latest one of those names to fare very well in his big league debut and the Cardinals just have a knack for putting the right pieces in the right places when it comes to pitching (minor allusion to Good to Great).  There's another side effect that occurs as a result of this – it's that guys who previously sold for very little (Mom:  hey Tommy, what did you get out of your Bowman Platinum pack?  Tommy: awww, all I got was this crummy Joe Kelly autograph and a refractor numbered to a number that's too big for me to read) now sell for a little more.

6. Matt Cain 2002 Bowman Chrome

Comments: Yeah, it took this long to get to the guy who threw a perfect game.  Lincecum and Cain and pray for rain?  Well maybe not so much this year.  Matt Cain has always had "stuff" what he hasn't had is run support or just general good luck which has resulted in no seasons with over 14 wins and array of other statistics that would surprise you for a pitcher of his caliber (3.28 career ERA).  Apparently, like a runner who runs a fairly conservative race only to finish with a dizzying final kick, Matt wanted to use up some of his good fortune all at once with two amazing catches that benefited his perfect game which he threw Wednesday night.  2002 Chrome is undoubtedly an iconic set at this point and it's not because of all the Jeremy Hermida rookies I had stashed, it's because cards like Matt Cains 9.5s go from $45 to $125 with such news and base chromes over $125 is news indeed.

7. R.A. Dickey 1997 Bowman Chrome Rookies

Comments: R.A., Robert Allen in case you were wondering holds a couple interesting big league records – most wild pitches in an inning (4, tied with Walter Johnson) and most home runs given up in a game (6, tied with Tim Wakefield).  Just as surprising, R.A. is tied for the national league lead in wins this year with 10 already and at 37 seems to finally be coming into his own.  Although his rookie cards were produced way back in 1997 with that first Bowman Chrome release – they are moving now, just like Jose Cruz Jr. (oh wait, he's on BBTN).  R.A.'s Chromes are up to an amazing $10 from $5 last week.
8. Chris Sale 2010 Bowman Chrome Draft Autos

Comments: If you opened 2010 Bowman Chrome Draft you know that one of the bigger pulls was Chris Sale, that bubble deflated rather quickly as there was much speculation around whether he was a reliever or not.  However, Chris is putting all that talk quickly to rest with his 2.05 ERA this far into the season.  It' s not just the ERA, or 8 wins either, opponents are batting .188 against him with a WHIP of .85, pretty incredible on both fronts.  This means Chris' cards are no longer on…oh yes, I did.  Sale.
9. Jonathan Quick SP Authentic RC /999

Comments: Remember who was on this list last year?  Tim Thomas.  No, not the basketball player from Villanova, the Stanley Cup winning goalie.  Well, let me just say that if you could predict the Stanley Cup winner you would be wise to snap up cards of their goalie like it was going out of style.  Jonathan Quick's SP Authentic cards, even the base /999 are absolutely on fire moving from $110 to $150 this week.
An "Oops We Missed it":  Carlos Ruiz 2005 Rookies: With all of the Phillies fans on the board I would have expected that someone would have mentioned the fact that Carlos Ruiz is hitting .361 and has 2005 Elite Autos that sell for near $30 but nay…