It's a little Ironic isn't it (is that the second time I've referenced that song in as many weeks?  You oughta know it is!), that we love sports so much that sometimes stories that aren't centered on the athletes themselves become larger than the sport itself.
So unless you've been walking around all week with your fingers in your ears yelling "nanner nanner nanner, I can't heeear you!"  You would know that the replacement referees made a bad call that cost the Packers the game on Monday night.  You should also know that you weren't the only ones walking around yelling "nanner nanner nanner."  The replacement referees were doing the same and the real referees were doing it with big grins on their faces as the owners pleaded to have them hear their demands.  Also, Pete Carroll did it but that's just because it is what Pete Carroll does every week, that guy just seems like he's one turkey short of a Thanksgiving dinner.
One of the talking heads on ESPN mentioned that the owners effectively didn't care about how bad the replacement refs were because "there is an inelastic demand for the NFL."  This is a serious issue, an ESPN talking head talking economics.  Inelastic sounds like an interesting big word that might make you think for a second this guy was Milton Friedman, or John Maynard Keynes but in reality it tells you one thing, he's dumb.  First, very few things are truly inelastic as it relates to demand.  This is to say that bad officiating is not going to change the number of people watching games on Sunday – we all know that isn't true.  Second, inelastic demand as it relates to revenue into the owners pockets via merchandising, TV contracts, attendance and so on isn't the only game in town.  I imagine the Packers GM could tell you that there are a few other factors that came into his mind when negotiating the new contract with the referees.  I mean seriously, who ever thought we'd be pining for Ed Hochuli?
And speaking of pining some time ago a Cubs fan who wanted to see Adam Greenberg back in the bigs started a push for one more game in the MLB for Greenberg.  I won't explain it here but you should click the link to Wiki above for more on why that's meaningful.  He got his wish, Adam was signed to a one day contract to play the last game of the season for the Miami Marlins.  He will get another at bat.  In the midst of all the anger over the replacement refs, all the political commercials you see everywhere and all the rest of the negative nancies floating around stories like that are heartwarming and truly worth noting and #1 on the Hot List?
1. Adam Greenberg 2004 Bowmans Best Autos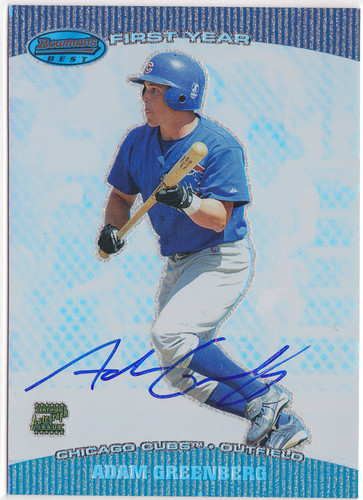 Comments: Phil, why is the card of a guy who has a morning radio show on the Hot List….that's Mike, this is Adam.  I remember when Adam made his debut for the Cubs and how sad that was.  Now, news comes that he's been signed to a one day contract for the Marlins – how sweet is that!  I rarely use to be completed sales as a guide for the Hot List but in this case, we make an exception, Bowmans Best Autos were selling for $7-$10 and post announcement you have one that hasn't even ended yet at $30.
2. Bilal Powell 2011 National Treasures Patch Auto /99

Comments: Several years ago the word on the street was that Shonn Greene was supposed to become the man for the Jets.  That's right, the J-E-T-S Jets, a team that would run the football down your throat.  Shonn hasn't exactly become the man and as an Illini fan, the fate of this ex-Hawkeye doesn't really get me all teary eyed.  In fact, Bilal, a guy whose first name sounds like something to do with the gastrointestinal tract looked very good last week and is going to probably start stealing more and more carries from Mr. Greene.  Bilal's National Treasures autos popped up from $35ish to near $100ish this week.
3. Golden Tate 2010 Playoff Contenders Auto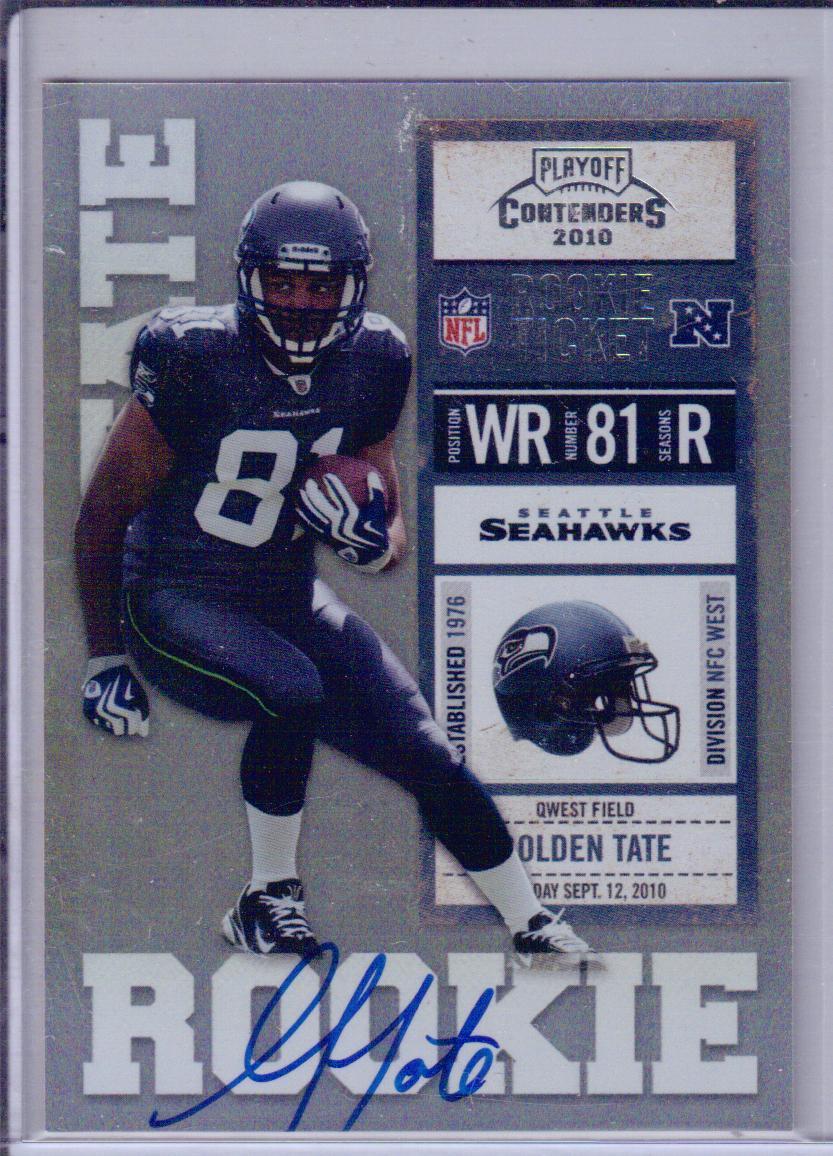 Comments: Outside of being known for football, the Golden Domers have a reputation for being a very good academic school, that is to say, they have smarts.  Golden was smart enough to wrap and arm and a hand, or two around the ball that M.D. Jennings caught and then lucky (luck of the Irish perhaps??!!??) to have a referee come over and signal touchdown!!??!!  Golden got a whole bunch of publicity for this and his Contenders Autos moved from a couple bucks up to near $7 this week.  However, it has to be noted that he and Russell Wilson also hooked up on a really nice TD pass earlier in the evening and one has to wonder if this young star will start to emerge.

4. Kyle Rudolph 2011 Exquisite Patch Autos

Comments: You may have noticed that there is this trend that really big TEs who are athletic have been doing well in the league lately.  To that end, I really really wanted Kyle Rudolph for my fantasy team this year and I didn't get him and that stings now.  Kyle already has 3 TDs for the Vikings who came out of nowhere to stun the Niners last week and his Exquisite Patch Autos (all of which are stunning) spiked from the $60 range to over $100.
5. Jamaal Charles 2008 Topps Chrome Autos

Comments: I live in Chiefs land and there was a whole lot of "will Jamaal ever be the same speculation" going on after the first two weeks of the season.  That question was put to bed when Jamaal went 91 yards for a touchdown and ran away from all the bounty hunters, errr I mean Saints en route to a massive day of nearly 300 total rushing and passing yards.  Not only did Jamaal look good but the Chiefs as a whole looked better for at least 20 minutes and this was enough to see Jamaal's 2008 Topps Chrome Autos move from $12 to over $20 this week.

6. Mikel Leshoure 2011 Playoff Contenders Autos

Comments: I would like it duly noted that Mikel Leshoure (former Illinois RB) is on this list and Shonn Greene (former Iowa RB) is not on this list.  Mikel finally got in a game after being drafted way back in the 2011 draft only to have an injury and a suspension keep him out for 18 games.  He wasted no time putting up a 100 yard rushing day against the Titans in the one of the craziest games you will ever see.  This caused his Contenders autos to double as he is one of the hottest waiver wire acquisitions this week.
7. Torrey Smith 2011 Topps Finest Autos

Comments: The story about Torrey Smith playing Sunday night is an awfully sad one.  With a heavy heart he had a huge game thinking about his brother that was killed the night before.  The truth of the matter is that most of us do best when in tragedy and loss we continue to do our work, Torrey's just happens to be playing football in the NFL.  The big game was not unexpected as many had Torrey pegged for a big year.  Torrey's cards are still rather cheap but most of the lower end autos like the Finest are nearly double where they were last year.

8. Miguel Cabrera 2000 Topps Traded BGS 9.5


Comments: There's this thing called the Triple Crown.  You haven't heard about it much lately because as I recall it hasn't happened since 1967.  It actually came somewhat close to happening last year with Matt Kemp (who repeatedly appeared on this list with absurd prices) and this year Miguel Cabrera is one home run away from having it within his grasp (slow down Josh!).  Triple Crown or not, Cabrera is a "generational" hitter who has only been made better by having Prince Fielder in the lineup.  He was good 50 lbs ago as a teenager killing the Cubs in the 2003 playoffs and he's even better now.  Everything of Miguel's is moving but 2000 Topps Traded 9.5s showed a 40%-50% increase this week.

9. Oscar Taveras 2012 Bowman Chrome Parallel Autos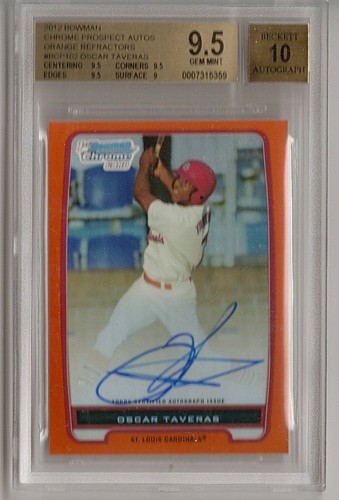 Comments: I have previously mentioned Oscar's astounding season.  Let me now mention the fact that when 2012 Bowman Chrome came out I was somewhat stunned at the prices that Oscar sold for.  As a result, he wasn't on my buy list and that my friends was a mistake.  Oscar's raw orange auto hit nearly $1K this week and any and all parallels are going bonkers.

10. Christian Ponder 2011 Topps Chrome Autos

Comments: Someone has to throw those TD passes to Rudolph right?  Someone has to throw those balls to Percy Harvin right?  Someone has to make all the handoffs to Adrian Peterson.  That someone is Christian Ponder.  Alex Smith was on this week last week because the Niners were so hot and Ponder makes it this week because his cards jumped because the Niners were beat, by the Vikings.