Almost every week you read, laugh and perhaps cry a little about a Hot List that was primarily composed on Thursday night, tidied up on Friday morning and then published.  The reasons for writing it then are quite simple – it keeps it as fresh as possible given my schedule.
Thus, the Hot List has been written from many locations across the U.S. depending upon if I'm traveling or not.  Last Friday, I was and had every intention of writing the Hot List from an alternate location and then totally whiffed on bringing my laptop.  Now at this point the line "Phil, I don't care about your travel schedule, your laptop or your sorry excuses for why the Hot List wasn't written on a timely schedule."  All of those are fair and rather relevant points but what really matters is fresh.
No, not the words of Frank Costanza "doesn't matter, I like to go in fresh!!!!"  Fresh like the produce you buy in the store, even when it's a few days old it changes your entire opinion about the product.  I love a banana that's just at the right level of ripe but a few days later, you couldn't make me eat that brown pile of mush.  Just a few days count.
That's what has probably kept this Hot List going so well is that it reflects lots of recent things that haven't been droned on about ad nauseum, or least quite yet.  That's also what the challenge is about writing one of these on a Tuesday.  In one of his articles (I don't recall which one at the moment as his writing has been so prolific as of late) Gilmore mentioned how he loved the volatility of the NFL.  As the guy who lives on price spikes, I couldn't concur more, it provides an awful lot of material…however, it also means that the analogy about the ripe banana to the foul banana I gave above is no good, the process goes oh so much faster than it does with a piece of fruit.  All that to say, don't choke when you see a reference to something that happened Sunday the 16th on a Hot List that's dated the 14th.  Maybe we do all share Frank Costanza's passion for "freshness."
Comments: So I'm the guy who writes a couple of rambling paragraphs about the value of freshness (is that a word!!??!!), as it relates to the NFL and then as #1 on the very same Hot List puts a box of a brand with the word "Retro" in its title and it's…what..basketball?  Contradictory, yes?  NO!  Retro could be defined in the dictionary as a fresh wrapper on an old favorite and that's exactly what you have in UD Retro.  If you haven't noticed, 1990s basketball inserts sell for ludicrous amounts of money.  Kind of like the NBA Jam catch phrase from the same Sega Genesis era, "they're on fire!"  Indeed, the Retro brand too is on fire and boxes moved into the $600-$700 territory late last week.

2. Teddy Bridgewater 2011 Leaf Army Autos

Comments: Ok, ok, now it's time for the NFL right?  No, it's time for Teddy Bridgewater?  Teddy whatwater?  Muddy Waters?  Bridge over troubled Water?  Man, I hope this guy continues to make the list because I could go on forever.  Teddy is the sophomore starting quarterback for Louisville and thus far is having a near perfect season in that role.  Because of the Leaf Army products you can buy autographs of this successful college quarterback but they are going to cost you a little more than they did last week because Teddy's autos moved up to $35 from $15.

3. Stephen Hill 2012 Rookie Autos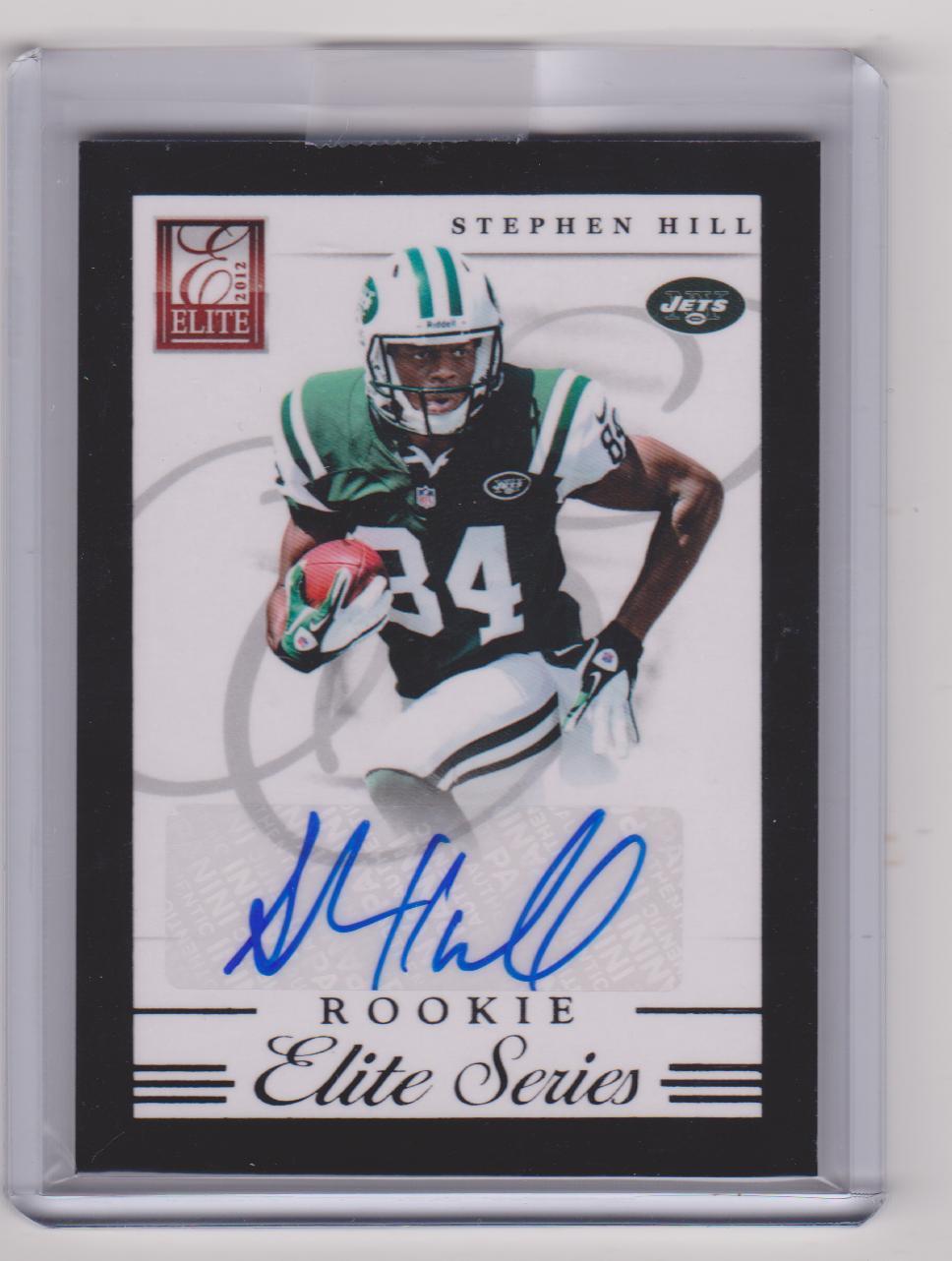 Comments: Stephen's a big receiver with tremendous skills from Georgia Tech.  If that doesn't ring a bell, well then, I don't know what else I have to say.  There has been some success in drafting those guys so the Jets went for it.  The rap on Stephen in the preseason was that he had all kinds of skill but wasn't in the flow of the offense.  This changed immediately when he caught two TDs in week one which made his rookie autos double.  It then proceeded to change again in Week 2 when he was held catch-less…what does week 3 hold?
4. Doug Martin 2011 UD Exquisite XRC /99

Comments: In this last draft class the consensus was that there was Trent Richardson at RB, then there was a fairly large gap and after that there was everyone else.  Mel Kiper and Todd McShay who make their livings parsing seemingly insignificant differences among players would hate me for simplifying it to that degree but I really do think it's true.  However, what we all know about RBs is that many of the guys in the "everyone else" class "become a somebody."  Doug was actually picked in the first round so maybe lumping him among the proletariat of running backs is a little harsh and so far he's showing that he's really not normal.  He had over 100 total yards in week 1 which made his Exquisites jump to well over $50 from in the $30s.

5. Alfred Morris 2012 Elite Autos

Comments: Speaking of unknowns, Doug Martin is a relative household name compared to what Alfred Morris was prior to week 1.  Alfred, an undrafted rookie won the carousel spot in Mike "I'll screw you time and time again fantasy owner" Shanahan's starting lineup.  That didn't stop Alfred from scoring two TDs in week 1 though causing his Elite Autos to move up about 66%
6. C.J. Spiller 2010 Finest Autos

Comments: C.J. got his big break when Fred Jackson went down last year and he made the most of it, he produced like crazy for the games in which he was the feature back.  This year, Fred was back and people were drafting C.J. in fantasy football with great trepidation.  However, "down goes Fred" and here comes C.J. and wow oh wow he put on a clinic.  At this point, even when Fred does come back it's not going to be to the same workload.  C.J. just went Lou Gehrig on Fred Jackson's Wally Pip.  It goes without saying that C.J. cards which had sat dormant for some time took off as a result.

7. Robert Griffin III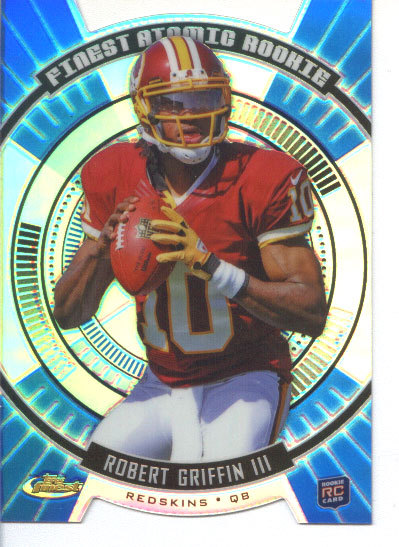 Comments: If Robert hadn't already been selling so well prior to his week 1 debut he would have easily been #1 on this list.  It is nearly impossible to have a better debut than he did and it's even more impressive when you compare it to the other performances that first year quarterbacks had.  The thing about Robert has always been well, everything.  He can do it all and he showed us that in his very first game – running, smarts, canon arm, athleticism and on and on.  We'll have to invent new adjectives to describe his spectacular play.  All this caused cards already selling for absurd amounts to rocket higher.

8. Julio Jones Rookie Autos


Comments: I've Got a Feeling (no, not another lame Black Eyed Peas reference!!) that it's going to be hard to find two better wide receivers in one draft class than A.J. Green and Julio Jones.  These guys don't even have 20 games under their belt and already they are making opposing secondaries look downright silly.  Julio Jones abused the Chiefs in week 1 at will and confirmed what many fantasy owners had been salivating over all offseason.  SP Authentic Patch Autos went from $80ish to over $110 as a result.

9. 2011-12 UD Retro Singles

Comments: Yes, it is so hot that it merits two spots on the list.  The wax is absolutely absurd but even more absurd are the singles prices.  Non-auto'd Michael Jordan inserts /150 are going for near $2K and prices for others like Lebron and Penny Hardaway are downright silly.  Here's the difference between these cards and the prospects that you are used to seeing on these lists.  Many of these cards, once bought are not going to be seen on eBay again for a long long time.
10. 2011-12 UD The Cup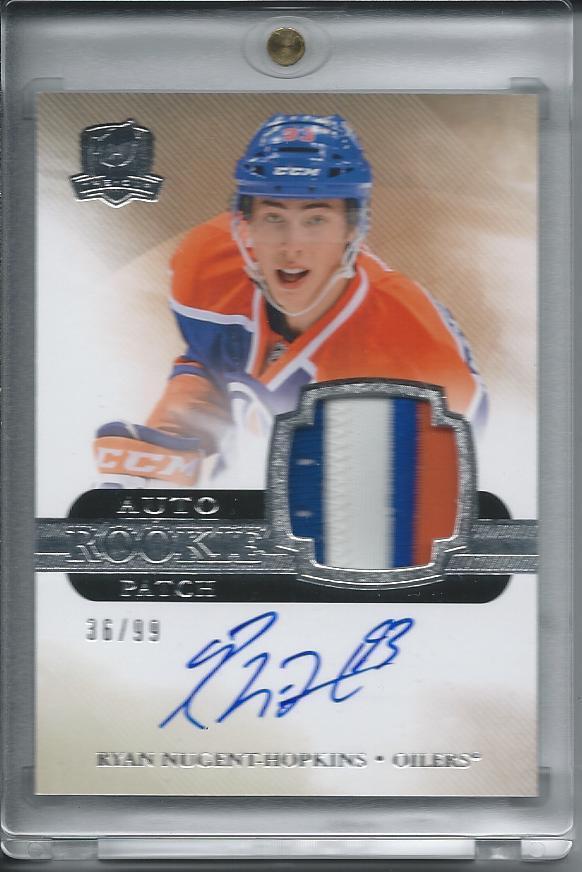 Comments: It comes out every year and is absurdly hot every year.  Only this year, Ryan Nugent-Hopkins is in there and his patch autos /99 are going to be near $3k.