There's no doubt that FCB has a baseball card bias, that's always been true.  As such, it's easy to let baseball cards and the baseball card market color our perceptions, even when it comes to questions like: "what does a hot card go for?" "what's a rare card?" "what's acceptable regarding uniforms and jerseys?"
Over the summer and the course of this baseball season there have been a great deal of words, many of them mine in the Hot List devoted to how hot Mike Trout was and the astronomical prices his cards were attaining on eBay.  Let me give you an example, a Bowman Sterling Refractor /199 no auto, sells for $61.  Tell this to a baseball card collector and their jaw might hit the floor slightly prior to them taking off in a Newman-like run towards their "commons box" in search of a Trout they may have thrown in there.  Now try telling it to a basketball card collector and see what happens, I can see it now:
Excited Baseball Card Collector:  hey hey, have you seen how hot Mike Trout is?
Basketball Card Collector:  I'm assuming you are meaning in the "his cards sell for a lot" manner, as opposed to the "I'd love to see him on the Bachelor" manner?

EBCC: ::rolls eyes::  yes, yes!  He has a non-auto Sterling Refractor /199 that goes for $60-$80 routinely and the Golds /50 now bring up to $200!!??!!
BCC:  Yawn.  So I guess that's cheap?  Is this a buying opportunity?
EBCC:  Are you kidding me, it's sell time man!
BCC:  Really?  I have a couple cards in the box I just happen to be carrying around in my box here with me that make that sound rather cheap.  Check out this Derrick Rose un-numbered Refractor, Kevin Love Orange Refractor, Derrick Rose Gold Refractor /50 and Russell Westbrook Bowman Chrome Refractor /499.
EBCC: ::stunned::
BCC: And if you want to see something really crazy, check out what a veteran gold refractor /50 of a guy like Kobe goes for…
EBCC: In baseball we curse veteran gold refractors!  Do you also cause it to rain on parades and pee in people's corn flakes?
BCC: Yeah, sometimes.
All this to say, if you are trying to rationalize what you are seeing for sales from the 2011-12 Fleer Retro product by using your "27 years of extensive baseball card industry knowledge."  KNOCK IT OFF!!!
There was a good deal of discussion on this subject in this thread yesterday on the baseball card forums.  The only way you can rationalize sales like these is with simple economics.  In that thread yesterday, with many more words I basically made the case that regardless of what you 1. think of the product 2. think of upper deck and their re-issuance of old Fleer products and 3. are able to fit it into your baseball card construct, economics wins the day.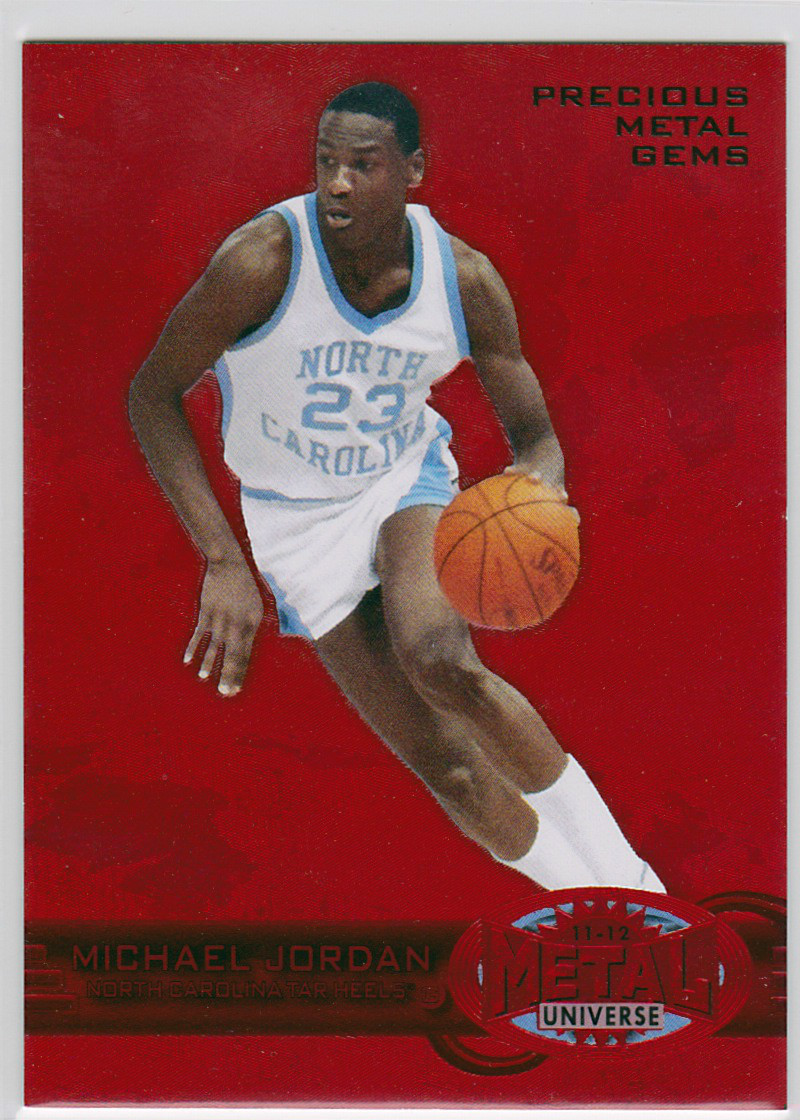 If there are 150 people willing to pay $2K for a Jordan Red Precious Metal Gems /150, then they are going to sell for $2K or somewhere north of that given that there aren't 150 of them on the market at any given time.  If that number is greater than 150 then the price will rise until potential buyers are priced out of the market. And speaking of the market, there is a high-end market for basketball cards unlike any other high-end market so jaw dropping prices are the norm.
If it helps you wrap your head around it, think of it this way, economic supply and demand models and curves can account for all types (you can call it stupid, crazy, absurd or whatever word you like) of demand.  It DOES NOT MATTER (all caps?  Yep, I just did.  Like the eBay question you get from the buyer who "is not an internet but a phone type of guy" and apparently from his excessive use of caps lock speaks loudly to everyone) why the demand is happening, only that it is happening.  Thinking through card sales by comparing them to other, perhaps "like" markets leaves these variables out and therefore misses the point and leaves the thinker dumbfounded.  We must get away from that and not appear to be the collective Elmer Fudds like our pretend collector above.
There's plenty more to write on this subject but in the short term if you have any interest in basketball you at least have to be happy that first, there's a product to talk about (but wait, I thought Hoops released??!!??).  Secondarily, a market craving for high end cards has been at least temporarily satisfied and third, if you desire to purchase those high-end cards of a player you like, you won't have to wait for 3 months to see one appear.