I am often fairly critical of the business acumen in the card industry, sure there are smart individuals but I feel that generally the road to business success in the card industry is one where missed opportunities and failure to capitalize upon noted opportunities lay beside the road like burnt out carcasses of once great cars – just reminding us of what could have been.  I feel that I've been quite fair in spreading blame around between companies, producers and others.  However, today we recognize the fact that someone at Topps saw what happened to Michael Phelps autos when he did his thing in Beijing and somehow that morphed into the Topps USA Olympic Hopefuls set.
Last week, you got a little taste of this with the inclusion of Ryan Lochte autographs and this week we have a whole lot more for you.  Any time a new set or idea comes forth, one of the first ways I evaluate it is to go back in time and see "what would have been" had the set been around then.  As an example, one of my favorite sets each year is Leaf (and previously Razor's) All American Auto set which features high school seniors hoping to become college stars.  When I first started buying into this one of the questions that entered my mind was "what if Tebow, Luck, Reggie Bush, Lendale White and a host of other stars who at one point topped the college game had autos at that time?"  That answer was easy, their Leaf autos, their only autos would have been unreal hot.  This prompted me to start buying in and even though we haven't had a Leaf Auto in the running for Heisman yet, huge seasons by guys like Marcus Lattimore and Sammy Watkins have already prompted huge spikes.
So run through that same line of questioning in your head with the Olympic autos.  Think Keri Strug autos would have been hot after the 1996 games?  Yeah, just a little.  Now Keri Strug is an incredible story and Jordyn Weiber may not be Keri Strug, yet – notably she doesn't have an injury, nor a coach with a mustache that good but you see what I'm getting at.  So kudos to Topps for recognizing these kinds of opportunities and getting a set out before the games.
Outside of athletic prowess, Topps is tapping one additional opportunity – national pride.  I mean geez, it's near the 4th of July, the Olympics are coming up and in an era when it feels like the nation is often at odds with itself, most citizens will latch onto some sort of unifying fact if they can find it.  Later this July that fact will be the U.S.A. kicking some African, European, Australian, South American and Asian butt in the games.
1. Ben Revere 2007 Bowman Chrome Draft Autos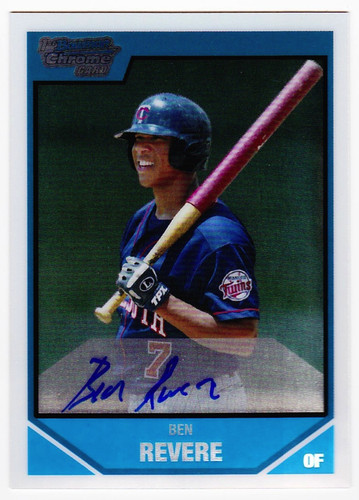 Comments: If I were a coach on the Twins I would spend a whole lot of time thinking about how to incorporate "1 if by land, 2 if by sea" into my sign scheme for Ben.  And that is probably one of the millions of reasons I am not a coach, thinking about parallels between current players and the Revolutionary War doesn't get you out of the AL Central basement…or even close.  Ben was called up (I'm guessing by air) to Minnesota and has played extremely well early on moving his 2007 Draft autos from $4 to $15.

2. Yasmani Grandal 2010 Bowman Chrome Draft Autos

Comments: Speaking of playing well after a call up, Grandal is hitting home runs in San Diego.  Saying home runs in San Diego is pretty much an oxymoron given how cavernous their stadium is but Yasmani doesn't seem to mind.  Grandal was a high draft pick out of college who didn't really sell all that well (compared to his draft status) and one of the reasons was questioning of his power.  So far so good on that front and draft autos moved from $6 to $17 this week.
3. Missy Franklin 2012 Topps Olympic Autos

Comments: It's entirely possible that outside of Michael Phelps, Missy Franklin will be the name that you hear most often during this summer's Olympics.  If Michael Phelps was in female form and only 17 years old, well, that wouldn't work but if it did you'd have someone like Missy Franklin.  To my earlier point, the fact that collectors can purchase autographs of her already is outstanding and after she qualified for 4 events at the Olympics those autos went from $50 to $170 – thank goodness her middle name isn't Elliot!
4. Andrew McCutchen 2005 Topps Chrome Update Autos


Comments: The Pirates, yes, the Buccos were tied for the NL Central League lead earlier this week.  At this point someone is yelling "NL Central Sucks!" in a similar tone of voice to "O'Doyle Rules!"  You might be right about that assertion too but the feat is still monumental for the Pirates who have had about as much success as the Lollipop Guild team would playing in the NBA over the past two decades.  The Pirates took a nosedive after their star outfielder left in the early 90s and now as they rise, it's on the back of another star outfielder.  Andrew McCutchen has a full toolbox and he's using them all this year.  His Topps Chrome Autos from way back in 2005 moved from the $30 range to $75 this week.

5. Steve Nash 1996-97 Topps Chrome Rookies


Comments: I loved Topps Chrome basketball and then Panini went out and broke my heart!  1996-97 Topps Chrome basketball was pretty much what got it all started and when Phoenix traded Steve Nash to the Lakers this week two 96-97 Chrome cards (Kobe and Nash) came together.  Nash has had a brilliant career by any definition and measure but just the fact that he's going to wind it down on the big stage in L.A. made his Chromes move from $18 to $45 overnight.

6. Ryan Lochte 2012 Topps Olympic Autos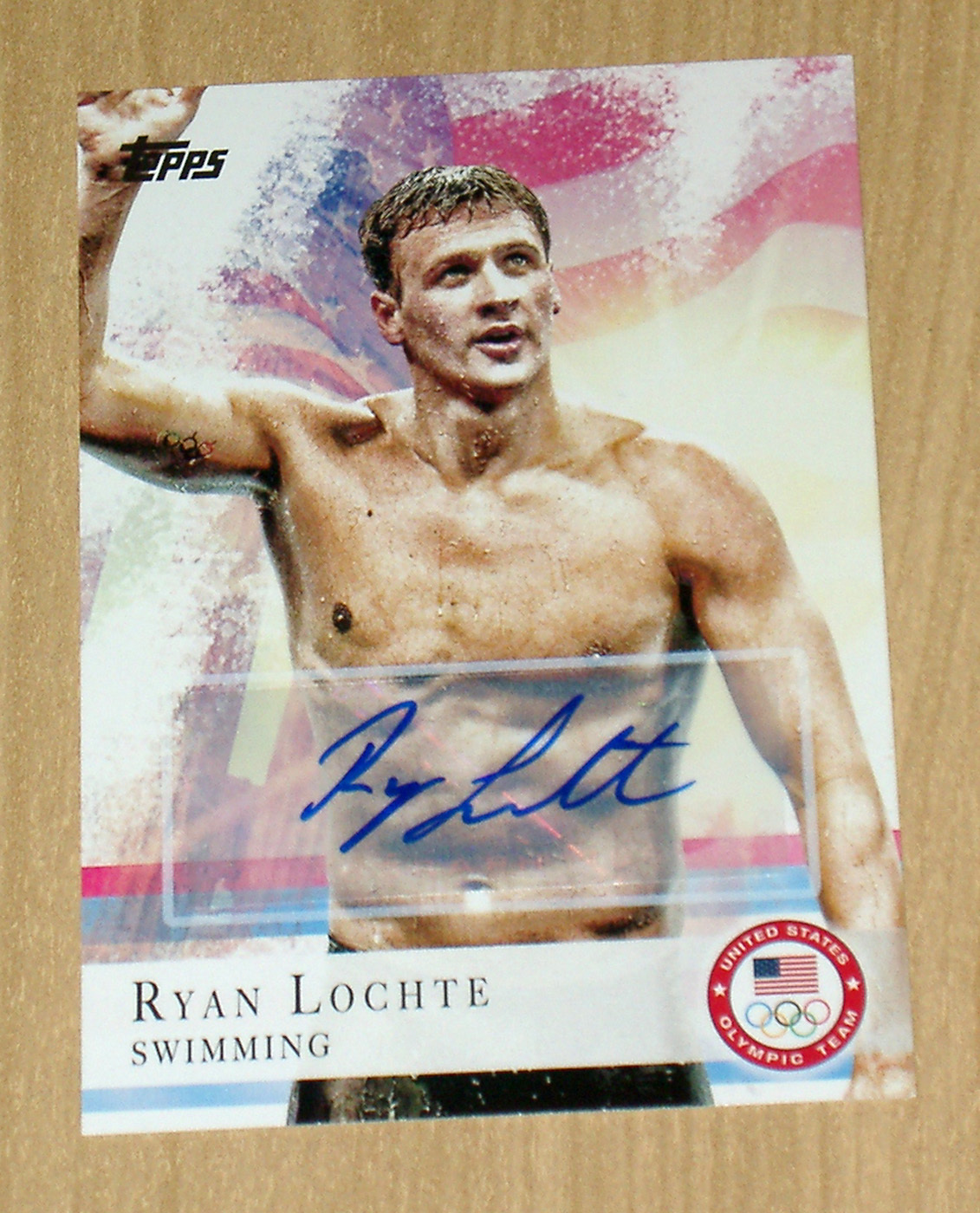 Comments: Last week Lochte's cards went from $50 to $100 and many that had bought to hold, sold.  This week, those same sellers are wishing they had gotten lazy and held on for a little longer because Lochte's autographs are now a bit over $200.  Anticipation grows about Lochte and the kind of domination that he and Michael Phelps could throw down for the U.S.A. in the swimming events.  One must wonder, what's the ceiling on autos of a guy like Lochte?

7. Jordyn Wieber 2012 Topps Olympic Autos

Comments: Gymnastics is one of those strange sports.  It isn't a part of our every day water cooler sports talk but once every 4 years it becomes the talk of the nation and people like Jordyn Wieber among others become household names.  After the the Olympics pass those same household names slowly fade into the background and frequently, they aren't even competing 4 years lately.  However, you have to consider shooting stars.  Shooting stars don't last long and they do it only once but they are extremely bright and amazing to see when they happen (anyone else thinking about Kramer on the roof?  "I wish I don't drop dead!").  In the same way, for several weeks this summer we shall obsess about Wieber and others and as a result her autographs went from $50 to $100 this week.
8. Aly Raisman 2012 Topps USA Olympic Autos

Comments: Please read commentary on #7, Wieber.
9. Michael Fiers 2012 Bowman Red Parallels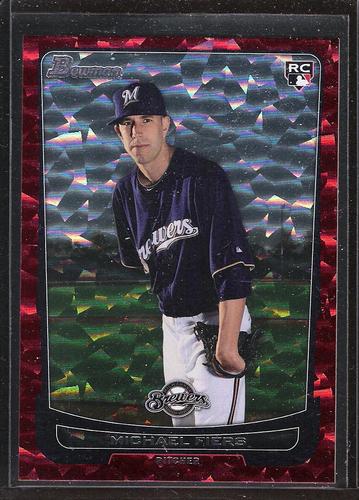 Comments: It happens so infrequently these days, players who make a major league debut and still have only one card to their name.  In fact, it typically only happens with much less heralded players because if anyone knows about them Topps has already produced 7 different versions.  However, every once in a while one of those lesser known guys gets called up and has a great performance.  Example Mr. Fiers who had a great debut and saw his Red Parallels /25 double from $12 to $25.
10. Mike Trout 2009 Autos

Comments: I read an article advocating that Bryce Harper be selected for the last spot on the National League All Star squad not because his statistics were superior, nor because the N.L. needed another outfielder, nor because they thought the first place Nationals were under represented.  It was simply because they loved watching Bryce Harper play baseball and in that same sentence said that if he were selected it would be him and Mike Trout who most fans were the most excited to watch.  Trout is starting to defy description as every day its something new, hitting well over .300, web gem after web gem, stolen bases, home runs – who at this point thought that Mike Trout would be the first name you associate with the Angels instead of Pujols?  Not me.  His cards continue to get more on fire daily – even Sterling 9.5s moved up another 20% this week to $240.