1. Zach McCallister 2007 Bowman Chrome Autographs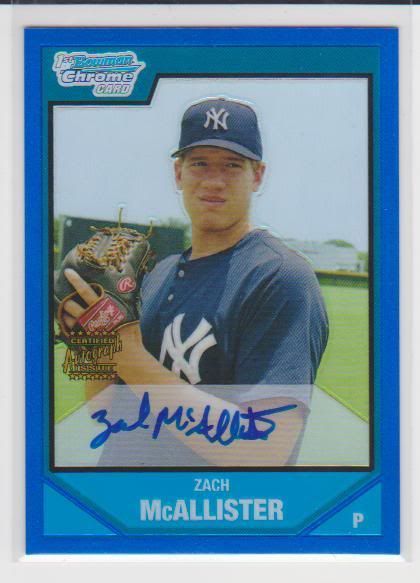 Comments: This former Yankee's prospect is 7-0 with 42 K's and 10 walks in 52 IP.  Sure, he didn't make it with the Yanks but that kind of promise merits a Blue Auto selling for more than $13…and so it happened.  One sold this week for $29 and McCallister's 2007 Chrome Autos have trended up…not long till they pass the other Yankee, Joba the Hut.
2. Jose Bautista 2006 Bowman Chrome Autos
Comments: If you had wanted some of Jose's autos, even after he started tearing the big leagues up, you could have purchased many for very cheap.  Well, that's no longer the case and if you are like me, you feel a little stupid.  Parallel autos are now netting huge bucks.  The Xfractor above sold for $100ish last week and over $200 this week.  Apparently, he's not the second coming of Brady Anderson or Jay Bell, he's here to stay.
3. Josh Reddick 2008 Bowman Chrome Draft Autos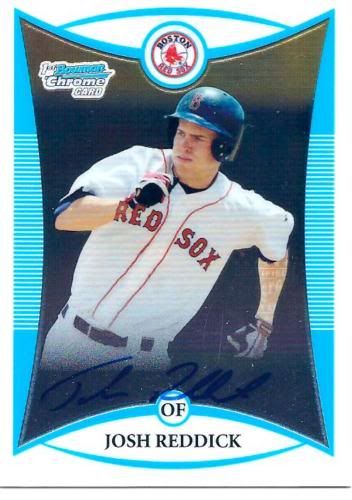 Comments: Whether it is Posey, Beckham, Montgomery, Stanton, Montero or in this case, Reddick.  The 2008 Bowman Chrome Draft class just keeps giving.  Reddick comes up to the bigs, goes 3-5 and his autos move from $8 up to $20.

4. Josh Collmenter 2009 Bowman Chrome Parallels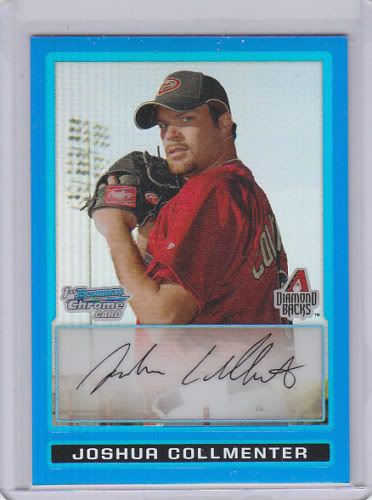 Comments: The man with a mouthful of a name came up and wowed with lots of scoreless innings.  Even though that streak recently ended, Josh's keep moving up.  Blue Refractors moved from $8.5 to $15 this week

5. Dirk Nowitzki 1998-99 Topps Chrome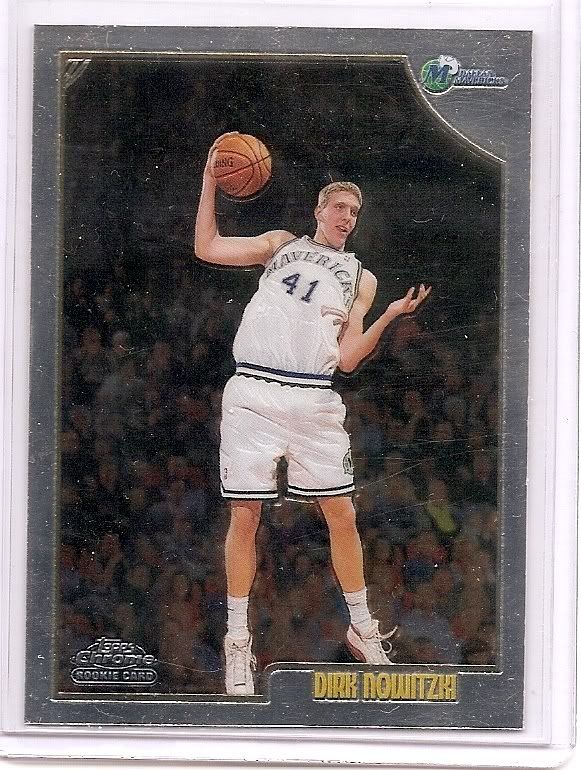 Comments: Dirk's Topps Chrome sales have been all over the place but generally, they averaged about $5 last week and about $10 this week.  If he can beat the Heat, $10 will be a distant afterthought.
6. Paul Goldschmidt 2011 Bowman Chrome Autos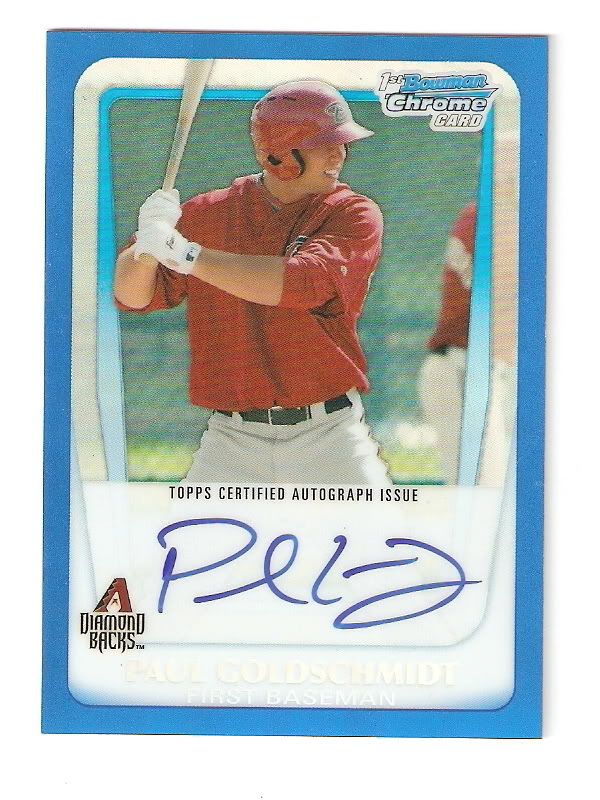 Comments: "I'm not going to buy Goldschmidt, he's already seen a big leap this season, no profit there to be had."  Right you were and wrong you are if you wanted profit.  Goldschmidt continues to mash and his Blue Ref Autos moved from $100 to $13o this week.
7. Mike Stanton 2008 Bowman Chrome Draft Autos



Comments: Watching Baseball Tonight is a nightly occurrence for me and ESPN loves me, just for saying that.  I just can't get my fill of John Kruk to be honest with you….or not.  In fact, one of the reasons I love it is the Home Run segment.  Recently I saw Mike Stanton hit an absolute laser to Left Center, I'd swear the thing was still rising as it went out of the park.  Fortunately, no one sitting in the LC stands in Miami was hurt
  Mike's been on a tear and his Chrome Autos are up about 20% this week.
8. Curtis Granderson 2002 Bowman Chrome Draft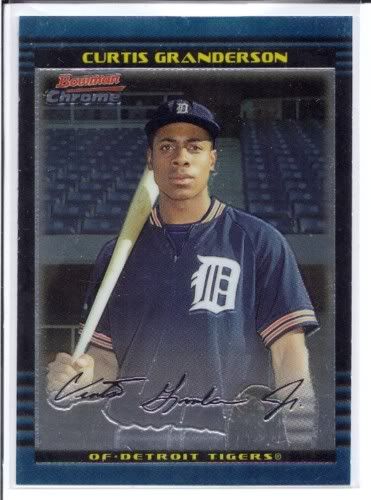 Comments: Granderson continues to hit for power in New York this year and his cards continue to get noticed.  A raw Chrome this week sold for just over $13, these were attainable before the season for just a couple bucks and graded copies both from BGS and PSA are really selling nicely right now.
9. Charlie Morton 2002 Bowman Chrome Draft Parallels

Comments: Charlie's performance this season has the Braves feeling a little salty about trading him.  This long lost prospect continues to have a good season in the Never Never Land of baseball, I mean, Pittsburgh.  His refractors sold for $20 this week, a nice move up.
10. Matt Curry 2010 Elite Autos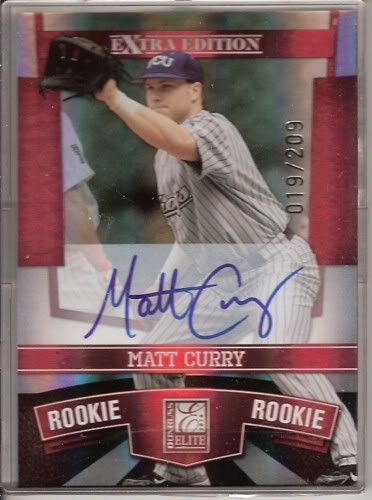 Comments: And speaking of flavors, here we have the Curry to go with the salt (not that those go together) which I mentioned previously.  Matt's mashing in the minors (unintentional alliteration) and his Elite Autos /209 regularly sell for $15 and parallels, when they show sell for even more!