1. Harmon Killebrew Autographs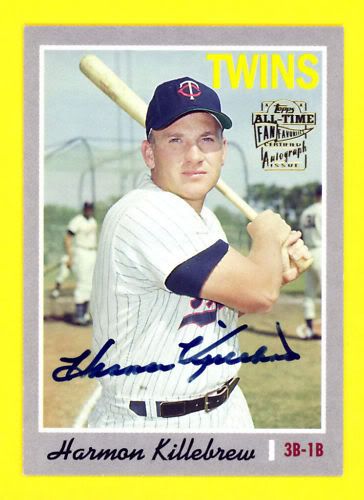 Comments: It seems a little odd to put a guy at the top of the Hot List due to a death but none the less, this 500 HR club member passed away and his autos in some cases tripled this week.  Rest in Peace Harmon.
2. Bryce Harper 2011 Bowman Autos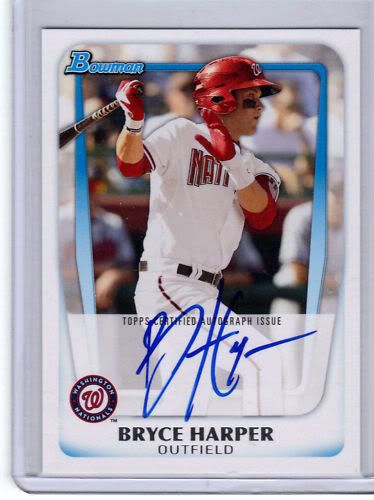 Comments: I know I've mentioned it before, the way you make this Hot List is to see a significant increase in your card prices week over week.  Occasionally, we make exceptions for cards that debut and are on fire.  Bryce's 2011 Bowman Auto – selling at $700 is certainly one of those instances.  If the movie Man on Fire was made again, Denzel would be out and Bryce in, he's en fuego.

3. Tyler Seguin 2010-11 UD Young Guns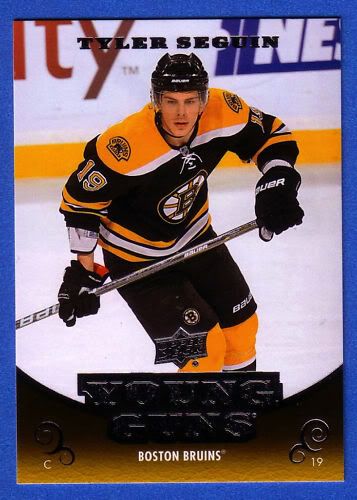 Comments: Rookies having success in the playoffs of any major sport is going to be a big deal.  See Posey, Buster, 2010 MLB World Series.  Seguin is turning heads during the NHL playoffs and his Young Guns cards moved from $28 to $45 this week.

4. Eric Thames 2010 Bowman Platinum Autos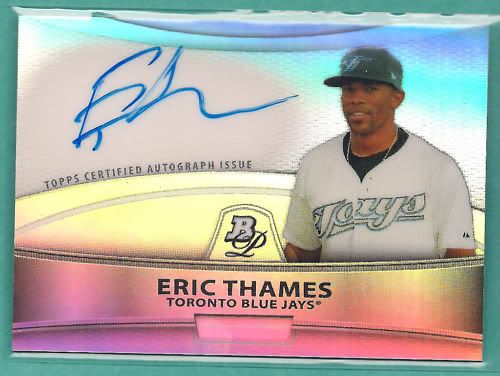 Comments: Thames, the player not the river has been called up, coincidentally, his cards are going the same direction with Platinum Autos moving from $3-$5 last week to $12-$15 this week.

5. Charlie Morton 2002 Bowman Chrome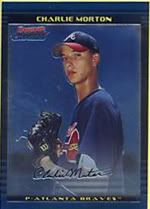 Comments: Charlie has found his groove in Pittsburgh after struggling in Atlanta.  It's not often that a pitcher leaves Atlanta and fares better elsewhere, usually quite the opposite.  There is renewed interest in the 27 year old's Chromes and they moved from $2 to $8 this week.
6. Deck McGuire 2010 Bowman Chrome Draft Refractor Autos /500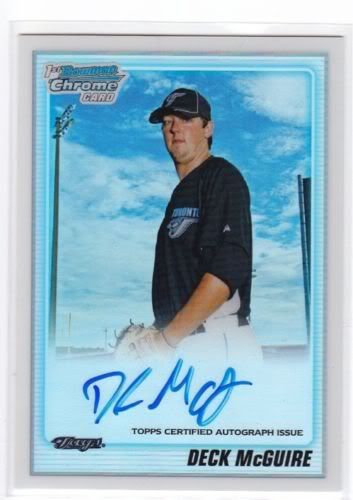 Comments: Deck's not a super flashy pitcher but he's got a great name and he's just going to perform until you notice him…and that he is.  In 8 games he has a 2.32 ERA and batters are hitting .190 against him.  His Refractor Autos are still quite reasonable at $15 but that's up from $5 last week.
7. Tim Wheeler 2009 Autos


Comments: When 2009 draft product released, a Wheeler's autos were much anticipated, Zack.  Timaaaaaaaaaaaay was an after-thought.  Well, last time I checked Zack doesn't have a 1.046 OPS, 100 total bases and 25 XBH's this season.  Tim does and his card values are starting to show it, last week a Gold Sterling Auto sold for $27 and this week one sold for $40.
8. Bryce Brentz 2010 Bowman Chrome Draft Autos

Comments: After the Red Sox ravaged their farm system to get Adrian Gonzalez, Bryce and a few others were left.  Bryce is making the most of his opportunity as top prospect dog.  He's hitting .359 this year with 11 jacks and an OPS of 1.061.  His Blue Ref Autos cracked the 1 bill mark this week moving from $70 to $110
9. Ryan Kesler 2003-04 UD Young Guns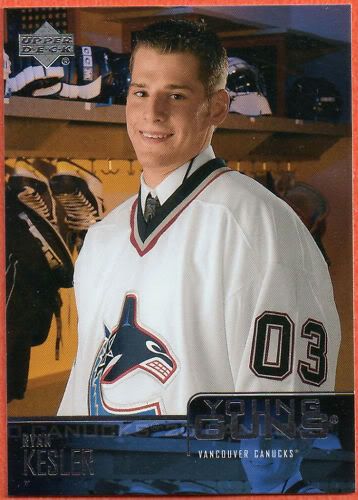 Comments: Another hockey playoff success story, Ryan's cards moved from $20 to $35 this week.
10. J.J. Barea 2006-07 Sterling Black Refractors /25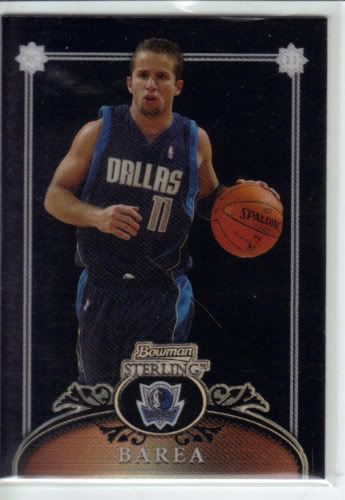 Comments: Speaking of playoff success stories, JJ is making a name for himself on the Mavericks during the Western Conference finals.  His Sterling Black Ref sold for $75 last week and $125 this week.
11. Dirk Nowitzki 1998-99 SP Authentic RC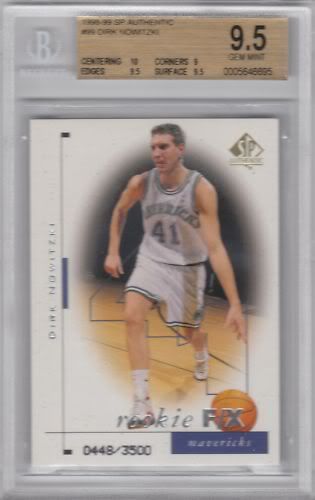 Comments: It is always kind of fun to put an older card on the list, Dirk's rookies have heated up since the Mavs have made their playoff run!  Bust out the schnitzel in celebration!