1.Sam Fuld 2008 Topps Chrome Autos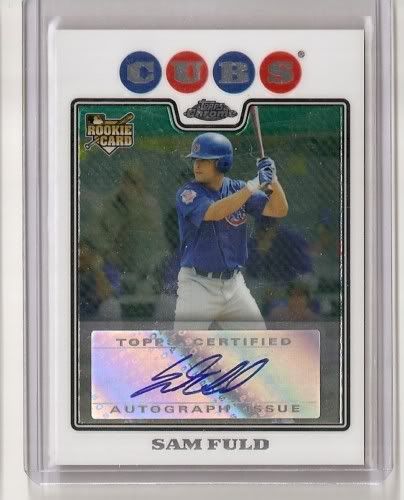 Comments: For the second week ago, an undersized guy, who was hardly ever considered a prospect tops the list.  Samuel Babson Fuld is the man this week.  Why do I know his middle name is Babson?  Well, that's because his Wikipedia page is longer than some HOF'ers.  His Wikipedia page also notes that Sam was at one point in time called an untouchable by Jim Hendry.  Well in another flash of brilliance Jimbo re-negged on his prior statement and threw Sam in, in the Matt Garza trade (psst Matt's 0-2, 4.74 right now).  Sam is batting over .300, stealing bases, throwing his body all over the place in the outfield and generally delighting Tampa Bay Rays fans.  As a result, his Topps Chrome Autos moved from $10 to $26 this week.
2. Adrian Cardenas 2006 Bowman Chrome Draft Autos
Comments: It feels like Adrian ought to have grandkids by now he's been around so long.  But lo and behold he is only going to be 24 this season and he seems to have the PCL figured out hitting .391 thus far in the year.  Drabek, Savery and now Cardenas, those Phillies prospectors have got to love it.
3. Carlos Peguero 2010 Bowman Chrome Autos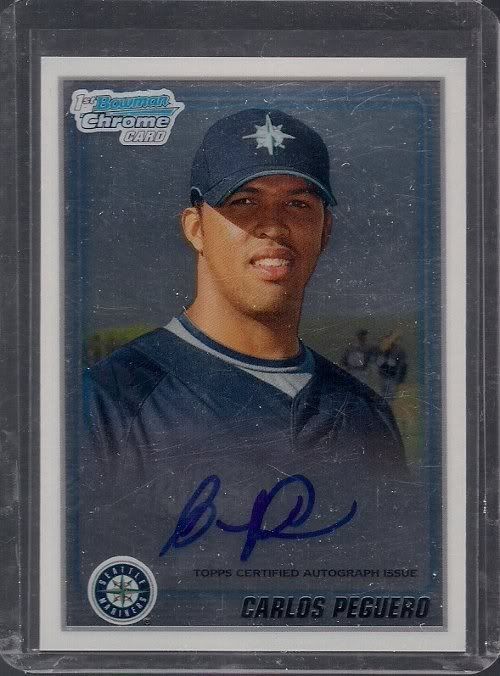 Comments: I think it is a fairly safe bet that if you have a Chrome Auto of a guy who gets called up to the majors, it is going to be worth more than $3.  Carlos' Chromes were selling for just that last week, he's in Seattle now and they sell for $7.
4. Jean Segura 2010 Elite Auto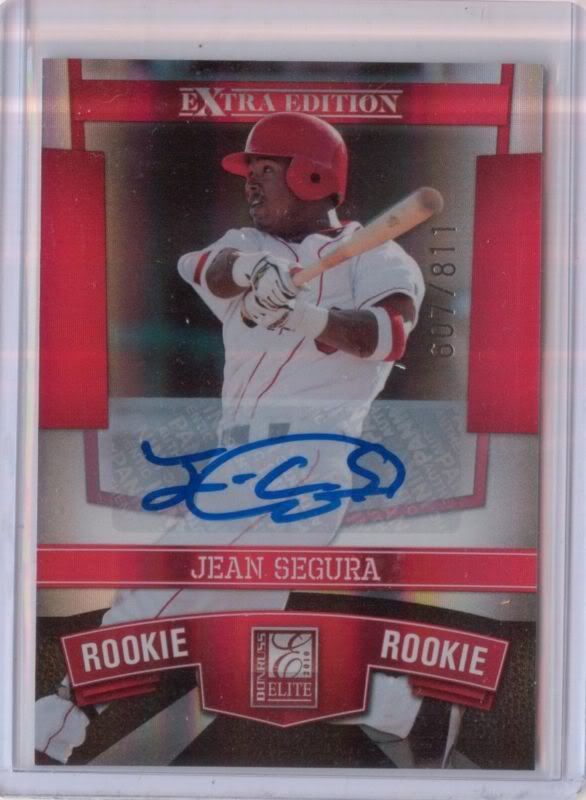 Comments: When he's feeling casual…its blue.  If he wants to dress up a bit, its black.  For work, its tan?  You get it, denim?  Sigh.  I already used the Billie Jean joke last time Mr. Segura made the Hot List.  His .382 average in the CAL League thus far has him back on the list though.  Elite Autos that sold last week for $12 are now selling for $24.
5.Jose Tabata 2010 Bowman Platinum Autos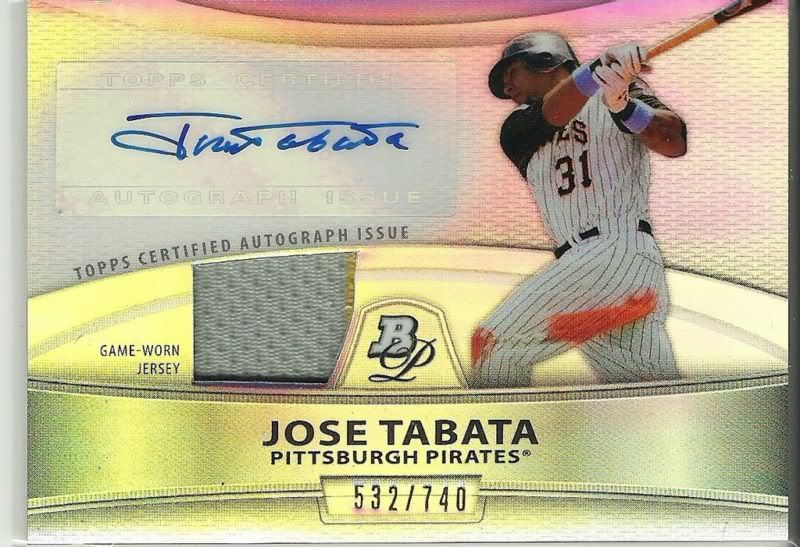 Comments: It has been a long and winding rode for Jose.  The highly touted young prospect who burst upon the prospect scene in 2006 with the Yankees, has come a long ways to finally find himself a regular spot in the bigs with the Pirates.  His Platinum Autos are responding moving from $12 to $26 but honestly, anyone holding the 2006 Chrome stuff has a long ways to go to get back to near where they were.
6. James Darnell 2010 Bowman Chrome Autos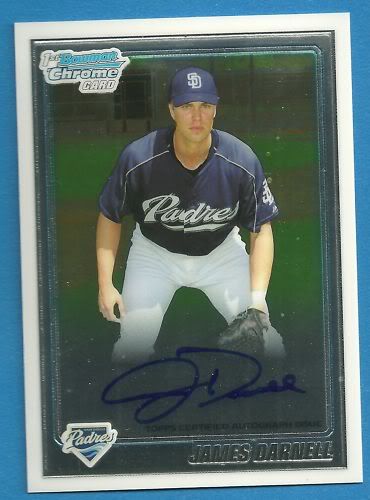 Comments: That's right, rub the sleep out of your eyes.  There is a Padre on the list.  James' chrome autos moved from $4 to $8 this week.  The guy is batting .500 this year (22 for 44) and no matter where you are doing it, .500 gets noticed.
7. Matt Harvey 2010 Bowman Draft AFLAC Autos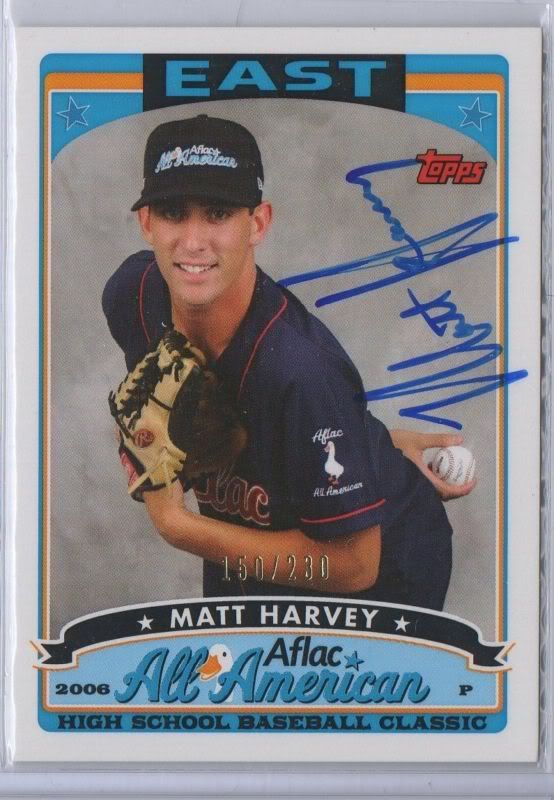 Comments: Matt continues to show why he was highly regarded coming out of high school and again out of college.  No earned runs through three starts.  His AFLAC autos move from $35 to $55 this week and I have a sneaking suspicion that the Chrome Autos won't be available at $20 for long…
8. Ricky Stanzi 2010 Leaf Metal Autos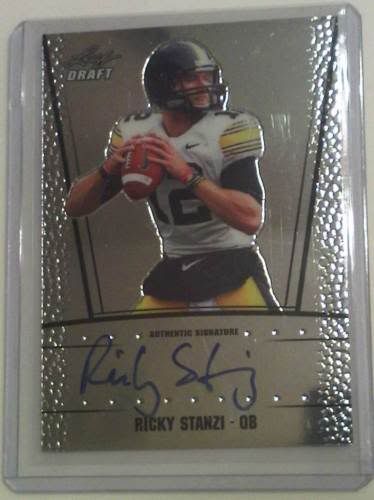 Comments: As a University of Illinois alum this one is a bit painful.  Ricky's cards are moving up though as rabid Hawkeye fans gobble up his early autos.  The Leaf Metal autos are a great option this early in the year.
9. Anthony Rizzo 2010 Bowman Chrome Autos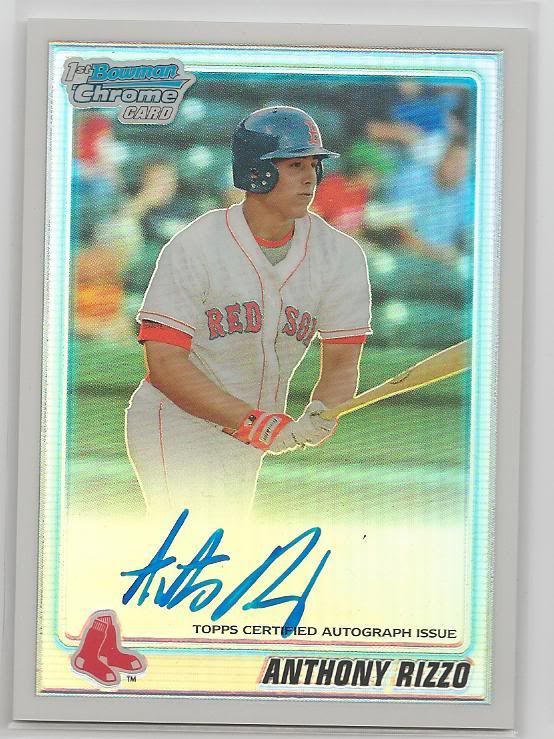 Comments: That's right, rub those eyes again, Padre #2 on the Hot List.  .436, 4 HRs, an OPS of over 1.247 in Triple A.  Anthony's 2010 Chrome Autos went from $23 to $38 this week.
10. Jed Lowrie 2008 SP Authentic Autos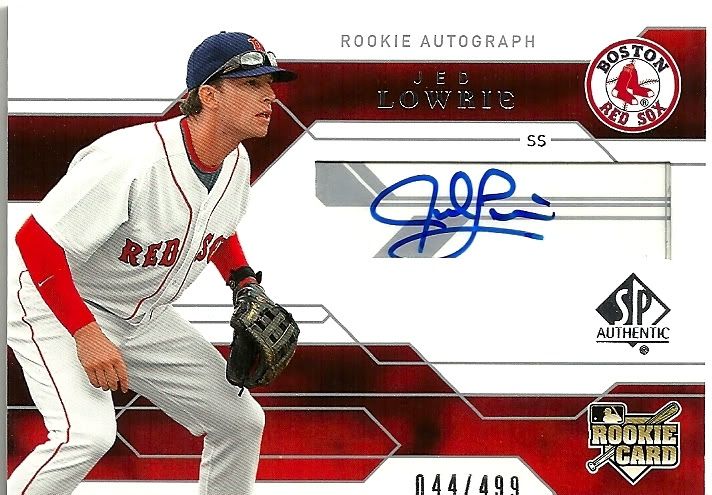 Comments: Jed got mentioned in the same sentence on Baseball Tonight today as Tulo, not insignificant.  Last week an SP Authentic /50 Auto went for $7.5, this week one /499 went for $19.50.