Bowman Sterling Football is certianly a product that gets mixed reviews across the board.  Most bloggers trash it or avoid it, but yet breakers still break it.  Prominent YouTube ripper Truth17 did a 4 box group break, and although he didn't offer any commentary on the product itself he did seem to enjoy ripping through it.  He also hit a nice gold refractor patch autograph of Rob Gronkowski who had a pretty good week 16 and is becoming one of Tom Brady's favorite redzone targets.
Sterling football definately has it's issues.  The clear number one on that point is the price.  Atlanta Sports Cards has boxes at $228.99 and in better economic card times that price might be closer to $250.  One thing I always say about price though, is that you know that going into the break.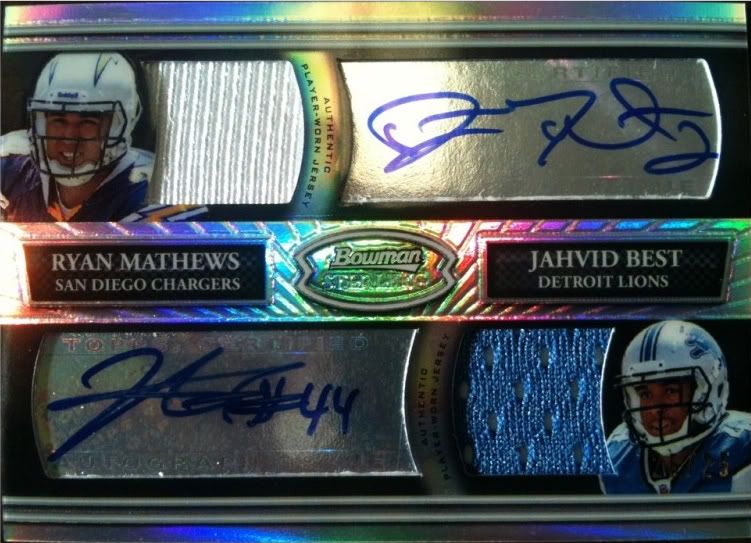 As always, the refractor finish on the parallel cards is quite stunning.  Colored refractors look as good as ever, and the base card checklists include some names that might not have a better card, giving some real sleeper potential to some of the base cards. 
Our box included jersey cards of Sam Bradford to Tim Tebow, and the pictured dual autograph of Ryan Mathews and Jahvid Best.  A dual autograph of the top two running backs in the draft is definately an exciting hit any any product.   
Want to try a box of your own?  Comment on this entry for a shot at winning your very own box from The Topps Company