Topps Sterling always draws in a certain type of collector.  It's attraction has always been memorabilia of some of the real legends of the game, and first tier hall of famers. From Bat Knobs of Mel Ott
to barrells of more contemporary players like Chase Utley
2010 Topps Sterling is loaded with all sorts of high end memorabilia.
Also featured in the product are an assortment of on card
autographs that are a welcome change from the stickers that some collectors feel are an eye sore.  It's also clear that the booklet fad is here to stay, as Topps goes to them in yet another high end product.  The books themselves are quite nice, I just wish someone would make a magnetic case for them.
Topps also included autographs from players that were fan favorites that they typically avoid in high end releases such as Barry Larkin
and Roberto Alomar
.  Autographs of these types of players are great as long as they aren't over done.  Their value lies in scarcity.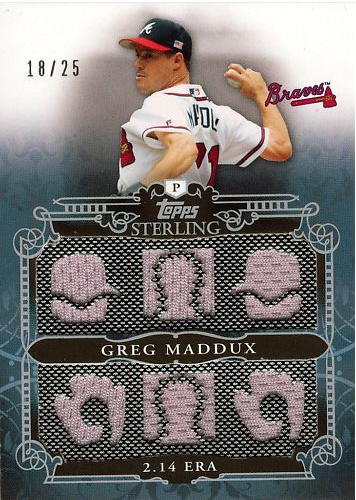 Now on to what I don't like about the release.  I don't like the stenciling on top of the jersey pieces.  I do appreciate the work that went into them, and I do like the metal inserts surrounding the jersey.  However I don't like that it looks like someone went nuts with the wing dings font.  Yes they are all baseball related icons, but there is almost no pattern for how they appear on the card making the jersey swatches look like some random mess.
I also don't like the insanely long odds against pulling some of the top tier hall of famers.  I understand that card worthy jerseys and bats of some of the older legends like Honus Wagner and Lou Gehrig are getting harder to find and more expensive, but if you have them this would be the product to use them in.  And they did use some, as there are a few Gehrig, Ruth, Mantle, and Foxx items sitting in completed auctions.  Absent by standards of previous releases are Topps Sterling staples like Ty Cobb, Honus Wagner, and Jackie Robinson.
Want to win FREE box of 2010 Topps Sterling to see for yourself what it's like?  Comment on this entry, and we will randomly select one commenter to receive a free box.