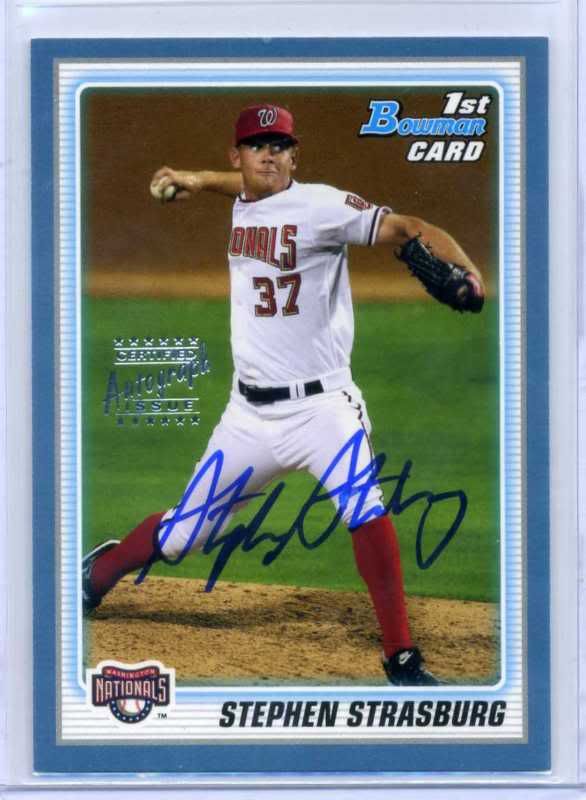 2010 Bowman
with Chrome, perhaps you have heard of it? No? Starlin Castro
, Jason Heyward, Bryce Harper, Stephen Strasburg, Dustin Ackley or Donavan Tate
, perhaps you have heard of them? No? Ok, so at this point in time the only question remaining is what kind of rock you have planted yourself under, not if you are under a rock mind you but what kind? Granite? Sandstone? Marble? Maybe just a good old fashion pile of gravel?
2010 Bowman with Chrome was the most hyped prospect product release in recent memory. Some of this is because of seasons, we are in the prospect product, "drought season." The rainy season is December, if you are wondering. Thus, any prospect product gets more attention, however, most of it was because this was a darn good product.
When we first heard about this product, it had Ackley Chrome Autos, Tate Chrome Autos and some form of Strasburg. Over the next few months Topps did a very nice job building the hype by letting us know we would have USA Chromes, Strasburg Paper Autos, Strasburg Base Chromes & Parallels, Starlin Castro Chrome Autos, Jason Heyward Chrome Autos, 3 Chrome Autos per Jumbo Box and oh so much more. This product was loaded and that feeling was confirmed hobby-wide as Jumbo Case prices vaulted towards $1k+.
The combination of value per pack and big pull possibility is what makes this product great. Not only do you have a chance at something huge like a Strasburg Auto
or a Harper Parallel
but cards like Strasburg Base Chromes and Harper Base Chromes sell for near $20 each.  Heck, Strasburg base Bowmans sell for $5 or more. So not only do you get a reasonable chance to hit something that will sell for hundreds of dollars, you also have a very good chance of not getting totally skunked if you buy one box, that's an enticing combo and that is what has this product being busted en masse across the country and around the globe.
Now, all that being said, our box wasn't very exciting – Arenado Base Auto, Strasburg Chrome and Harper Chrome were the highlights.  That brings me right back to my point about value.  In a box that by some would be considered sub-par, the three big cards will sell for $45-$50 let alone the rest of what we pulled.
Quite honestly, Topps really outdid themselves with this product, however, in doing so, they raised expectations for the rest of their prospect releases this year.  The worst thing they could do with 2010 Bowman Chrome would be to put out a real stinker and lose all the momentum that they have now built up.  Unfortunately, we will have to wait and see what they do with their next products but at least in the mean time we can entertain ourselves pulling Strasburgs.
Want to try out a box of your own?  The good people at Topps have sent us not one, but TWO boxes to give away.  Add a comment for a shot at winning.  Make sure your email address or FCB ID is included.